Nearly a decade ago, when mountain bike technology was a little less sophisticated–9-speed drivetrains and tubes inside tires–I set out on my first real bikepacking trip. The allure of the Grand Loop's 360 rugged, rocky miles across western Colorado and eastern Utah had captured my attention. In order to keep my feet happy for that many miles of pedaling, I bought myself a new pair of carbon-soled clipless shoes figuring that the extra stiffness would keep my feet from getting tired from so much pedal pounding. How wrong I was. Two days into that trip, the soles of my feet ached and my heels were a blistered mess from all the hike-a-bike.
Bikepacking adventures can be hard on feet. Riding more hours than normal for a few days in a row may make your soles sore if a shoe is either too stiff or too flexible. The added weight of a loaded bike often leads to more hiking on climbs, and shoes with minimal flex often cause blisters. Shoes that get wet and then take days to dry add to that discomfort.
We put 14 different pairs of shoes through the ringer for this month's column, testing them on long rides and multi-day trips with ample hiking. These 14 models include both men's and women's models, low- and high-priced options and range from slim cross-country-styled kicks to hiking-boot-inspired shoes.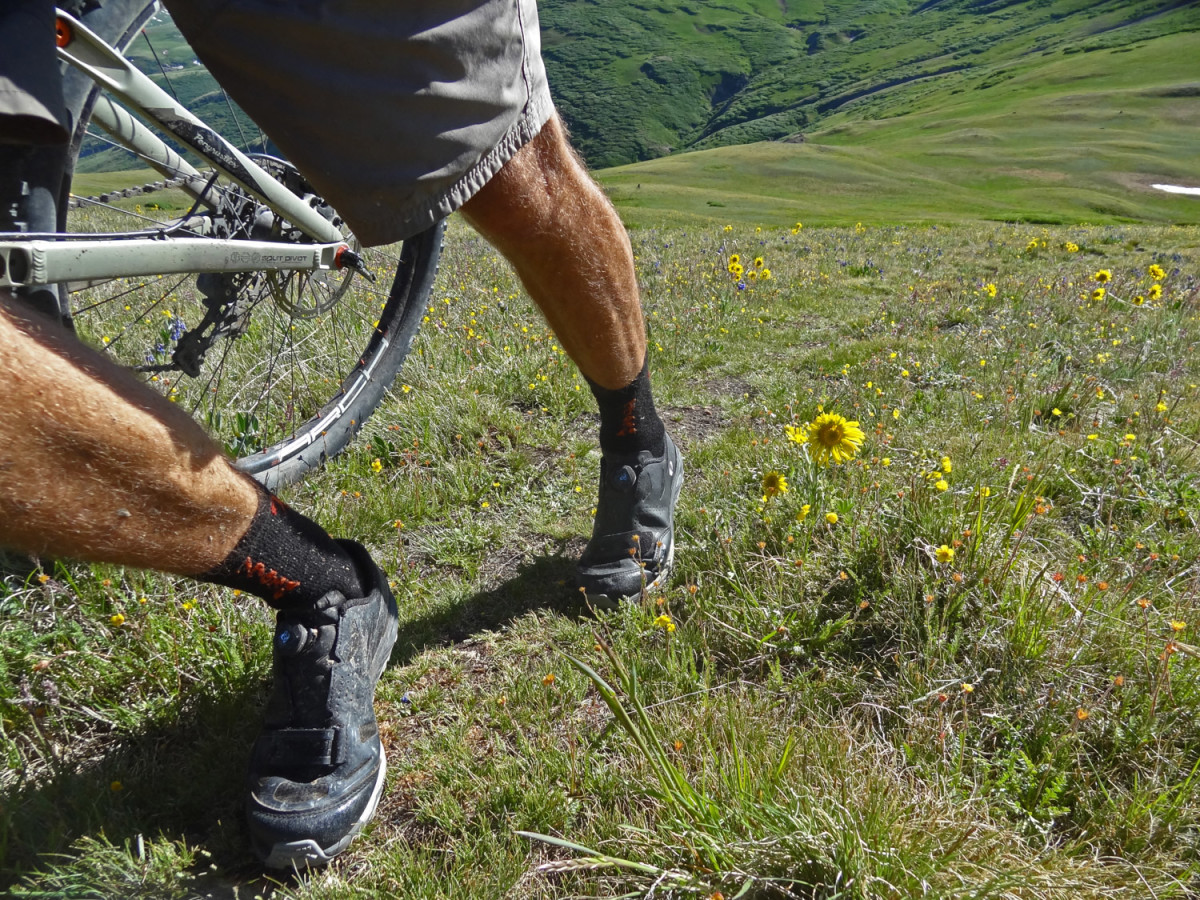 The Ideal Bikepacking Shoe
Bikepackers tend to prefer durable, well-ventilated clipless-compatible shoes with good hiking traction and soles that are moderately stiff but still flex sufficiently to allow for comfortable walking. We evaluated the 14 shoes in this test from the perspective of what the average bikepacker would most likely want in a shoe. Of course, everyone's feet are different and styles of bikepacking trips vary dramatically. With these considerations in mind, here are the characteristics we focused on:
Riding Performance and Comfort
The longer your day in the saddle, the more important it is to have a shoe that's comfortable for your foot. For on-the-bike performance, we evaluated the fit of each shoe and its closure system and sole stiffness. More flexible soles are great for hiking, but they're less efficient when pedaling and can cause foot fatigue and bruising. We found that, in general, ratchet buckles, Boa dials, and Velcro were the most comfortable, efficient, and easily-adjustable closure systems.
Hiking Performance and Comfort
The combination of a loaded bike, tired legs, and challenging terrain often means that pushing your bike is easier than riding, and there are plenty of occasions on which riding just isn't possible. To evaluate the performance of these shoes for hike-a-biking, we did just that. The most comfortable shoes for hiking generally have a rubberized sole with good traction, a somewhat flexible sole under the toe box, extra padding in the footbed, and a slightly broader footprint for better traction and stability. Shoes with an inflexible sole tend to be much less comfortable for hiking, and conversely, shoes with too flexible of a sole often are less comfortable for sustained pedaling. Reviewers found that shoes with a sole stiffness of 3 to 4 (on our scale of 1-5) are a great choice for bikepacking trips with a fair share of hiking, and stiffer shoes are, as expected, best for longer days on gravel roads or pavement.
Durability
The downfall of some hike-a-bike-friendly shoes is that the tread material or construction doesn't hold up to the abuse of actual hiking. Soft lugs can get chewed away and tear off, and multi-layer soles can begin to peel apart. The upper part of the shoe also needs to stand up to the rigors of bikepacking. Our evaluation of durability is based on how the test shoes held up as well as on input from other bikepackers who have used some of these same shoes.
Ventilation
No one wants their feet to bake inside a damp shoe on a hot day, right? Most shoe designers understand this and include at least a reasonable amount of highly-breathable fabric in the uppers. Some shoes have nothing more than pinholes for ventilation, and although this might be great for cool climes, the shoes are stifling in warmer weather. Similarly, shoes with a Gore-Tex lining breathe poorly, take much longer to dry when soaked, and simply fill with water during rain storms.
Our Top Picks
Our favorite shoes are the Northwave Spider 2, the Pearl Izumi X-Alp Launch II, the Pearl Izumi X-Project II and the Five Ten Kestrel Lace. With the exception of the Spider 2, all these models come in both men's- and women's-specific versions.
Top Pick #1 – Northwave Spider 2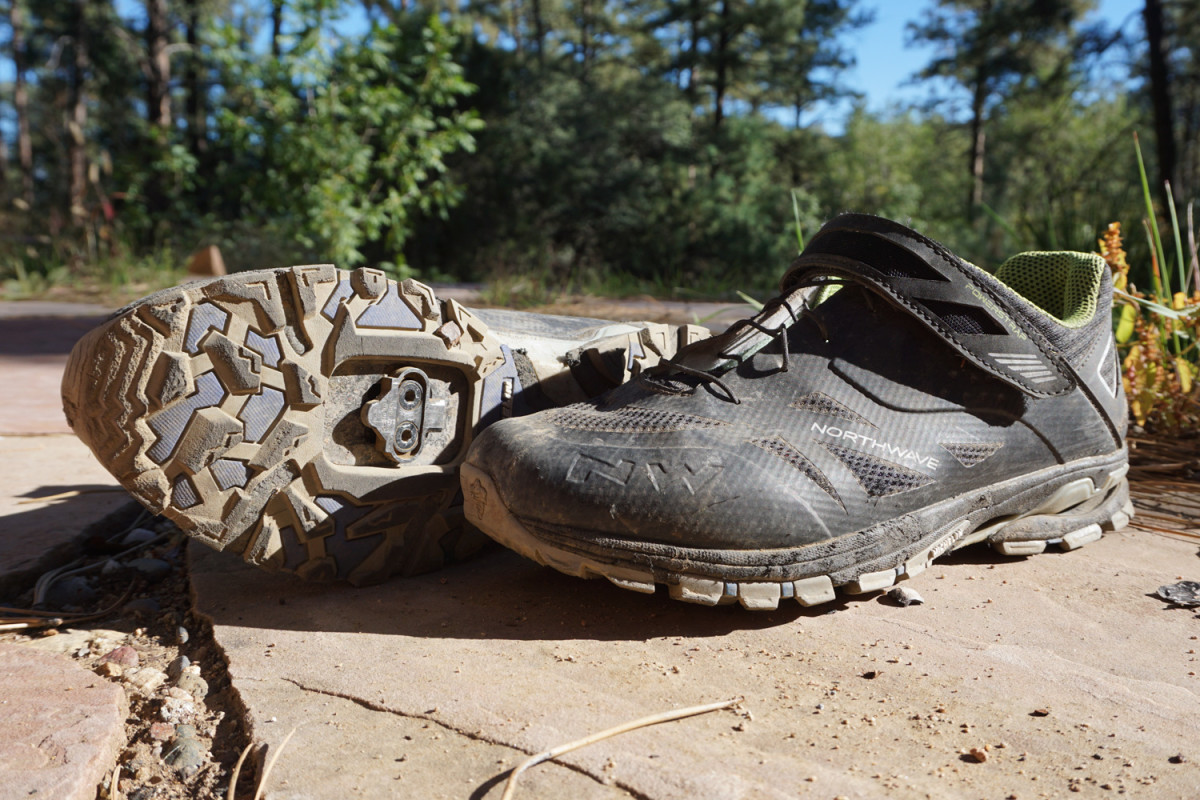 This shoe is as comfortable on the bike as it is off, is quite breathable, and its durability and comfort were proven on an eight-day bikepacking trip with ample hiking up some of Colorado's tallest peaks. It is an excellent all-around bikepacking shoe that comes with either a quick-lace or Boa (in the Spider Plus 2 model) closure system.
Top Pick #2 – Pearl Izumi X-Alp Launch II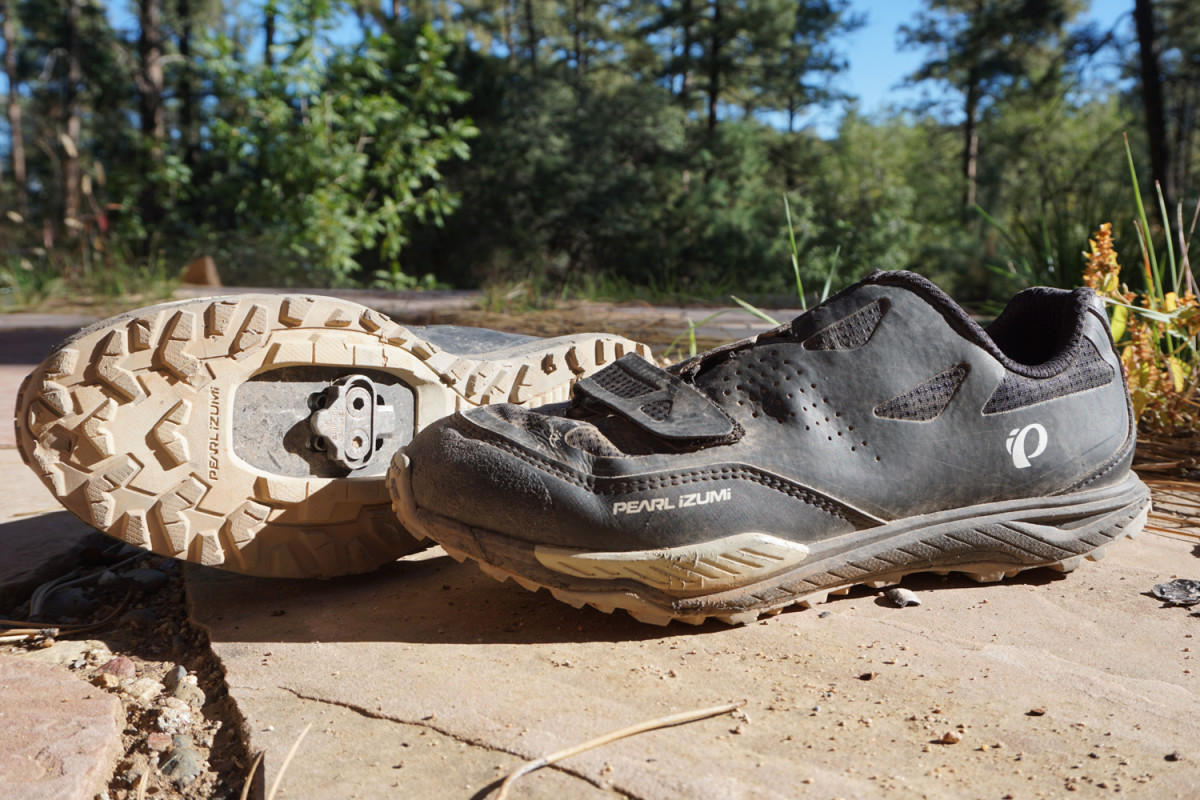 Apparently designed as an enduro shoe, this is another great option for long days of both pedaling and hiking. The sole is stiff but the toe flexes during steep hike-a-bikes, so the shoe is quite comfortable all day long. Tested throughout Arizona and on the Colorado Trail, this shoe held up well and kept riders' feet happy.
Top Pick #3 – Pearl Izumi X-Project II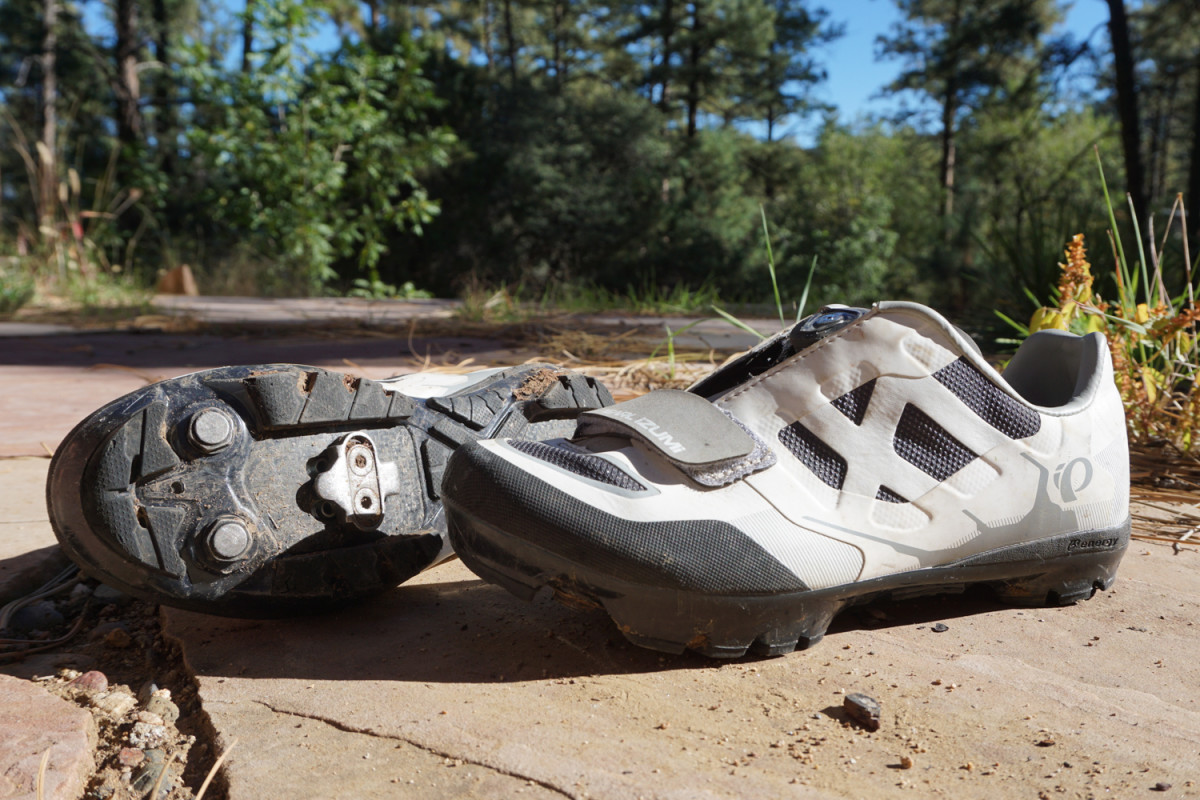 Using a full-length carbon sole that flexes beneath the toes while walking, this slim shoe is ideally suited for both long days on gravel roads and rugged trips with ample hike-a-bike. This shoe has been extensively tested on several month-long expeditions with impressive results. The rubber-capped lugs tend to wear faster than the rest of the shoe, but the wear isn't unreasonably fast.
Top Pick #4 – Five Ten Kestrel Lace: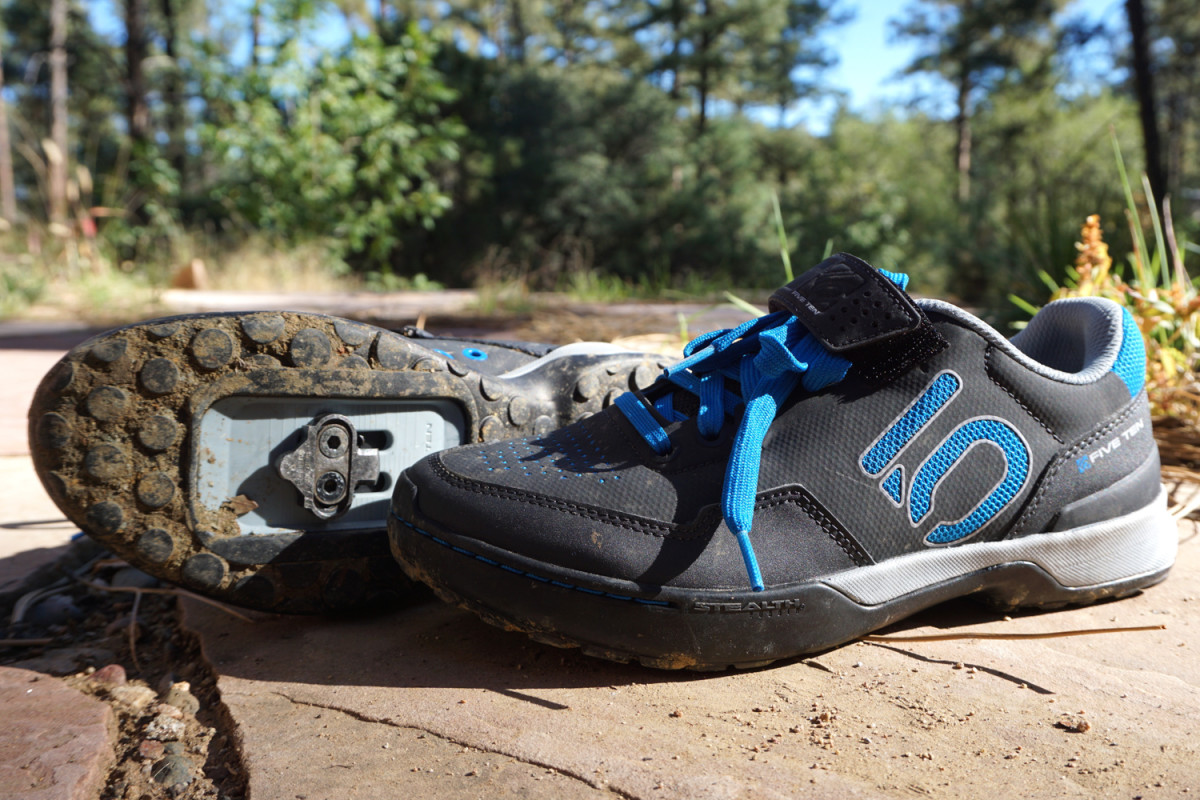 The Kestrel is a low-profile shoe with a very rigid sole, sticky but durable rubber all across the sole, and very comfortable uppers that are best suited for someone with a wider foot. Five Ten also offers a more expensive Kestrel model with a Boa closure and a slightly narrower fit.
Other shoes, ordered from highest to lowest scoring:
Five Ten Maltese Falcon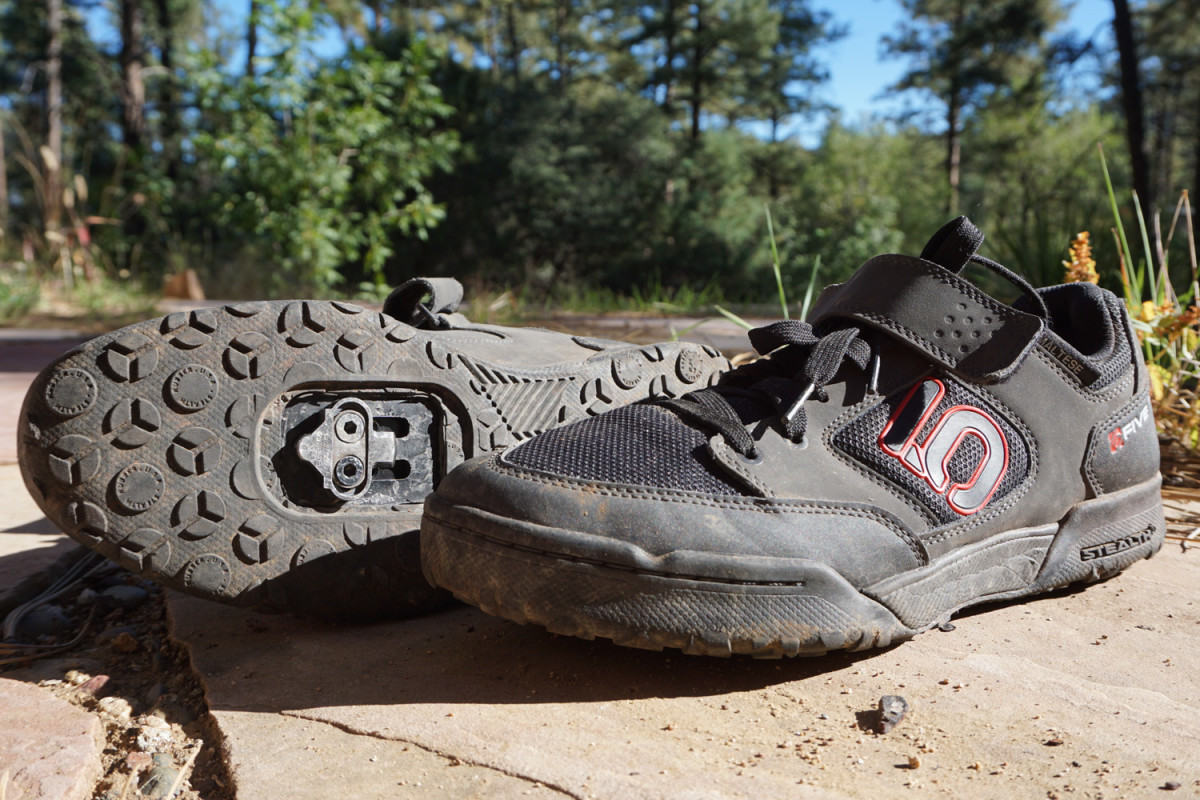 This shoe is the antithesis of the cross-country styling of some of the other shoes in this test. It's a bit bulky and dries slowly due to its ample padding, but the Maltese Falcon is a comfortable shoe for both riding and hiking, and its traction on bare rock is second to none. The shallow tread depth may result in some lateral instability with some clipless pedals.
Mavic Crossride Elite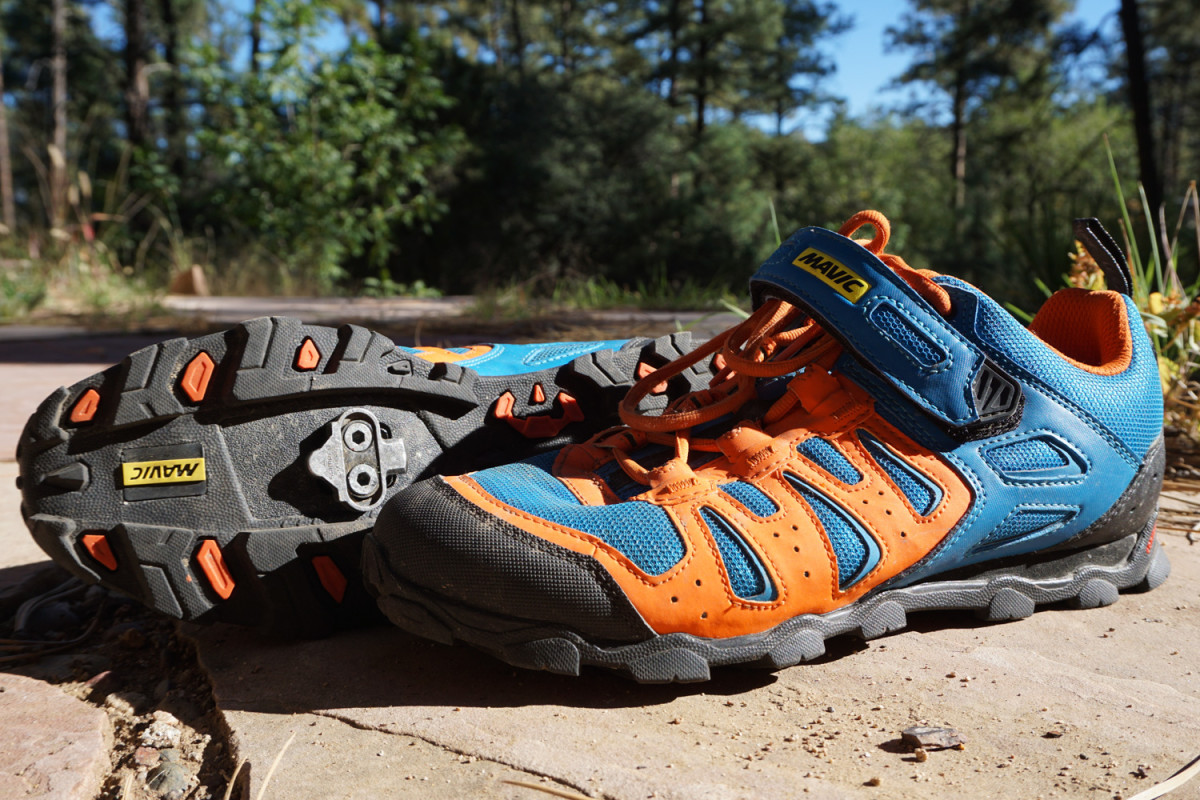 This is one of the least expensive models in this test, but it's comfortable, efficient both on and off the bike, very well ventilated, and is available in both men's and women's fits. Unfortunately, the shallow tread depth is likely to result in lateral instability with some clipless pedals.
Scott Schr'Alp RS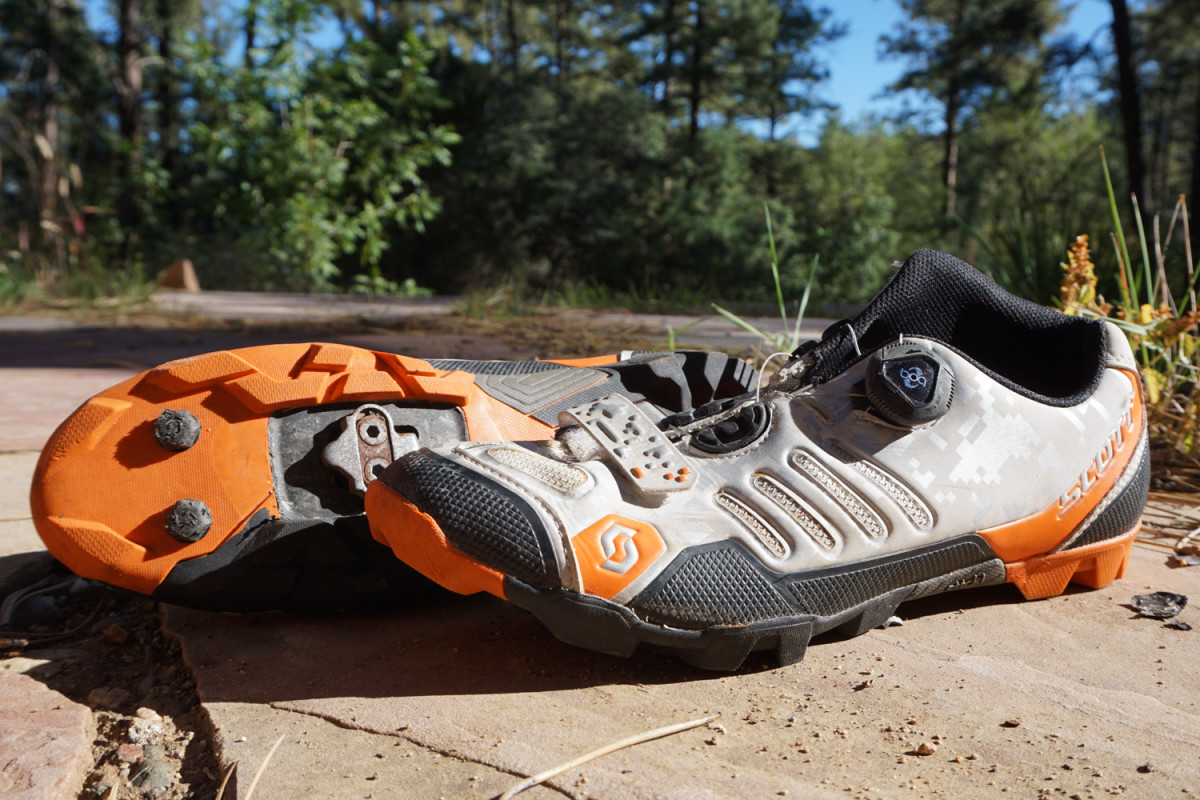 Another shoe designed for the endruo scene, the Schr'Alp RS is a very adept shoe for any type of off-road riding, hikes moderately well, and is very durable. The only downside was the absence of any padding beneath the insole, which led to some fatigued feet after long days of riding. The padded ankle guard was noticeable while pedaling, and although it did not cause any chafing, endurance riders may prefer the similar Prowl-R RS model that forgoes ankle protection.
Shimano SHM-163 and SHW-64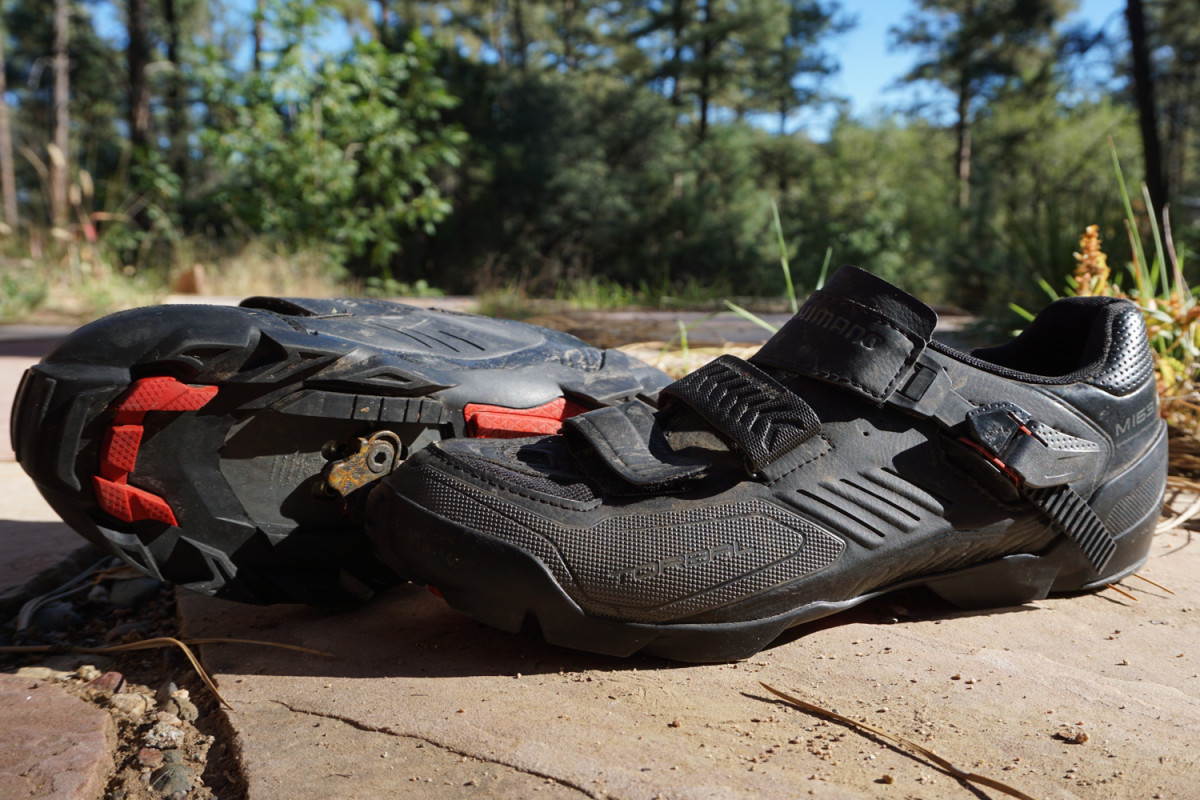 These two shoes, despite their different model numbers and prices, are strikingly similar aside from the men's- and women's-specific fits. Styled like a classic cross-country mountain bike shoe, the gimmicky-sounding sole design that is stiff front-to-back but flexes slightly torsionally is very comfortable for both riding and hiking. The rubberized sole offered great traction, and the overall fit of the shoe is superb.
Specialized Motodiva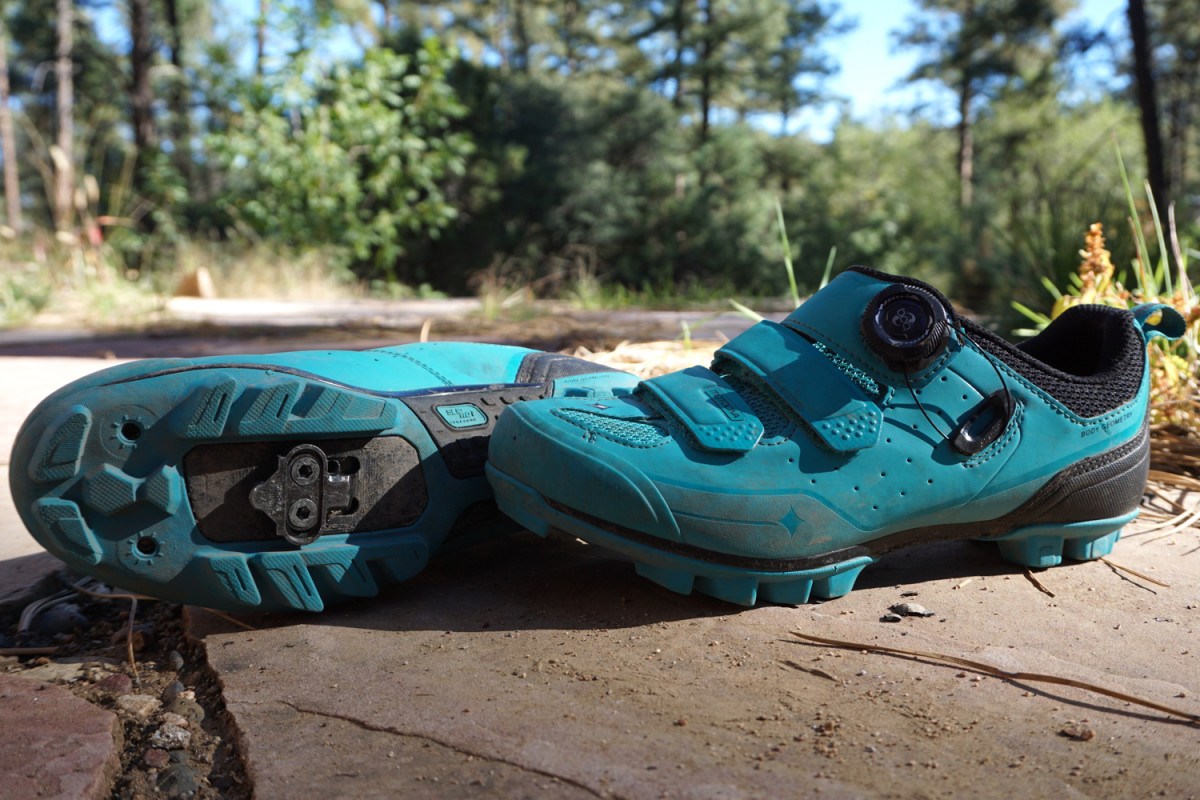 The Motodiva is a women-specific mountain bike shoe well-suited for all-around riding, including a backcountry rides with some hike-a-bike. The sole stiffness is great for long days of pedaling, traction is excellent while hiking, and the fit is decent. Ventilation, however, is poor on this shoe.
Shimano SH-XM700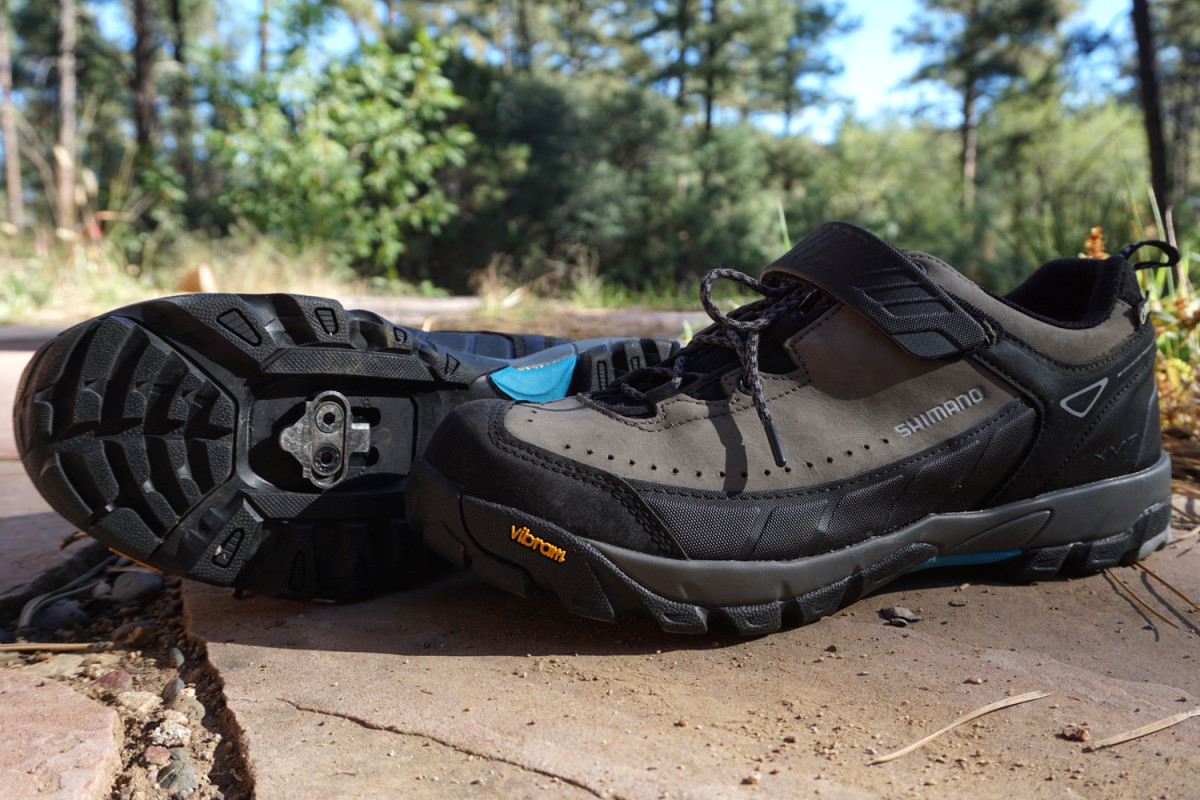 The SH-XM700 looks more like a low-top hiking boot than a cycling shoe, and it is indeed very comfortable for walking off-trail in the most rugged terrain. On the bike, the shoe feels a bit bulky, but the sole is quite rigid. The Gore-Tex lining seems unnecessary, though, as it inhibits any semblance of breathability, causes the shoe to dry incredibly slowly, and results in water getting trapped as it runs down your ankle and into the top of the shoe.
Giro Terraduro/Terradura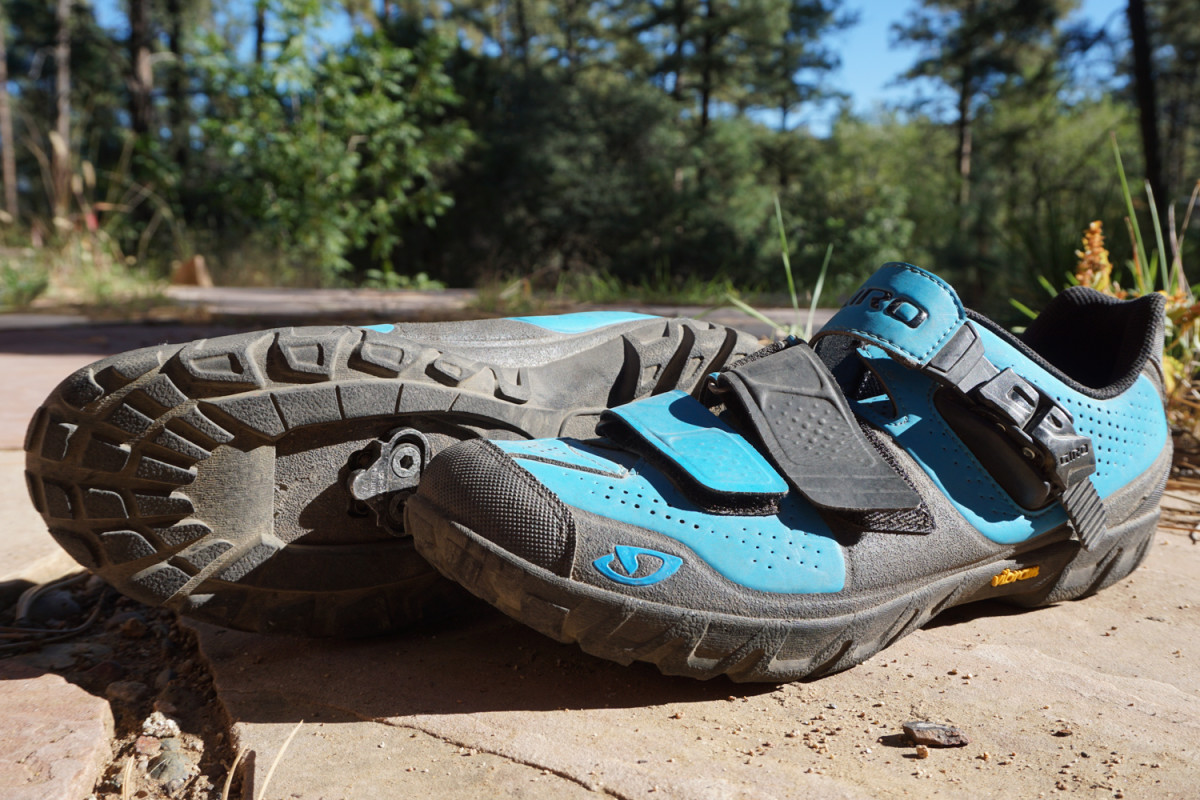 The fit and sole stiffness of the Terraduro (men's) and Terradura (women's) makes it a great shoe both on and off the bike, and many bikepackers have used this shoe on big adventures. But the sole tread wears out quite quickly, and the lack of breathable material in the uppers makes the shoe quite warm. If it weren't for those two shortcomings, this shoe would have scored much higher in the test.
Shimano SH-WM34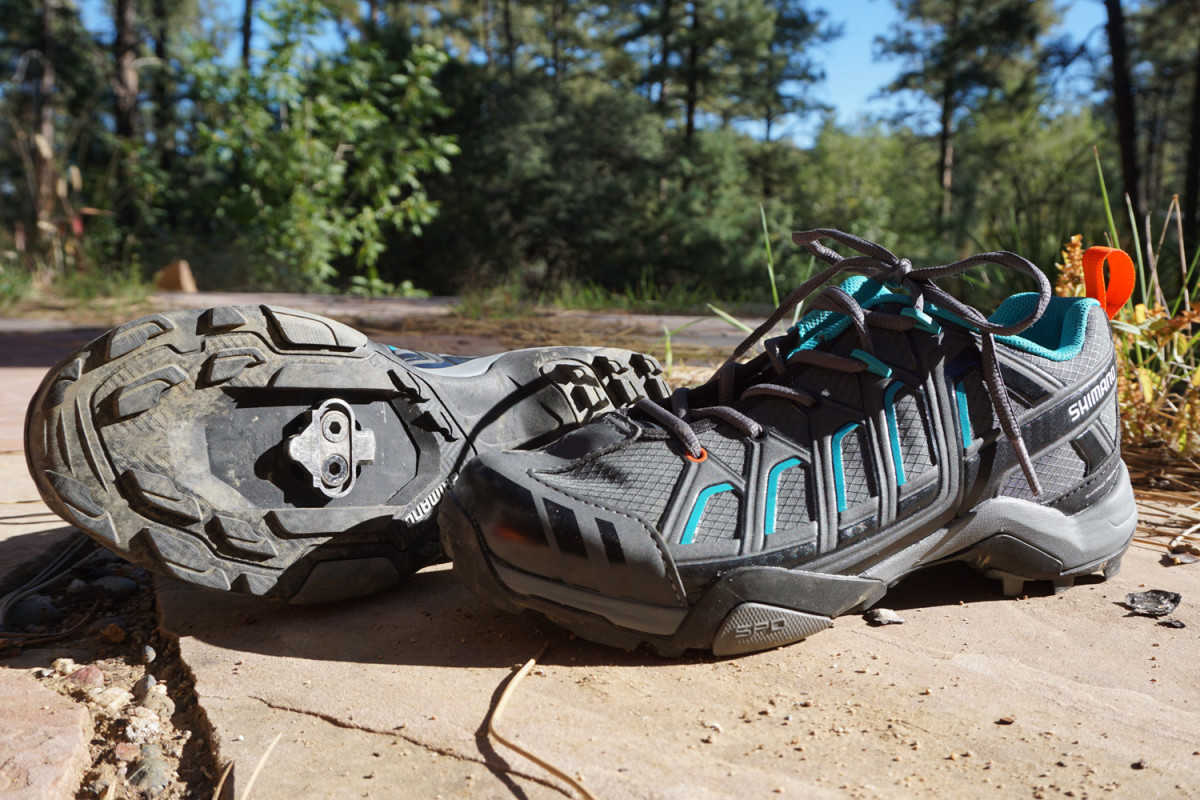 The lace-up women's-specific SH-WM34 is the least expensive shoe in the test, and like many shoes that sell for around $100, the sole is not particularly stiff. The shoe hikes like a running shoe and similarly provides great hiking traction. On the bike, the more flexible sole allows the shoe to bow downward around the pedal, so on long rides, some foot fatigue is likely. Bikepackers and tourers who don't plan on pedaling long days may like this shoe.
Scott Sport Crus-R Boa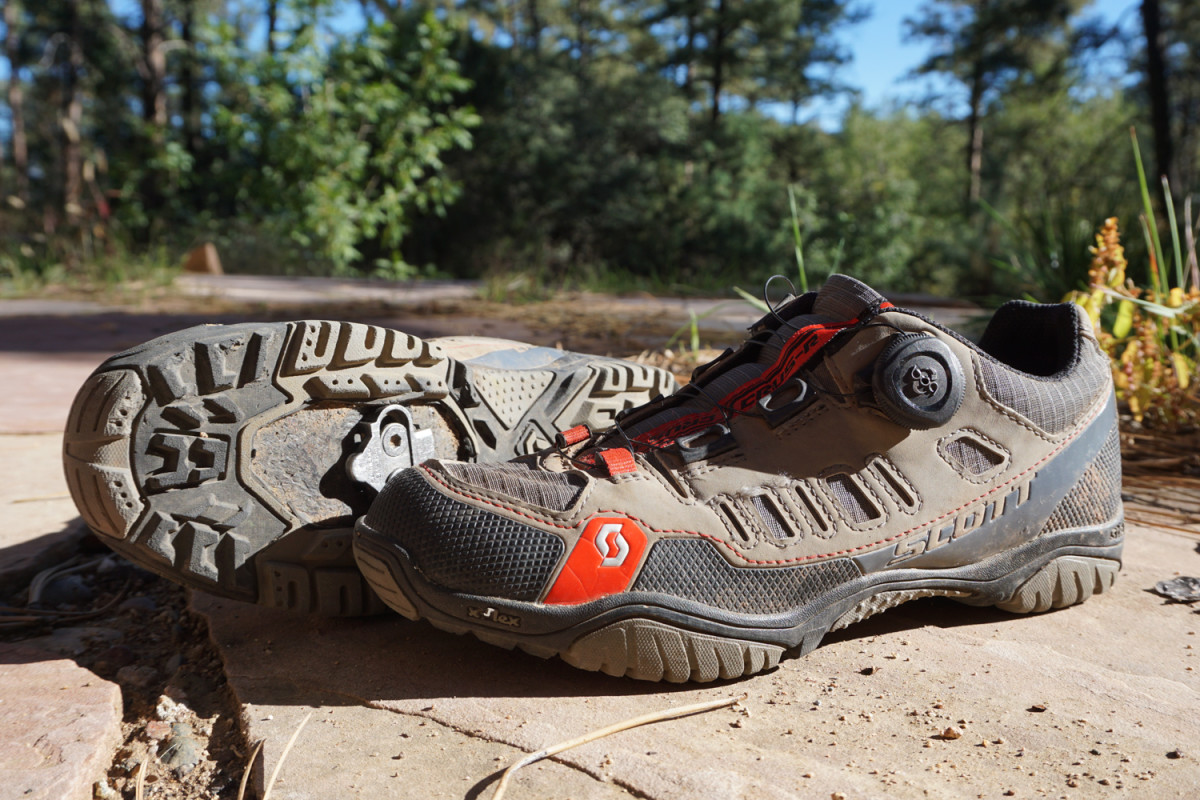 Scott's relatively simple Crus-R Boa shoe, with a moderately stiff sole, is at home both on and off the bike. The shoe performed admirably on a four-day bikepacking trip with ample hiking, but the tread began separating from the shoe in a few places. It is a great option for the bikepacker looking for a well-ventilated shoe that will keep feet happy all day and in the evening around camp. But too much hike-a-bike will take its toll on the Crus-R.
Specialized Recon Mixed-Terrain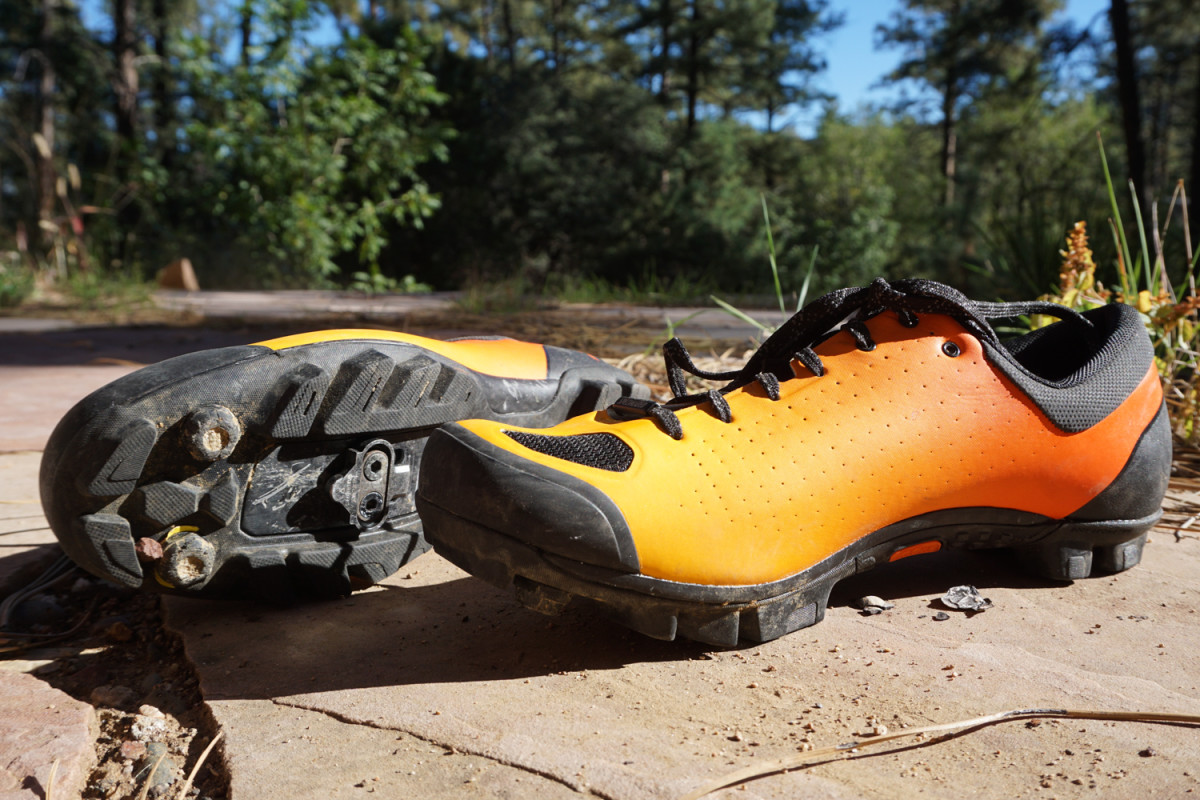 This is the most expensive shoe in the test, retailing for $250. The shoe's full-length carbon sole is incredibly stiff, making it feel as efficient as imaginable while pedaling, but the shoe is not at all adept at extended walking. The uppers also do not breathe well. But if this shoe fits, it would be a good option for dirt road touring and day rides.
View the detailed scoring results here.