Remember that quip from Keith Bontrager about bikes and components? "Strong, light, and cheap: pick two"? It can be adapted to almost any type of gear. For bikepackers, it might be more along the lines of "Packable, light, and cheap: pick two." We face the continual challenge of fitting food, water, and all the necessary gear into a variety of bags on the bike and perhaps a backpack. This challenge is even greater for riders on smaller bikes that have more limited storage capacity, and piling too much additional weight into a backpack usually just results in an achy back and a sore butt. The bulkiest items, aside from food and water, tend to be the items that only get pulled out at night: shelters and sleeping bags.
A conventional two-person tent will often fill an entire handlebar bag or more, but fortunately, there are shelter alternatives that will save substantial weight and space. The trick is to find the balance between having a sufficiently substantial shelter to stay comfortable and dry at night while not weighing your bike down during the day with an excessively heavy or bulky one. Here are some of the best bikepacking shelter options ranging from bivy sacks to full tents.
Montbell U.L. Bivy Sack – $175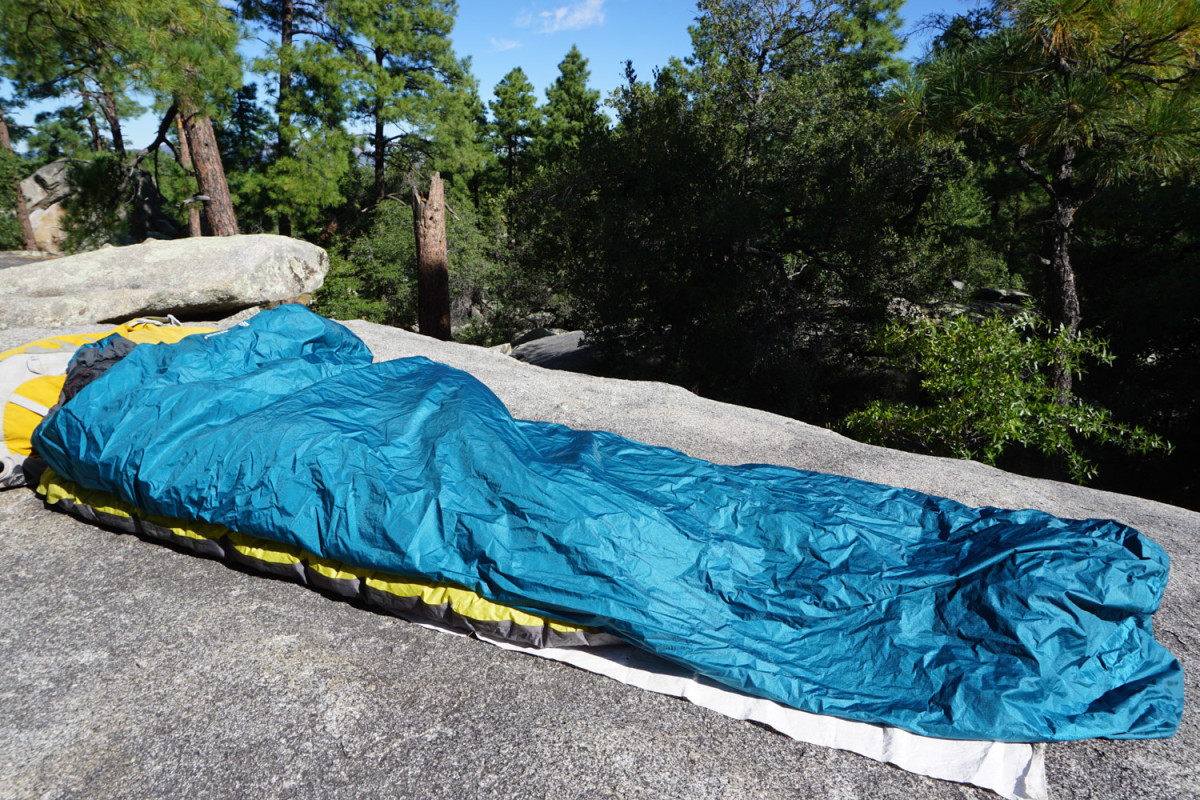 The ultralight option
A bivy sack is nothing more than a glorified waterproof bag to go over a sleeping bag. Although bivies have many shortcomings, they represent the smallest and lightest option. The Montbell U.L. "sleeping bag cover" is one of the lightest bivies out there at just 7 ounces, and it packs down to nearly the size of a soda can. This bivy is made of a Gore-Tex laminate, has fully taped seams, and keeps you quite dry as long as you're not laying in a puddle.
The advantages of bivy sacks are that they're light, compact, quick to set up, and add a bit of warmth to a sleeping system. But with most bivies, there are major disadvantages: condensation on the inside often wets the surface of a sleeping bag overnight, there's no room to cook or change clothes, and if it's raining, you find yourself cinching the opening shut and breathing out of just a little hole. Swarms of biting insects can also keep you awake if you forget a head net.
So when would I carry just a bivy? I use one for bikepacking races when all I plan on is a few hours of sleep. If it's a rainy night, I find a dense tree to sleep under. I also take this bivy on chilly but dry trips to stay a bit warmer at night and to keep dew from making my sleeping bag wet. But if I'm planning on sleeping all night (as I do on most bikepacking trips these days) and there's any chance of precipitation in the forecast, I opt for a more substantial shelter.
SOL Emergency Bivy – $17
The ultralight and dirt cheap option
This shelter seems a bit too good to be true at first glance: it's cheap, it only weighs 3.5 ounces, and it packs down to the size of a baseball. The material is completely waterproof, and the bivy even boasts a drawstring to pull the opening closed. However, this is designed as an emergency bivy, so it is not particularly durable. Expect it to have a lifespan of just a few short trips before the shiny material starts accumulating holes. And the downside to the bivy being completely waterproof is that it does not breath, so condensation builds up very quickly inside. But if you are looking for a simple and affordable shelter to carry along on a trip that's not likely to be particularly rainy, the SOL bivy might be the way to go.
ZPacks Hexamid Pocket Tarp – $199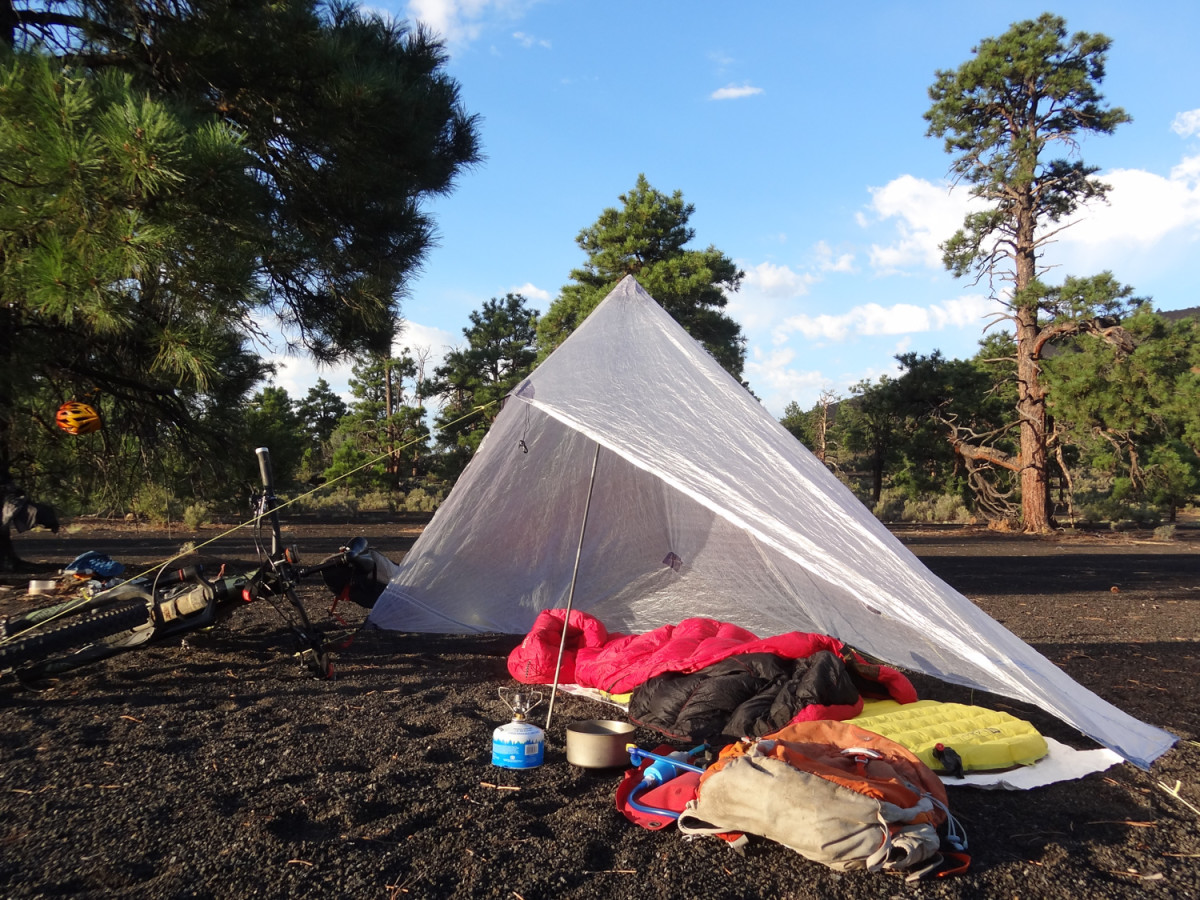 A more comfortable ultralight option
A leader in innovative gear made from light and resilient Cuben Fiber material (now called Cubic Tech), ZPacks created a one-person ultralight tarp that weighs just 8 ounces with a small carbon fiber pole and titanium stakes. The tarp packs down to almost the size of a soda can, and the pole breaks down into a small bundle just over 11 inches in length, easily small enough to stow in a frame bag or the smallest of backpacks. When set up with a four-foot pole, this tarp is tall enough to sit comfortably beneath and long enough to keep your sleeping bag well away from the edges. In all but very heavy rain, you and your gear will remain dry as long as the full-length wall is oriented into the wind and the upwind edge is staked low to the ground.
In most scenarios, pitching a conventional rectangular tarp requires at least one or two places to tie off corners, but the Hexamid Pocket Tarp can be set up in just a couple minutes without anywhere to tie off guy lines. The pole and stakes are all that's needed, meaning this tarp can be set up anywhere you like: in a meadow, on the tundra, or on a beach (assuming you've got a few rocks to help anchor stakes in the sand).
This has become my go-to shelter for solo trips with low chances of rain in the weather forecast, and I barely notice the bulk of the full setup in my bags. When unexpected storms roll in after dark, I'm very glad to have something more than a bivy.
The rectangular silnylon tarp – $50+
A light and cheap tarp option
While the ZPacks Hexamid Pocket Tarp is versatile and light, there are far more affordable tarps out there. A simple rectangular tarp can be pitched creatively almost anywhere with enough parachute cord and a few stakes. String the tarp up completely stretched out above you or with a center ridgeline and low edges for more protection from wind and rain. A tarp with dimensions of roughly six-by-nine feet works well for one person, and a larger tarp of 10 x 10 feet is good for two people. These sizes of silnylon tarps are available from Borah Gear and Aqua Quest and usually weigh in at 10 to 17 ounces.
Black Diamond Beta Light Tent – $199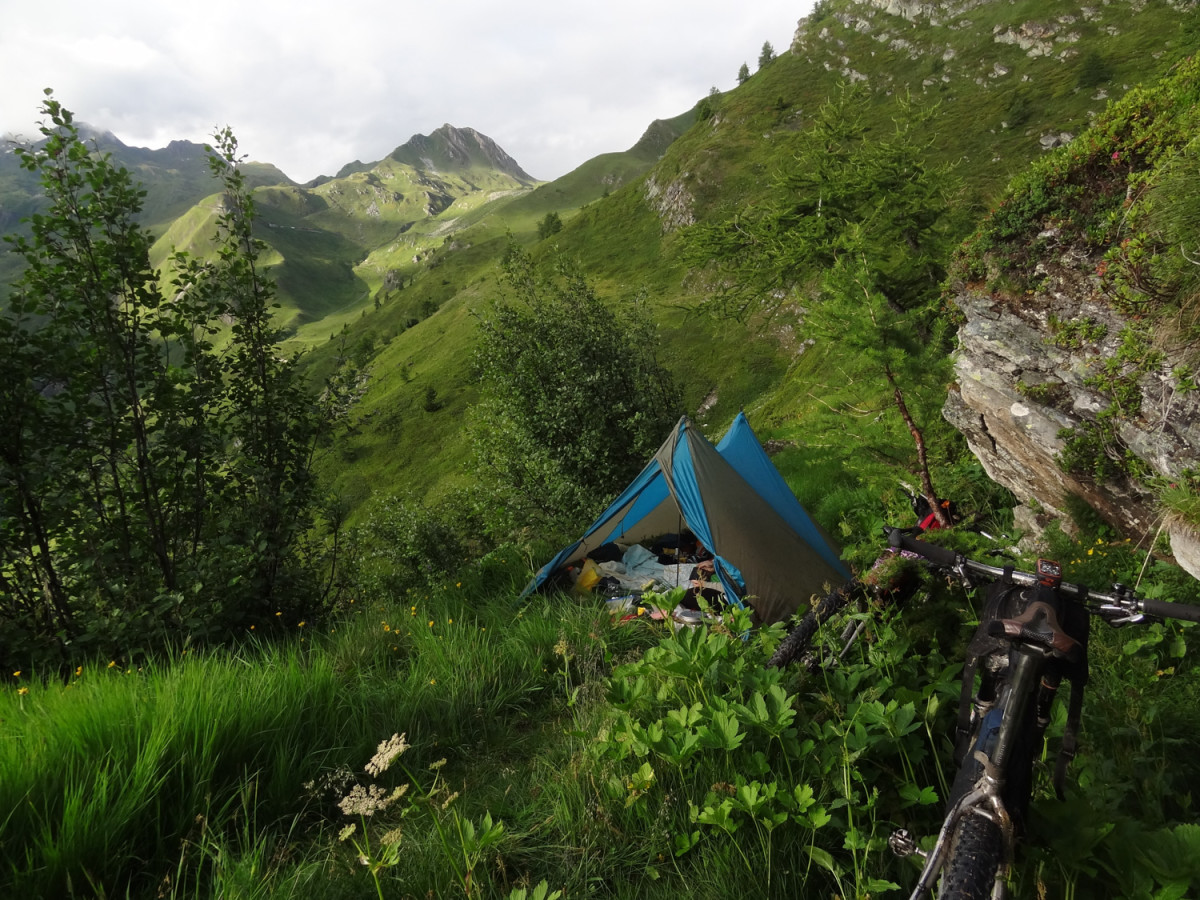 The light, compact workhorse
The Beta Light is a floorless single-wall two-person tent made of silnylon. It requires two four-foot poles and six stakes for setup, a process that takes just a couple minutes. The complete weight, with a pair of carbon fiber poles from ZPacks ($30 each) and six aluminum stakes is 24 ounces. The tent itself packs down to the size of a one-liter water bottle. Within the spacious tent, there is ample room for two people, packs, and more. The location of the two poles, however, keeps inhabitants from getting too cuddly.
I virtually always take this tent bikepacking when traveling with a partner if there's any chance of rain. My Beta Light has accumulated 250+ nights out in strong storms, unexpected snows, and everything in between, and although it is now peppered with small holes and slices, the tent miraculously still doesn't leak. The biggest downside to a floorless tent is that it does little to keep bugs out, so carrying a head net is wise if your travels take you to places with many biting insects.
Nemo Blaze Two-Person Tent – $449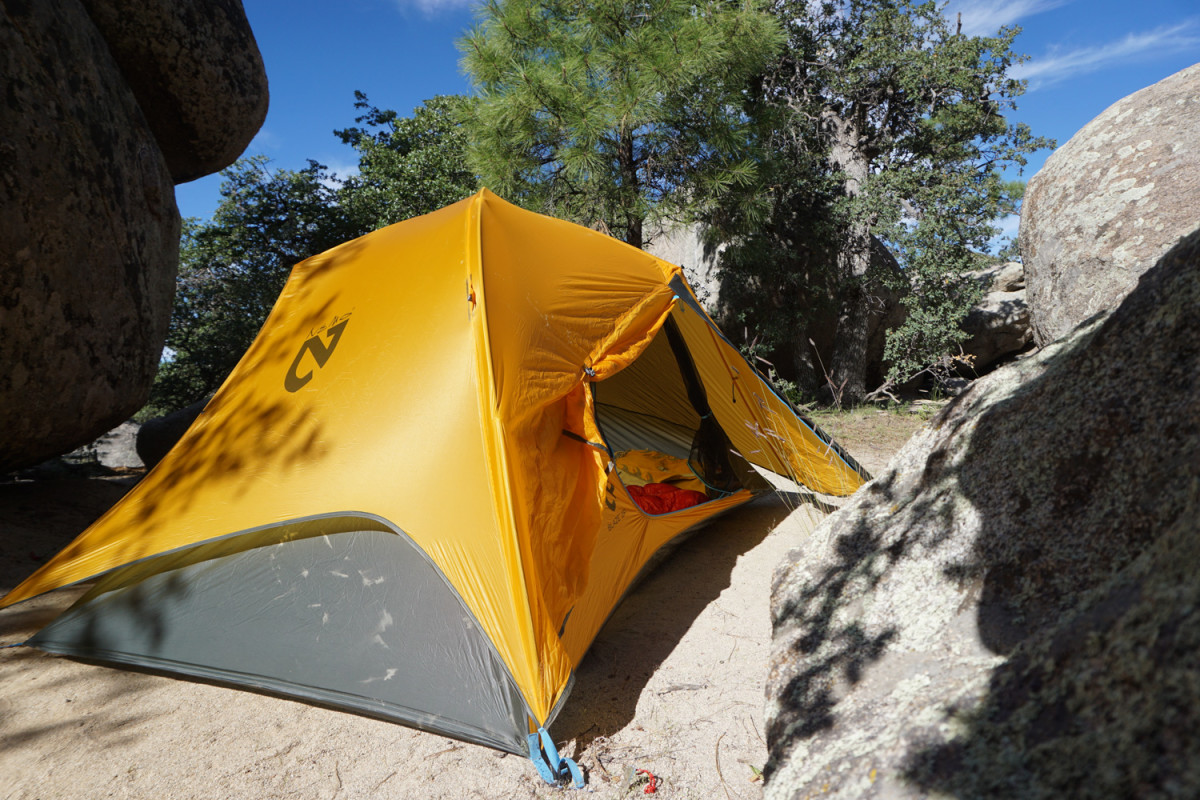 The fully-enclosed option
On some trips, you're bound to find yourself amid swarms of bugs or weathering frequent windy and stormy nights. To stay as dry as possible, hold the biting bugs at bay, and keep any crawly and slithery critters out, a full tent is the best solution. Nemo's Blaze two-person tent is among the lightest and most compact complete tents out there, weighing in at 38 ounces with its single aluminum pole and stakes. The body and fly impressively pack down to just the size of a small cantaloupe, and the pole breaks down into sections that fit into a full-length frame bag or average-sized daypack.
What makes this tent stand out among its ultralight brethren is its roominess: it feels almost luxurious. Two people can comfortably sit side-by-side in the middle of the tent without rubbing shoulders on a wet rainfly, and each person has their own zippered door and vestibule. The length of the tent also allows for someone over six feet tall to completely stretch out. Admittedly, it's rare that I take a full tent bikepacking, but when the mosquitoes are thick or storms are likely, I find myself able to sleep far more soundly in a tent compared to any other more minimalist shelter.
The best shelter option for you
Carrying the lightest shelter you can reasonably get away with makes for more enjoyable and less taxing riding. But sleeping comfortably and staying dry during the night sits on the other side of the equation. A bivy or tarp can be a great option for those heading out for short trips in dry weather and for packing as lightly as possible. Inexpensive tarps and bivies are also ideal for getting into bikepacking without dropping too much cash on a shelter. Alternatively, the Black Diamond Beta Light tarp tent is an incredibly versatile shelter option, and the Nemo Blaze tent will keep you dry, comfortable, and bug-free anywhere you go.
More on bikepacking:
How to Prepare for a Bikepacking Race
How To: Not Starve While Bikepacking