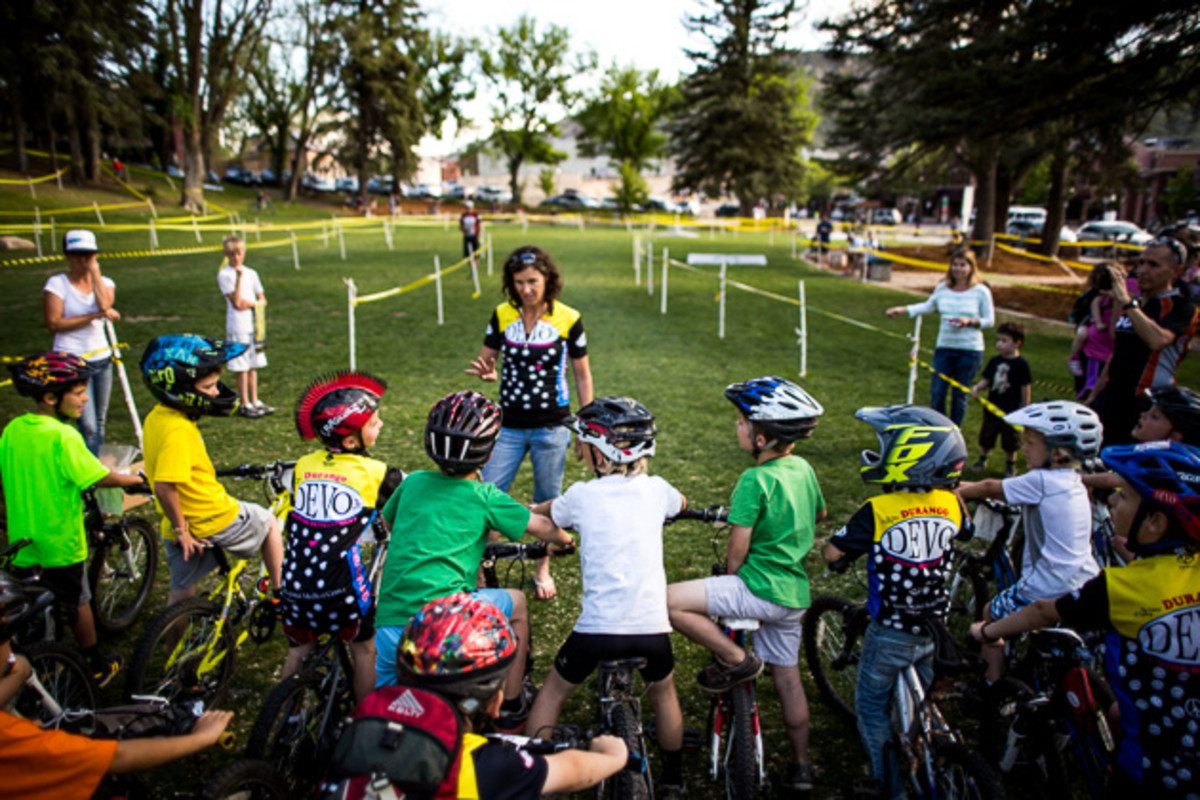 Words by Tess Weaver Strokes
Photos by Daniel Walker
Each Wednesday after school, 16-year-old Jake Hurworth, meets a coach and nine other kids at a local trailhead in Durango, Colorado. They'll ride for two hours, focusing on one or two skills, like cornering or air awareness. They'll session a jump, race each other up a hill and laugh until their stomachs hurt. Hurworth has ridden in groups like this for five years and keeps coming back for the team camaraderie. "There's a group effort to better each other as riders," he says.
On a typical evening in Durango, there are seven freeride or cross-country specific groups like Jake's and upwards of 100 kids out on the local trails. The lucky young riders are part of the Durango Junior Development Mountain Bike Team, or Durango Devo, a non-profit with a mission to develop lifelong cyclists within a traditional team setting.
"When you're starting out, it's huge to have a group to ride with and have someone to mentor you along," says 19-year-old BMC rider Sepp Kuss, a Devo alumn. "I'd race against kids around Colorado who were riding alone or with their parents. It made a huge difference to be part of a team."
Founded in 2006 by mountain bike coaches Sarah Tescher and Chad Cheeney, Devo operates three seasons a year and divvies up 350 kids (ages 2-19) and 80 coaches into 24 programs, everything from a push bike group for preschoolers to a program that teaches kids how to bike with panniers and camp out in the wilderness. Devo grows around 20 percent each year and can't even keep up with the demand. It's perhaps the most comprehensive youth cycling development program in the country, and certainly one of the most successful.
Since the program began, Devo has churned out 28 national champs, 24 Colorado state champs and sent athletes to the XC World Champs almost every year. Devo alumni includes Kuss and 21-year-old Howard Grotts, two of the top U23 XC riders in the world. But competition isn't the main focus of the program. Devo doesn't offer an opportunity to race until middle school. "If it's too serious or parent driven, kids usually end of quitting," says Tescher. If we can keep it fun and about skill development and building a passion for the sport, we can create lifelong cyclists."
Durango's trail access and cycling heritage have undoubtedly contributed to Devo's success, but Tescher says that with passionate coaches, the format is easy to duplicate. She's helped other communities in Colorado, New Mexico and Arizona start their own youth cycling programs. "What makes me proud is these kids turning into people who love being on their bikes and sharing that with others," says Tescher.