Going into this season, Anneke Beerten had two main goals: win an Enduro World Series race and defend her Queen of Crankworx title.
The Dutch star started strong, finishing second at the first EWS race in Corral, Chile, but by mid-May her body had made other plans. What she thought was a bout with the flu turned into weeks of uncertainty, two courses of antibiotics, multiple tests and almost two months off the bike as doctors tried to figure out what was making her so tired and sick.
In the middle of it, Beerten attempted to compete at Crankworx in Les Gets, France.
"It was horrible," says Beerten, sitting in the GT pits the day after the Whistler EWS race. "I was doing dual slalom and every run I was getting dizzy at the bottom. I was pushing up with my mechanic and I was like, 'I don't feel well.' He's like,' You only have to do two more runs.' I was at the gate feeling shaky and stuff. Then I did pump track and I was out the first round. I can't remember the last time I didn't get to the final. I was like, 'What the hell is happening? This is not good.'"
Then she developed a heart arrhythmia. "Right away, the doctor said you have to take time off. Your body needs to recover from everything."
Ultimately, after a misdiagnosis of parasites, doctors determined she had a viral infection.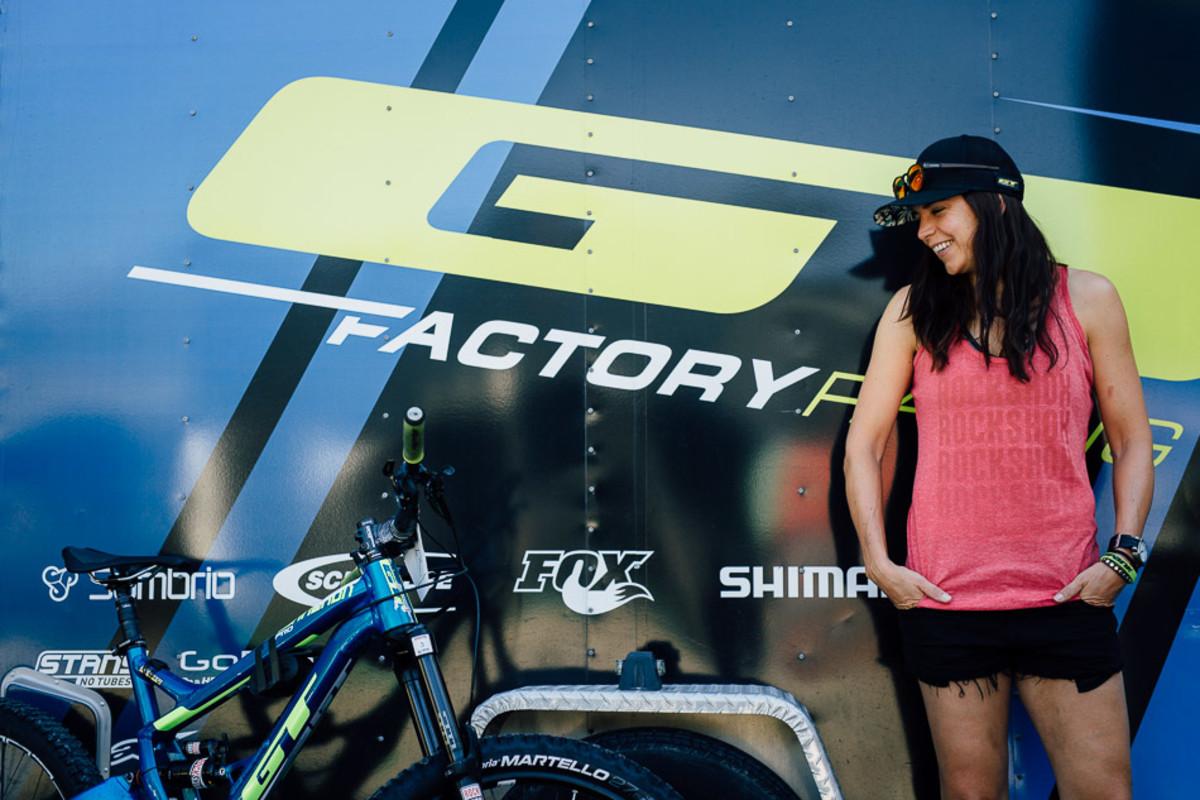 "That was a reality check because as an athlete you're always like, 'Nah, I'm fine. I can push through. … It's all good now. I know I'm a little bit behind now with my fitness maybe, but yesterday (at the EWS) was pretty good, it was pretty steady and I know slowly I'm getting back into it."
Beerten returned to the EWS at the end of July in Aspen, where she placed 5th, then followed it up with a 6th-place finish here in Whistler. Despite having to abandon her ambitions for a repeat Queen of Crankworx title–Jill Kintner currently leads the race; Beerten is a distant 3rd–Beerten took on a full schedule in Whistler, competing in the enduro, the Fox Air DH, pump track, where she took second place, and dual slalom.
"Right away, you want more," she says. "As soon as you feel normal again, you start putting in hours again, but then you really have to dig deep like yesterday, there are a couple of stages that are so long and some are really physical, that's when I noticed OK yeah I'm not where I was in the beginning of the year and try and be OK with it.
You also learn that at the end of the day, your health is still more important than anything else."
Now her goals have changed–she's aiming to finish strong at the final two EWS stops and will compete in 4X World Championships in Val di Sole, Italy–but with a deeply ingrained strong will and determination, Beerten will no doubt be back in full form next year.
After all, this is a woman who, as a child, wrote down her intention to become a world champion, then accomplished it before most people would get a driver's license. Beerten, now 34, has been racing since her dad first took her to the local BMX track in Holland when she was 4, and she's excelled in almost every dirt discipline in the three decades since. She was a two-time BMX World Champion by 16, then joined the Be-One mountain bike team. The transition to bigger wheels wasn't exactly smooth, but Beerten was instantly hooked.
"I remember the first camp, we were in the South of France. I was blue everywhere, I had bruises, I was holding onto trees, it was such a new experience and so nice. Immediately I was like, 'That's what I want to do.' That's the change I want to make and see if I could become a pro mountain biker."
Breaking into downhill was difficult–the field was stacked with the likes of Missy Giove, Anne-Caroline Chausson and Leigh Donovan–but she progressed from junior to elite and landed on the podium once before transitioning to 4X, a much better fit given her BMX background. After winning another two World Champion titles in 4X, she joined the burgeoning enduro scene at the suggestion of her sponsor SRAM. She was skeptical, given the endurance nature of enduro versus the short bursts of speed required for 4X. But, as with the other junctures in Beerten's professional career, she dove in blindly and eagerly, signing up for a race in Finale Ligure, Italy, in 2012.
"I went there and I ate shit really hard in practice. I knocked myself out so I didn't end up racing, but from riding and training there, I really enjoyed it and I knew Specialized was setting up a team."
She approached the team manager and spent the next three years racing the enduro circuit for Specialized, adjusting her training from sprints, gates and jumping to long hours on the road bike. Last year when her Specialized contract expired, she accepted a multi-year offer from GT Factory Racing.
Along with shifting disciplines, Beerten has also been navigating another transition in the sport, going from being a professional female athlete judged solely on results to now also being evaluated on her social media image and following. Back in May, she penned a lengthy Facebook post, questioning the tendency to share only 'perfect' or provocative photos just to garner 'likes.' She was hesitant to post the accompanying photo because she didn't look her best, covered in dust and beat up from a two-day enduro, then realized she didn't want her online image to be dictated by superficial motivations.
"I'm a person that does not like to share you my dinner plates or my butt in a new yoga pants that I just bought, that just ain't me," she wrote. "It's sad but it is the reality that for female athletes it is a lot about social media and how you look these days. It's almost like: winning a race is cool, but how many likes did you get?"
Ironically, the post generated some 4,500 likes–10 times the number of Beerten's average post–and nearly 400 comments, most of them supportive (Beerten spent an afternoon replying to almost all of the comments).
Maintaining a social media profile is a pivotal part of being a pro these days, and it's one that Beerten enjoys using to stay in touch with fans, friends and family, but it does come with a new level of pressure now that athletes are contractually obligated to use specific hashtags and generate a certain number of likes. The message she wants to get across, particularly to young girls who follow her, is to stay true to themselves, both in the real world and the virtual one.
It's a philosophy that's worked out pretty well for Beerten so far. She races her final Crankworx event, dual slalom, tonight at 5 p.m.