A wisp of incense rises toward an unremarkable, low concrete ceiling. It adds a blue tinge to the light that spills from a small window. Sweet, delicate, almost naïve, the smoke lacks the muscle needed to mask the unmistakable odor of grimy drivetrains and suspension oil–the olfactory statement of a thousand mechanics' pits the world over. Shutting my eyes, I could be at the back of a bike store in Seattle, Washington, or Bristol, England, but a blink brings me back to reality; strung above the oily chaos of part-worn tires and widowed wheels is a string line dangling with yak meat–two dozen bloodied ribbons hung out to air-dry.
This is Tsheten Gurung's workshop in the remote Nepalese mountains, and the yak meat is his share of an animal dispatched with a knife as part of the recent Diwali festival. Tsheten is a local guy, born and bred in Muktinath, a village perched 12,171 feet above sea level on a barren, inhospitable Nepalese mountainside. It's as wild a place as one might imagine. Dust devils besiege its solitary street and dogs scowl at passing mules before sloping away to sleep off another night of barking. Rock walls wear halos of frost and snow cowers in their shadows, unfazed by a feeble autumnal sun. There's no asphalt, there's no Starbucks. It's a not a place you'd expect to find a thriving bike rental store, but Nepal is full of surprises.
Tsheten's workshop is as cold as a fridge. Located in the basement of the Hotel High-Desert, its rebar and concrete walls do little to insulate against the sub-zero temperatures that usher people in from the streets each night. Sporting a down jacket, Tsheten sits in a sea of bike parts and yanks a tire from a rim–another tube to fix. The thorny trails here are nothing if not advertisements for tire sealant. "We started with five bikes, hiring them from Pokhara," Tsheten says about Mustang Outback, the bike rental business he began with his older brother, Ganesh, in 2012. It has clearly worked out: They now have a 30-strong fleet of rental hardtails of their own.
"When we first rode the Lupra trail from here to Tatopani, we borrowed bikes from a friend," he says of the 55-mile ride that set the wheels in motion for an innovative business. "We rode it in two days and at the end of the ride, drinking a beer, we decided we should start the [rental] thing, so within a month we got some bikes."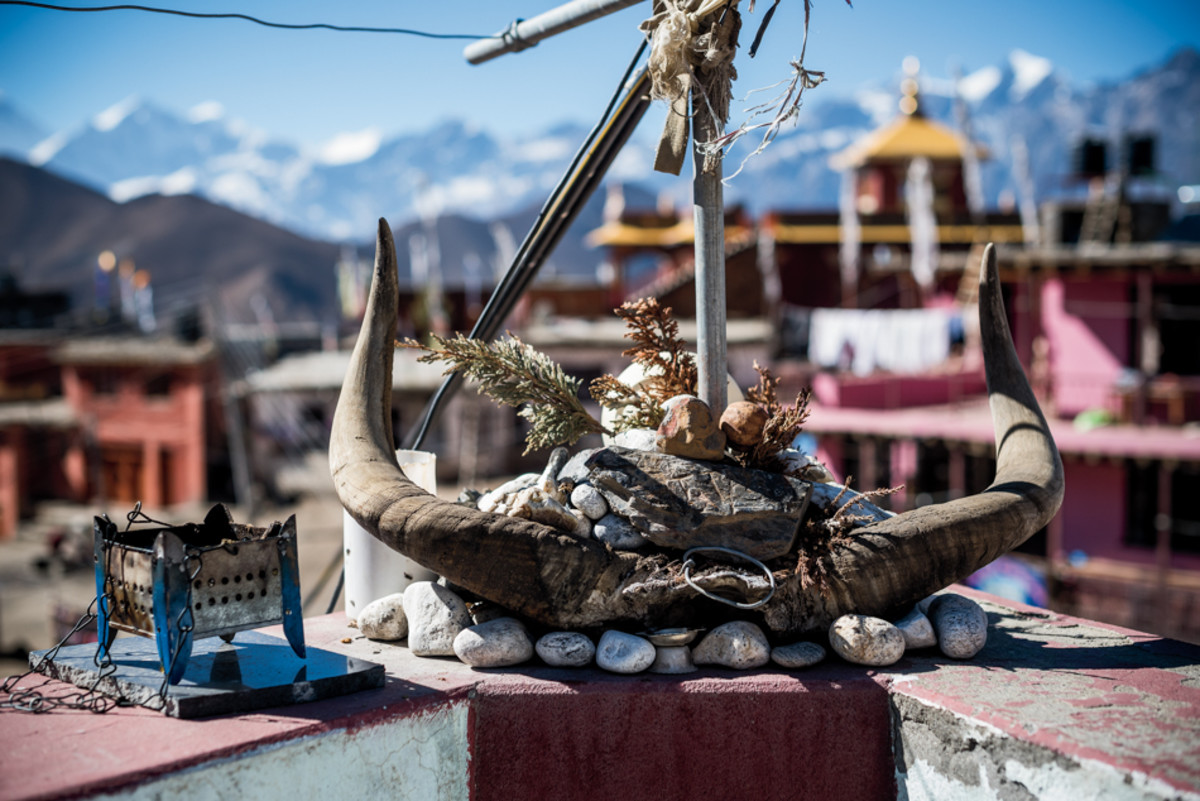 The Lupra trail the brothers rode on that decisive day is a fast, writhing serpent of singletrack. I ride it myself two days later and it instantly earns a place on my top-five list. After easing up to the 13,500-foot Lupra Pass, it playfully spirals downward before finally tumbling into a steep-sided ravine that conceals the tiny village of Lupra. For the duration, you're watched over by the towering 28,270-foot hulk of Dhaulagiri. From here, the Kali Gandaki River Valley shepherds you the rest of the way to Tatopani. The ride has become the backbone of most guided itineraries, and the Lupra trail is the highlight. But it's not for everyone. Deep, choking dust and loose sand require obligatory wheel drifts in the early twists of the trail, and death-risk exposure in places spells mandatory hikes for most clients. And if Tsheten is honest, most of his bikes end up rolling the initial 3,500 feet of descending on the rough jeep road down to Kagbeni instead. And there's rhyme to this reason: Most of his clients didn't come here to mountain bike.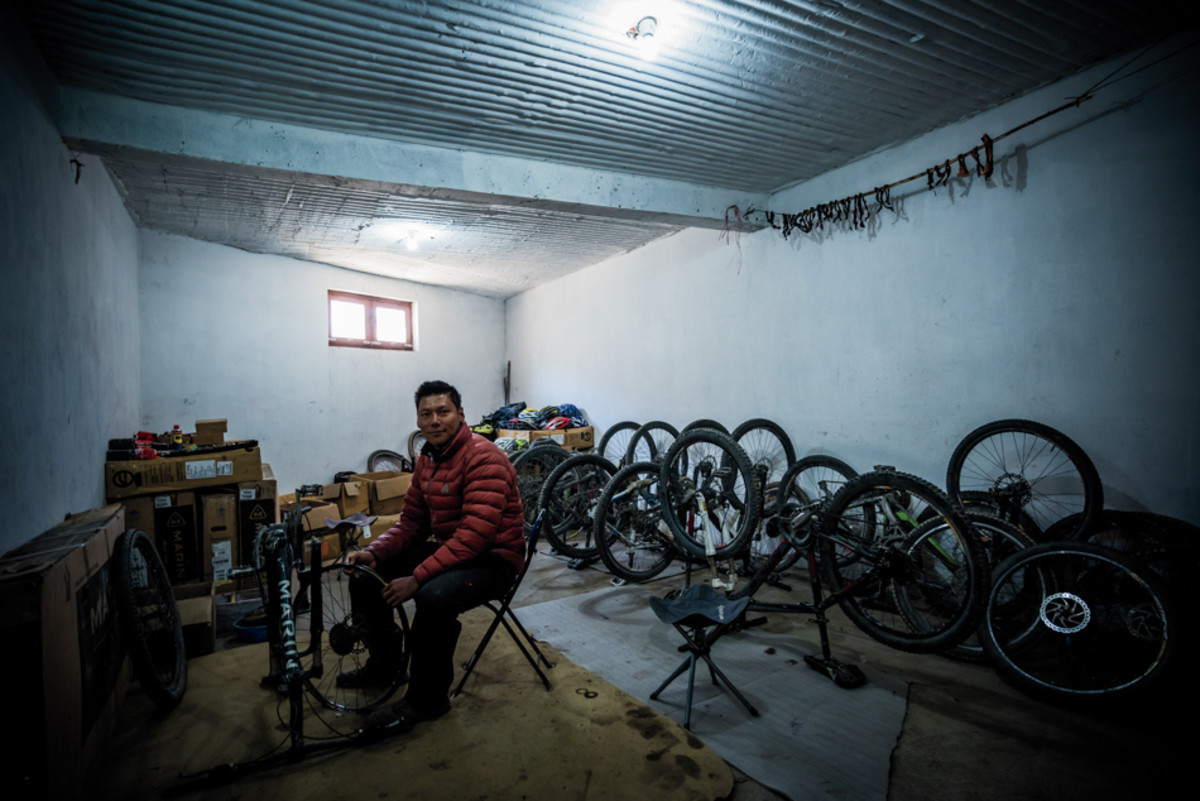 Although remote, Muktinath is no stranger to tourists. Its combination of a Hindu temple and a Buddhist monastery lures religious pilgrims from across Nepal and India on arduous bus journeys that terminate at Muktinath. Inappropriately shod in high-heels and awkwardly dragging rollerbags through the dirt, the pilgrims start out from one end of the village battling a contraflow of equally weary-looking trekkers coming from the other direction. The trekkers have descended from the 17,769-foot Thorung La Pass–the highest point on the 145-mile, 20-day Annapurna Circuit–and they fall on Muktinath's basic hotels and restaurant menus in an orgy of eating, drinking and laundry chores. With the pass now behind them, they take stock of the situation and the disheartening prospect of the four days of knee-punishing descent ahead. It's in these tired hikers that Tsheten and Ganesh saw the potential of one-way bike rental. They fix customers up with a map, essential tools, a spare tube and pump and arrange to transport their packs to one of three villages that sit between Muktinath and Tatopani. They charge $70 for the service and their 30 hardtails are not short of takers.
Tsheten's birthplace wields the romance of adventure to foreigners, but it deals a harsh living to those who call it home. Snow and frigid temperatures drive many of its inhabitants to stay with relatives in Kathmandu during the winter months. The tourist season is split into two short periods of March to May and September to December, dodging the inaccessibility of the summer monsoon and the dangers of winter blizzards. Yet even then, like so much of Nepal's infrastructure, the Mustang Outback business is fragile. In 2014, they saw their rental period cut short by a freak but deadly October blizzard that left dozens of people on the Annapurna Circuit dead and suspended the trekking operations until spring. This catastrophe emptied Muktinath of potential bike clients.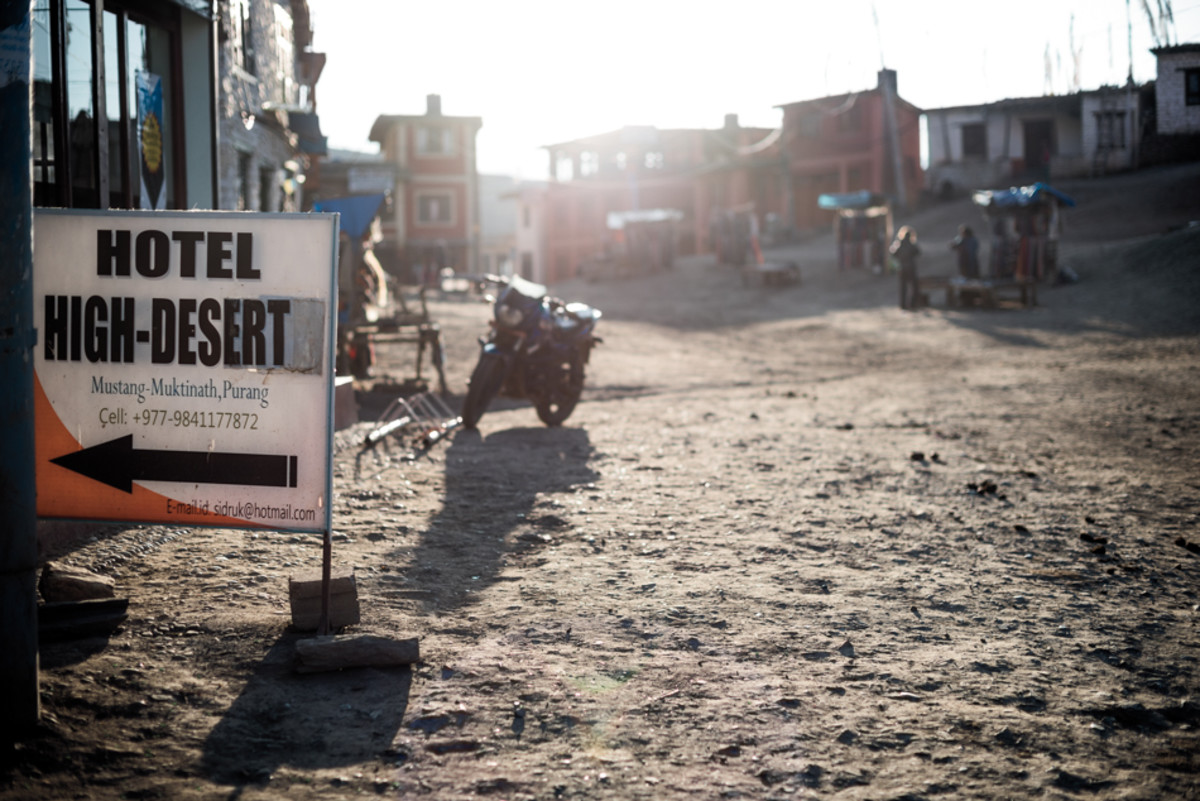 But Tsheten remains positive. As a life-long mountain biker, he can see its role in the area's economic future. He has full-suspension rental bikes on his radar for this year and aims to add a mountain bike guiding service soon. "We are planning to stand for the Mustang District Cycling Association presidency," he says. "I have a very positive feeling that mountain biking can be as popular as trekking in the Annapurna region. It seems that people admire the beauty of Mustang and trails that are perfect for the ride."
The beauty of Mustang is undisputable, as is the perfection of its trails, but there is something more here that has stolen my heart. In this cold, concrete room, beyond the ribbons of drying meat and the haze of incense is an unbridled optimism and sense of pride. It's something that, just like the bike rental outfit, I never expected to find on a remote, barren Nepalese hillside.