CJ Scott has the quintessential stature of a trail builder. As he punches up climbs and rails descents ahead of me, I notice that he's adept at picking the smoothest lines, avoiding roots while still entering and exiting corners with plenty of speed. He rides like he builds–not along the path of least resistance, but as smoothly as possible.
The 36-year-old Maine native joined the trail crew at Kingdom Trails Association (KTA) in East Burke, Vermont, as an intern in 2002, and, aside from taking a break to hike the Appalachian Trail, has been there since. He took on the trails manager title eight years ago and currently oversees a team of nine trail builders. The crew builds and maintains about 100 miles of trails, of which 95 percent is handbuilt.
The KTA is funded through day passes and $75-dollar annual memberships. The trails are built on private land with permission from 60 different landowners, who receive no dues but are protected from liability by state law. Look for more on that in an upcoming feature story in our Bible of Bike Tests issue, due out in January.
We have some terrain to cover before we get to where the trail crew is working for the day, so CJ wastes no time leading us down Jaws and Maxzilla, which aren't typical of the low-speed, technical singletrack for which New England is known. There are some tight corners and lots rapid elevation change, but rocks are a rare sight and the roots don't disrupt the trail's flow. We arrive at an unfinished re-route on a trail called Knob, which drops down toward the Passumpsic River. "We want to have everything smooth, buff and flowy," says Scott. "Everything on this trail is great except for this S-turn right here and a little further down is similar–rooty, off-camber and just not the style that we're going for."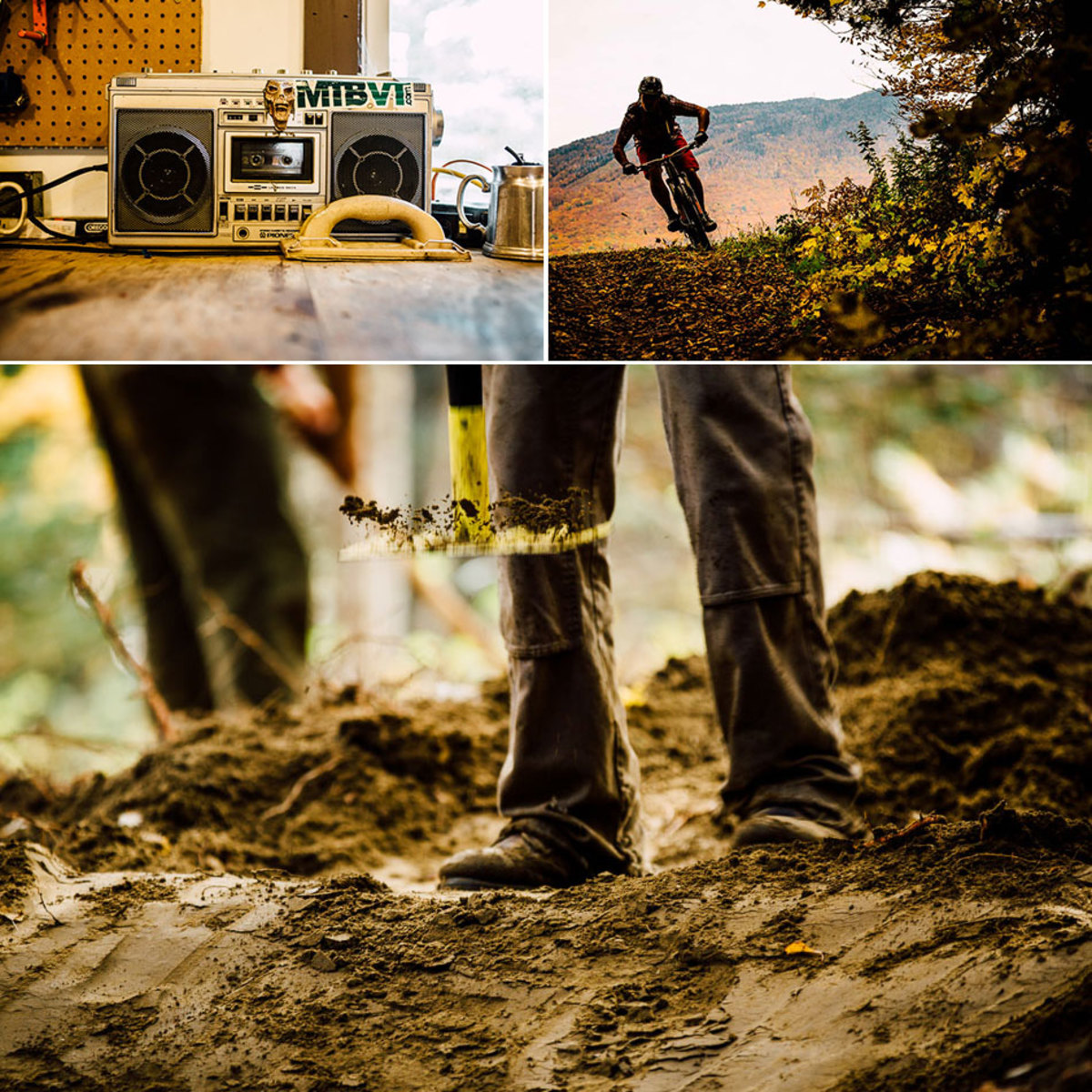 This kind of sanitization might ring as blasphemy to many riders, but it's an integral part of the strategy that's made these trails a destination. While pretty much every other trail network for 300 miles in any direction is littered with traditional New England tech, these are trails that anyone can ride, and that advanced riders can painlessly crank out 40 or 50 miles on in a day. But it's not like these guys are going out and butchering rock gardens. "We're blessed to have had a lot of things go right for us–cooperative land owners, an engaged community that wants to help out and be active, and also the soil and the terrain. The soil and the terrain–aside from the cooperative landowners–are what I'm most grateful for."
The soil here is unique. The Darling Hill network that makes up the lion's share of the trails managed by the KTA is built on a peninsula surrounded by the Passumpsic River on one side and its west branch on the other. Cross the river on either side and the soil composition is rockier and more typical of what you'd expect in New England. But Darling Hill is an esker–a geologic formation created by the stream deposits of a glacier–which has a much higher sand content and fewer rocks than is typical in New England soil. The trail crew calls rocks 'tiger eggs' for their elusiveness.
The malleable soil means that building trails on Darling Hill has always been pretty easy, and not all the locals are happy about some of the older, unsustainably built lines being updated or retired. One local we encountered approached Scott about the reroute on Knob and even accused him of having too many builders on staff, thus looking for things to have them do. But that kind of attitude seems exceedingly rare amongst both visitors and locals, the vast majority of whom expressed appreciation for the trail crew's hard work.
"We can respect that and that's why the trail committee has put policies in place to keep certain characteristics on certain trails forever that way," said Scott. "We respect what people want and what the locals are used to, but people come here because it's easy to ride."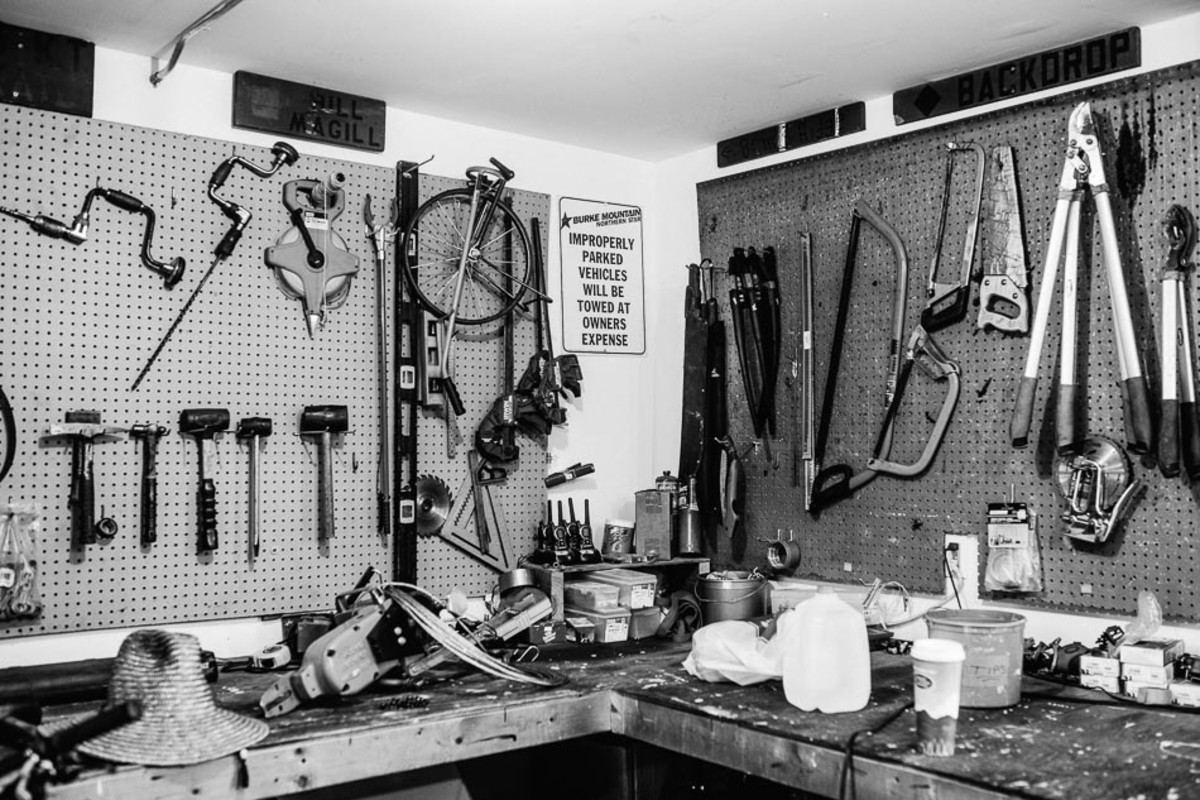 There's plenty of technical challenge to be had on nearby Burke Mountain, a ski resort whose mountain bike trails were part of the Kingdom Trails until just a few years ago, and the northwest corner of the KT network is left basically untouched. On busy weekends (which is every weekend), that corner always seems the least traveled in the whole network. If technical challenge is what riders wanted, they wouldn't come here; they would get it in their backyard.
People come here, to a small town in rural Vermont, to crank out miles on consistently buff and fun terrain. "I want to make the best out of that by having it be fast and flowy," said Scott. "You can go and ride all of these other New England trails and they're kind of all the same because it's rocky, it's rooty, it's muddy–they work with what they have, while we use what we have to our advantage."
Related:
Gear Picks from the 2016 Bible of Bike Tests
The Process: 2016 Bible of Bike Tests