Nineteen-year-old Rajesh 'RJ' Magar, Nepal's National Downhill Champion, made his first park bike from a dime-store discard. He talked a Kathmandu welder through cutting off the headset of his prized Oscar frame and re-welding it slacker, at the same time turning the hardtail into a full-suspension with the addition of a found motorcycle shock. The welder had never worked on a bike, and RJ based his old bike's new angles on specs he found on the internet. That's also where he learned to ride, a skill that's put him at the top of the podium at Nepali Nationals twice.
To say RJ comes from humble beginnings is an understatement. His dad is a Kathmandu construction worker and his mom is a maid. RJ first rode a bike at 13 years old—he found the bike in the yard at the house where his mom worked. In those days, RJ would tag along with his mom and do odd jobs and earn a few dollars.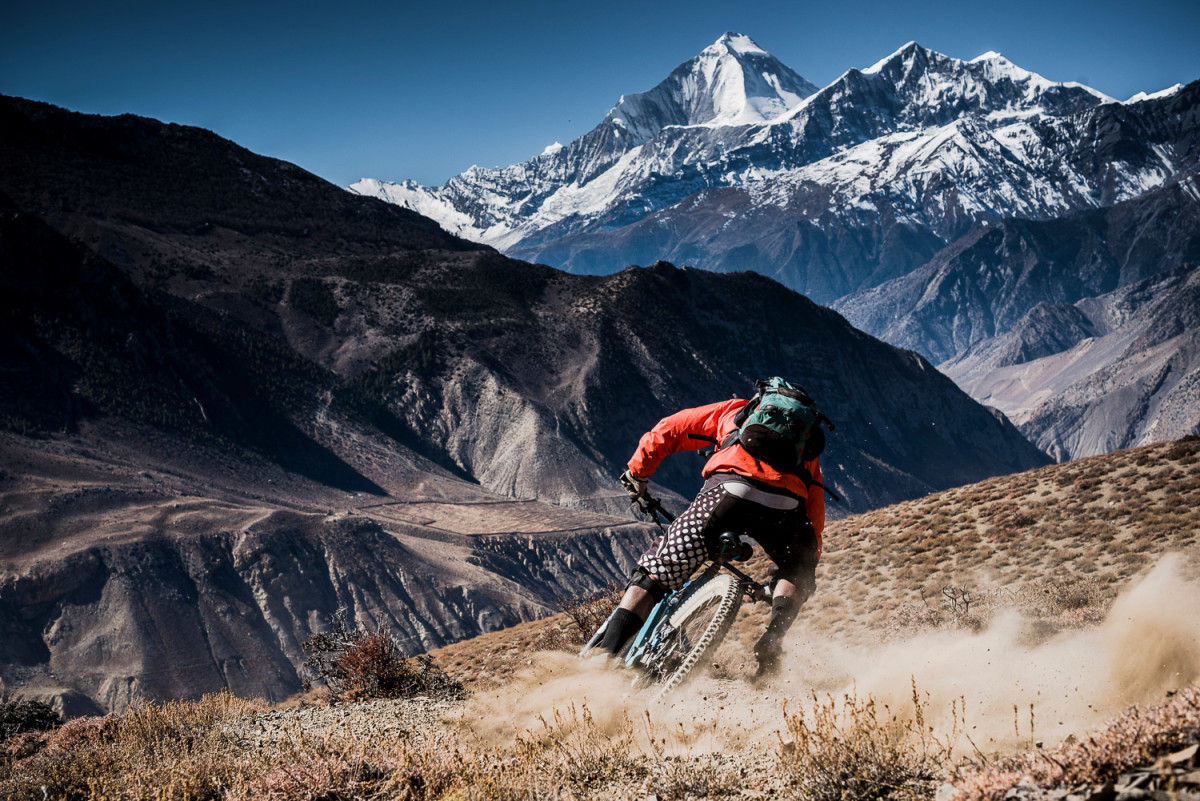 He rode that BMX bike whenever he could. He became obsessed with doing tricks, and the family eventually gifted it to him. At 14, RJ was walking to school when he saw, for the first time, mountain bikers riding Kathmandu trails. When he was eventually able to access the internet, he immersed himself in the sport through Google and YouTube. He devoured videos of Aaron Gwinn, Sam Hill and Danny MacAskill voraciously, looping them and dissecting the riders' tricks and techniques any time he could get online. RJ and his friends built features in empty lots, where RJ would try to replicate the performances he saw online.
He broke his bike during one of those sessions, and sought work with new fervor, desperate to replace it. He dog-sat, gardened, swept floors and washed dishes. His parents scolded him to stop biking, which they considered a waste of time. RJ saved his rupees, and borrowed bikes from neighborhood kids for several months until he finally saved $15 to buy a used, 7-speed rigid.
"I raised all the money for that bike by myself," RJ proudly tells me. "I didn't take any money from my parents."
He rode the bike for two years. It would break frequently and he'd fix it. He had no formal training as mechanic, but learned skills by working on his own bike.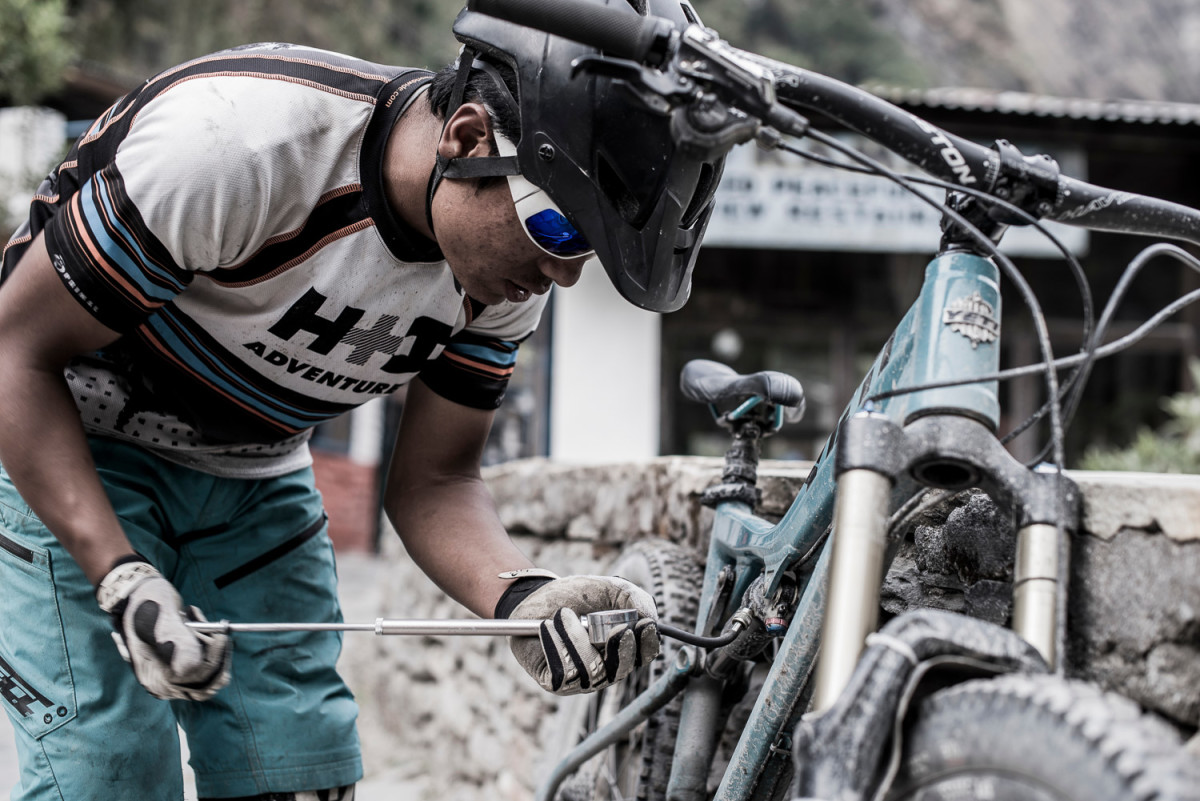 RJ became a frequent site at Hattiban, a downhill park south of Kathmandu, where he'd regularly crash. He'd also show other riders how to bunny hop, wheelie and jump. He broke his bike terminally for the second time, then saved obsessively for the Oscar. It cost him $25, before modifications.
He worked at a printing press stacking papers in the early morning, attended school from 9 to 4, and he rode his bike. He found a new job, maintaining a Kathmandu trekking company's bike fleet. For $20 a month, he cleaned drivetrains and oiled chains every morning before going to school, where he studied for his SLC, a government certificate Nepali's need to get a job. Every afternoon after school, RJ rode an hour to Hattiban to practice. His first race was there. He wore a borrowed helmet, sneakers and used $3 pedals—no pads. Another rider paid his entry fee.
At his first race, RJ didn't do as well as he had hoped. "I knew that if I had a better bike I'd do better," he said. "So I determined to keep at it and see if I could get a proper bike and support from somewhere."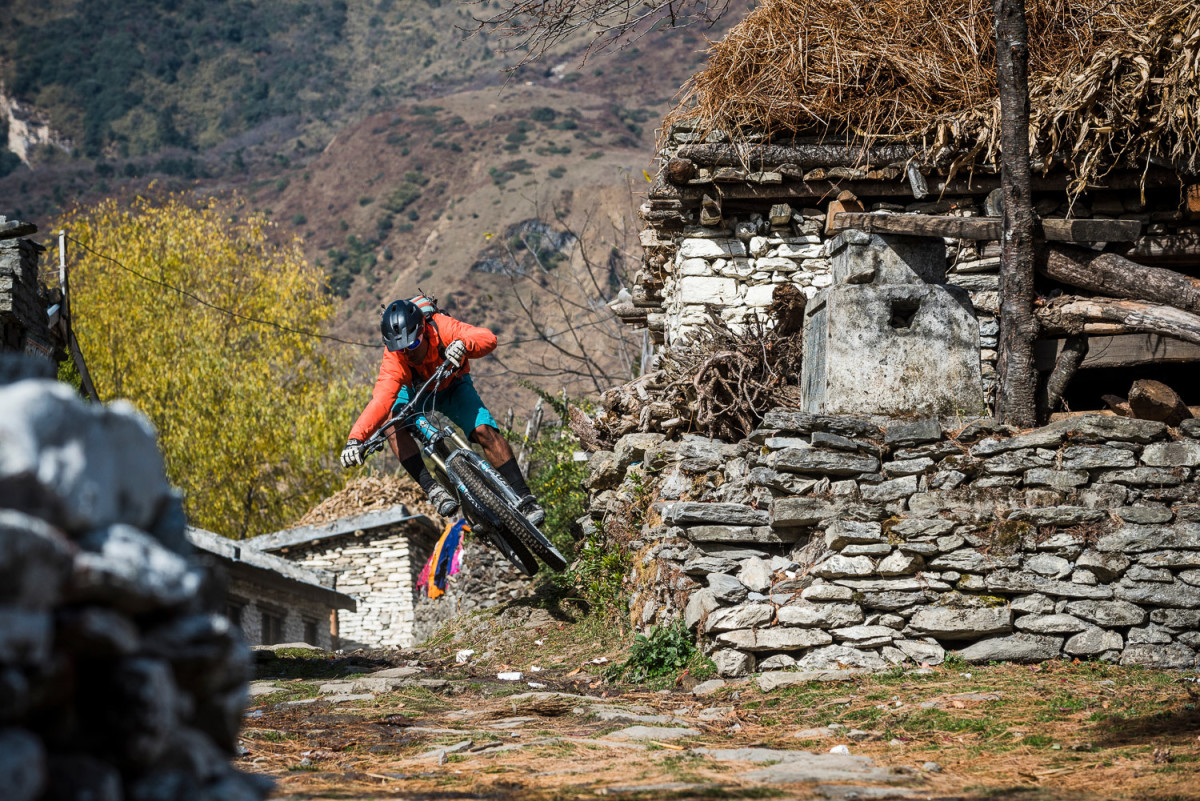 Mandil Pradhan, a racer, distributor of Banshee bikes in Nepal and owner of Himalayan Rides, was training at Hattiban the week before Nationals. "I took a break from riding the course, saw this kid roosting, balls out, over a 20-foot road gap on a cobbled-together frankenbike," says Pradhan. "I couldn't believe his natural skill." Pradhan asked the race organizer to find "the kid" so he could meet him. "RJ shows up with this green piece of shit bike … I just started laughing," says Pradhan, who then invited RJ to hit Hattiban's jumps on his Banshee Rune.
It was January 2014, two days before Nationals. After watching him lap the course on the Banshee, Pradhan told RJ he needed to race it at Nationals. "He was worried about what I would ride," Pradhan laughed. "I assured him I had other options. RJ couldn't get over that."
The morning of the race, Pradhan picked up RJ so he wouldn't have to pedal an hour to get to the course. RJ dropped a chain during his run but still placed 4th on a bike he was riding bike for second time.
"He was disappointed," recalls Pradhan. "But I was super impressed." Pradhan offered RJ a job maintaining Himalayan Ride's rental bikes. A month later, he brought RJ along as an assistant guide on a Race Face tour. "He was super hard working and had a great attitude," said Pradhan. "The Race Face guys were super stoked. He was really good at cleaning bikes and fixing flats. Only later did I find out that he lied to me and skipped school to come along."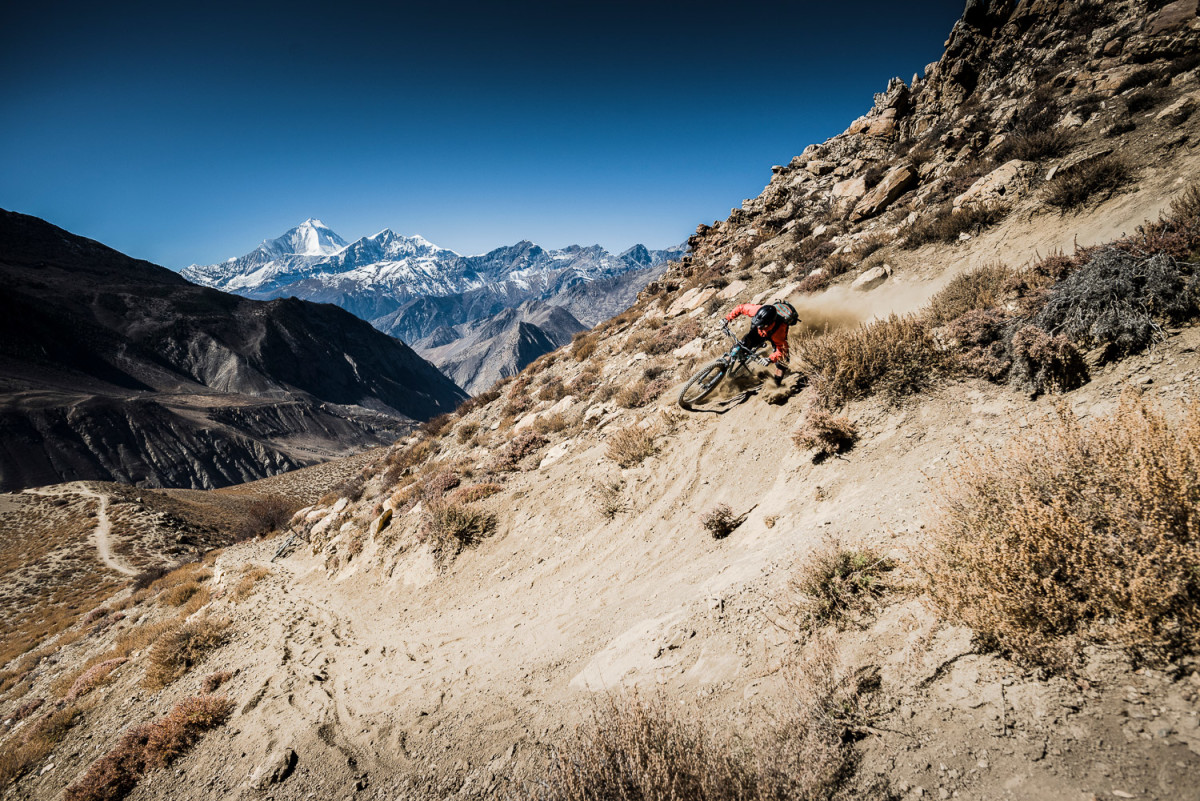 Pradhan laid down the law. "I told him he needed to learn English and that I'd support his racing as much as I could, but that he needed to prioritize working."
A year later, Nepali nationals rolled around again. Race organizers weren't going to let RJ compete in the Elite Open as he had the year before because he was 17 years old. Too young, they said. Pradhan called BS and convinced the race organizer to bend the rules. Riding Pradhan's Rune, RJ won by two seconds and earned a new nickname: RJ Ripper. That summer, Pradhan took RJ to India for his first international race. He won by 40 seconds in what Pradhan called "appalling conditions." RJ won Nationals again in 2016.
As impressive as his résumé is, what's most special about RJ is his slightly shy and humble disposition, which is in total contrast to his focused, aggressive riding. He blushes as he struggles to link English words into full sentences. He almost whispers when he is speaking with friends, but he's nearly always smiling with a devilish grin.
"The kid is amazing," says Pradhan. "He has had no coaching. And even though he is winning Nationals in Nepal, he knows that Nepal isn't the EWS or some other big international competition. So he stays at my place and streams YouTube all night learning everything he can by watching the best riders in the world. As a result, he's improved immensely in the last year. All of our customers completely love him. But I think he has the talent to achieve his dream and ride on the international circuit. I'll do whatever I can to help him get there."
"Things are going really well for me," said RJ when we met him last fall—he was working as a guide on H&I Adventures Nepal Tour, which was also the first Yeti International Tribe Gathering. "I am earning a living riding a bicycle, I am learning to be a guide like Mandil and I hope someday I can be a pro downhill rider," he shared. "I know it's next to impossible, but I am going to try."
Related
Can Mountain Biking Aid in Nepal's Recovery?