Kate Courtney topped the women's elite cross-country field in Lenzerheide, Switzerland, today to become the first American World Champion mountain biker since Alison Dunlap in 2001. On top of that, the 22-year-old Courtney won the rainbow jersey in just her first full season racing elites. We interviewed the Northern California native at the Sea Otter Classic two years ago, as she was on her way to the top. Cover image: Bartek Wolinski/Red Bull Content Pool
Kate Courtney knows a thing or two about balance. For the last two years, the cheery 20-year-old has juggled racing cross-country on the world stage for Specialized Racing with studying for a degree in human biology at Stanford University, maintaining a social life through her sorority, spending time with her family and boyfriend, mentoring young riders through the Little Bellas program and developing a budding rap music career (Kidding. Well, sort of. Just YouTube it.). And somehow her elite racing career has risen to the top: Kate is the reigning U23 cross-country national champion, an honor she also took in 2014 and 2013 (for both XC and short track that year), and has been a regular on the podium since she upgraded from Junior to U23 in 2014, landing on the top step at Nové Mesto in her second UCI race as a U23.
We sat down with Kate at the Sea Otter Classic, where she had just placed 7th in the pro cross-country race, and before she flew to Cairns, Australia, for the first UCI World Cup of the season, to talk about her shot at the Olympics, her decision to take time off from Stanford and her inevitable step up to the elite category.
Kate, who logged some extra chamois time to do our interview, joked about her mom's role in "dirt management" as the elder Courtney wiped the race grime off her daughter's face.
"This is what being a momma soigneur looks like," says Kate, whose upbeat, playful personality belies a strict XC-racer persona. "I just want to make sure there's no spit on my face."
Kate is starting this season on the heels of a strong 2015, and spent the winter and spring training full-time after taking a leave of absence during most of her junior year at Stanford.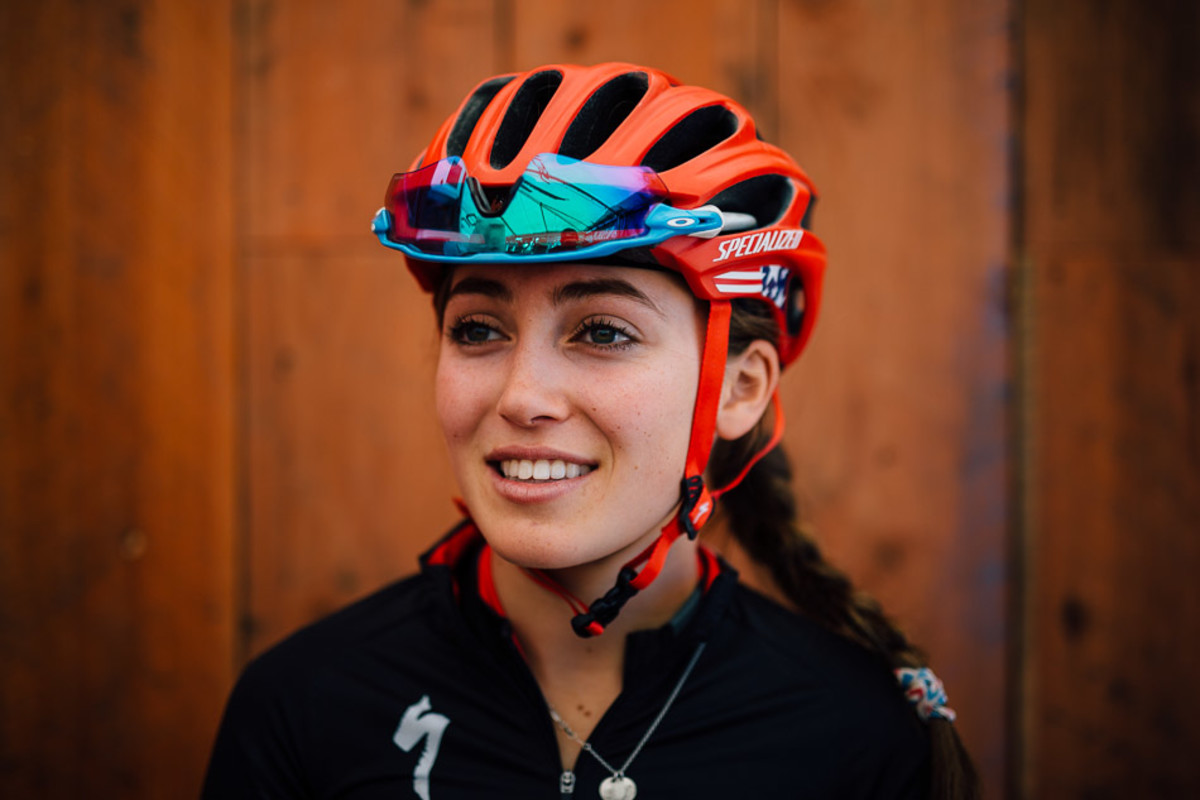 "I was ranked 4th overall at the end of the season so I was up there in the mix for the first time, so this year I decided to take a little bit of time off of school. It's the first time I'm taking a break from school and it's really a taste of a good life," she says, alluding to her decision to move back in with her parents in Kentfield, California, a small town in Marin County, where she trains full-time with her dad and eats well thanks to her mom.
"I will return in the fall, but I've really had a chance to focus on my training, taking it to the next level so I'm really looking forward to seeing how that pays off in the first World Cups."
Kate is adamant about finishing her degree—and based on this girl's determination, there's little doubt that she won't—but she's fine with taking five years to do it instead of four so that she can achieve her goals on the bike, as well as off.
Those goals include racing the entire UCI World Cup series and World Championships, in which she finished 9th last year, and seeing whether her position on the Olympic long team wins her a coveted spot in Brazil in August.
She knows it's a long shot, especially since as a U23 racer she can't race against the other elite girls on the long team, but she's approaching it with an open mind and positivity. She could have a chance at the team through a clause in the selection process that allows the Olympic Committee to take a young rider who could potentially medal in the future as one of two Americans on the women's U.S. mountain bike team. But it's an ultra-competitive race to Rio.
"It's really awesome for me to see so many people competing for those spots," she says. "I think the game has really been taken to the next level in the U.S. There are five girls who are like really duking it out and they all could go. It's amazing, not a lot of other countries have that and it makes us all better. In my development years, even if that means I don't get to go this year, I will be better for it and I will be pushing harder. I'll be able to really test myself, push myself and learn what it's going to take in 2020."
Going to the Olympics at any point would be the cherry on top of an already-sweet career for Kate, who started mountain biking as a kid on the back of her dad's tandem. Growing up, she was a competitive cross-country runner and occasional ski racer, but mountain biking resurfaced in her life in high school as a way to cross-train for running. Her high school, The Branson School, had a NICA league and she joined. Before long, she was winning races, and by her freshman year, she was on the Whole Athlete development team and training with her coach, Dario Fredrick, who remains her coach today. She put running in the rear view and never looked back.
"I loved mountain biking. It was everything I loved about running without all the parts I didn't like. It has that endurance, individual progress, training outdoors, getting places, all of that which we love about mountain biking without the fun of downhills, without the challenge of technical sections." Those are two aspects of XC racing that Kate has trained hard to master–going from a timid descender to confidently charging the increasingly technical World Cup courses. Like at Nové Mesto in the Czech Republic, the venue of her first junior World Cup race and World Championships in July, and her all-time favorite.
"It's always fun to return there and see how far I've come in five years because that first World Cup? It's funny to think about. I crashed like 10 times in qualifying. Now I go to that place and I'm like, 'Oh great this is the easy part.' It's cool to see that progress. I had a great race there even my first time so I'm excited to go back."
As Kate prepares to embark on her last two years of U23 racing before she's "thrown to the wolves" in the elite category, she's happy to savor the moment of where she is in her pro career. Racing World Cups as an elite is a milestone she's looking forward to, but is in no rush for the day to come.
"It's similar to the jump from Junior to U23 where you go from winning races to getting top 10 is amazing. And that is fine. It's important to have realistic goals to really dwell in the progress that you're making instead of in how far you have to go. Because you have as many years as you want in elite to try to make it to the top."
Follow Kate's season at katecourtney.com and on Instagram at @kateplusfate.