By the time Santa Cruz Bicycles co-founder and CEO Rob Roskopp signed on the dotted line to sell his influential brand earlier this year, he had already been contemplating the decision for several years. After two decades of ownership, it was time to find a partner that could help Santa Cruz grow beyond its North American stronghold and flourish in Europe, where it is virtually non-existent. He found that ideal partner in Pon Holdings, a massive Dutch auto importer that's privately owned by the same family that founded it 120 years ago. Pon also owns Germany's Derby Cycle Group, high-end road brand Cervélo and the Dutch urban brand Gazelle.
We sat down with Roskopp in Downieville, California, during Santa Cruz's recent launch of its updated Bronson and 5010 models, where he spoke candidly about everything from the inevitability of online sales to why Santa Cruz will never make a fatbike.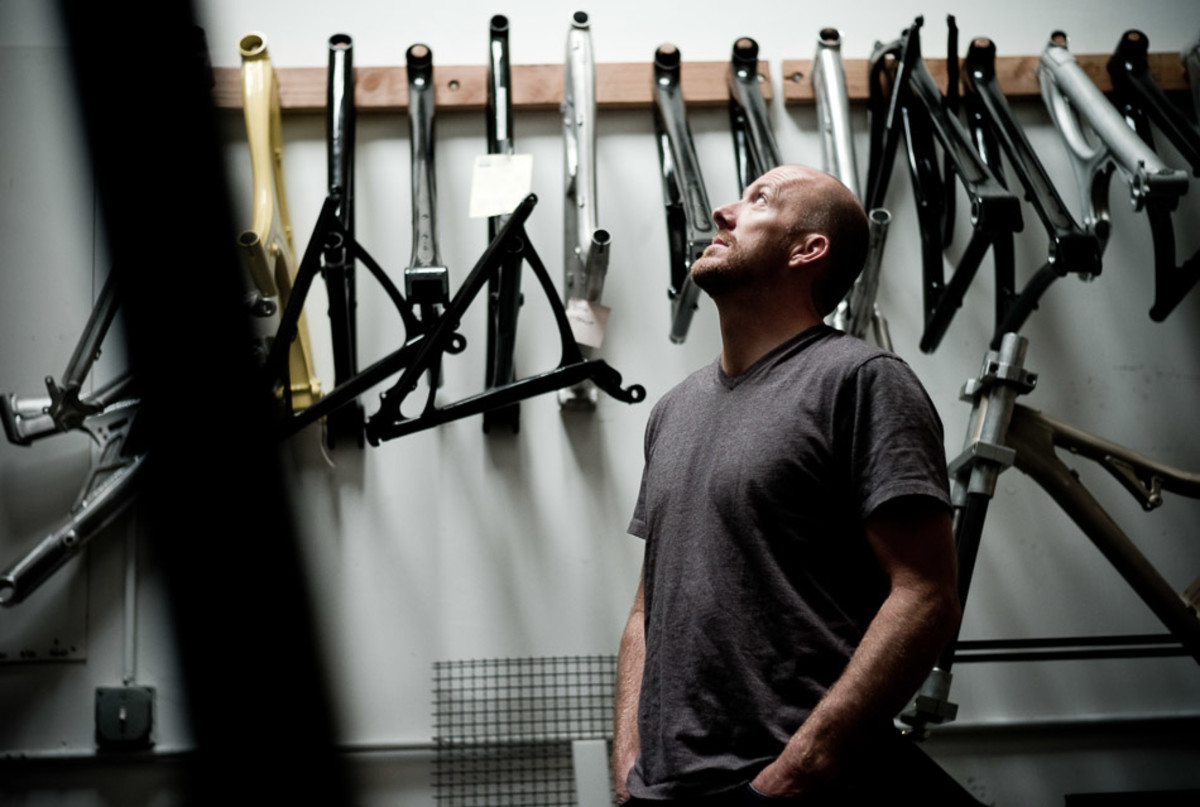 Photo: Dan Milner

How did the Pon deal come about? Did they approach you?
I originally started speaking with them about three years ago. Running a business is capital-intensive and you're leveraged out. You're responsible for all of your employees and their families. It's a lot of responsibility in general. I didn't want to take on, or leverage myself even more, because Santa Cruz has plans to go to Europe and other global markets. I wanted to align with someone that had the resources to really achieve our goals, without putting the leverage on ourselves. I wanted to see what we built grow to its full potential, and that's the main reason I sold–the only reason.

It must be tricky to find the partner who will be able to do that.
Timing is everything. There are a lot of people throwing a lot of money around from private equity groups; we spoke to a number of them. I was getting calls from two different groups every week. Their whole model is to heavily leverage the company out and then sell it off in five years. I didn't want that. I wanted a strategic partner, which Pon is. Like I said, we started talking three years ago. It was the former CEO for bike who's not there anymore, and he came in right after we moved into our new building in Santa Cruz. And we just kept in touch, then I went over there (to the Netherlands, where Pon is based) a while later. We started talking more in-depth and seriously. At that time, it didn't seem like it was going to work, so we just agreed to keep in communication and focus on building and growing the company. It got to the point when it was time to start moving on expanding in Europe. It's funny, we contacted each other at the same time. We were getting ready to talk to a few other people, but I always thought they were the best fit for us.

What made you think that–that they were a good fit for the brand?
It's not a public company. I didn't want to have a public company just because, for information and stuff, I'm kind of a private person when I can be. In today's world it's a little hard. Fifth-generation family–that says a lot to me. They started out in the bicycle business in 1900 (as the importer of Opel Bicycles). The heritage is really cool. The great-grandfather Ben Pon designed the Volkswagen Transporter van that's in the museum in Amsterdam. They're a conglomerate, but it's privately owned. The family isn't very heavily involved, the daughter kind of just visits all the companies they've invested in, and she's kind of the family spokesperson. Really, for me, it's the fifth-generation family, that they've held it together. I have a lot of respect for that because the first generation makes it, the second generation screws it and the third generation blows it all. That's kind of how it goes, at least in America. There are a lot of families that have pulled it off, too, but that's a fairly common theme.

It sounds like you were ready for this sale personally.
I'm 52 now and I want to enjoy it while I can. I'm not going to go anywhere. I love what I do. I love to ride my bike and I want to see the company grow. It's my baby. It's my first kid really.

Was there a bittersweet sentiment to not being the owner anymore? Is there an emotional attachment to that title or is it just business?
To be honest, the way that Pon has handled it so far–granted I hope I give you the same answer in a year and I think I will–but they understand what we've built and they don't want to screw it up, they just want to help us when we ask for help. They're not putting the thumb down saying, 'You've going to do this and this.' We're very conscientious how that story is told. Dealers, distributors, everyone always assumes the worst case when something like this happens, it's human nature. Human nature in general focuses on the negative. In time everyone will see. I'm very confident thus far the way it's going in the transition. To answer your question: not yet. It some ways, but in most ways, it doesn't feel any different.

Is it a relief?
No. Maybe if I was planning on leaving in three years, but I don't even think that way because I still think it's mine, which is great. And everyone here does too because that's what the brand means to all of us. We want to see it grow to its potential.

When did you recognize you were not going to be able to bring the brand to the point of its potential?
When you're growing at the rate we grew, you're stripping your capital. Any time you're growing over 20 percent, you're outstripping your capital. We're growing a lot more than that year upon year upon year, and the leverage part of that comes into play. It's a huge weight on your shoulders.

Do you think they'll be some synergies with the Derby group?
For assembly, yeah. We'd love to be able to assemble bikes the same way we do in Santa Cruz using one of the Pon factories like Gazelle or Derby in Europe. That's a huge weight off our shoulders because we were going to have to go build that out. It's already in motion for the German market. It just makes sense, Germany's the biggest market there and we're barely scratching the surface.
Greg Minnaar gets the standard Santa Cruz Syndicate victory soaking from the bossman, Rob Roskopp. Photo: Gary Perkin

Does Santa Cruz have a presence in Germany?
People know the brand, but you can't get it. That was part of the problem with our previous distributor. I don't want to slag anybody because they were with us a long time, nice guys, but for how big that market is, it was just [not growing] for years. It's hard to break into that market because they have their own brands. They do a lot of business, Cube and those other brands, just in Germany. The home market represents most of their business and they're doing big numbers, I was surprised how big. It's not going to happen overnight for us, it's going to take time to build it up.

What's the strategy to break into that market?
We're doing what we do here. Every bike we make is custom-built for the dealer, which goes to the end consumer. We want to have demo trucks everywhere. We're working on that. We're setting up a sales rep system. There will be specific sales reps that work for Derby but are Santa Cruz sales reps. The brand is unique in a lot of ways and we don't want that to be lost, which can happen when the rep has five or six or 10 other brands he has to sell. We want them solely focused on one brand.

Companies always say, when a transaction like this happens, nothing is going to change, management will stay on board. In this case, is it really the goal to keep everything the same?
It has to be. Everybody is at work. When we announced the sale July 3, I was supposed to go to Europe–I go for six weeks every summer with the family–I was supposed to go the week before, but we were still getting the contract signed so I had to postpone. We announced it on the 3rd and I left the next day. But I'm talking with Joe (Graney, Santa Cruz COO) all the time to see how everybody is doing. It's business as usual. It's still pretty early, but I'm very confident it's going to be like that. It's going to be a really great thing for everyone involved. It'll open up a lot more job opportunities, too. If somebody wanted to try something else and go to one of the other brands in the group, or even to the automotive industry, there's a lot more opportunity.

What's the implementation look like going forward with Pon? What will consumers see?
The biggest thing is to get the product to the dealer. Make it easily available, have enough dealers so that people in Germany, for example, say, 'Oh yeah, I want to get a Santa Cruz,' they can get it. Delivery's everything. Distribution is key. That's my main word: distribution, distribution, distribution. Everybody wants it now. Society today with technology we have access to, we're very impatient.

Along those lines, we're finally starting to see some movement toward online sales, direct to consumer, of complete bikes. What's your take, or Santa Cruz's take on that?
I think you have to cover all your bases. The bike industry has probably been one of the last industries in the world to address the online market. We only have very few sites–Competitive, Backcountry, Chain Reaction, but they kind of sell anything and everything, from the cheapest stuff to the most expensive stuff. I like Competitive because it's always been focused on the high-end. You have the three channels: dealer, brick and mortar and we've got a couple Santa Cruz-branded stores–Barcelona, Madrid, Costa Rica and Santiago, and it's working.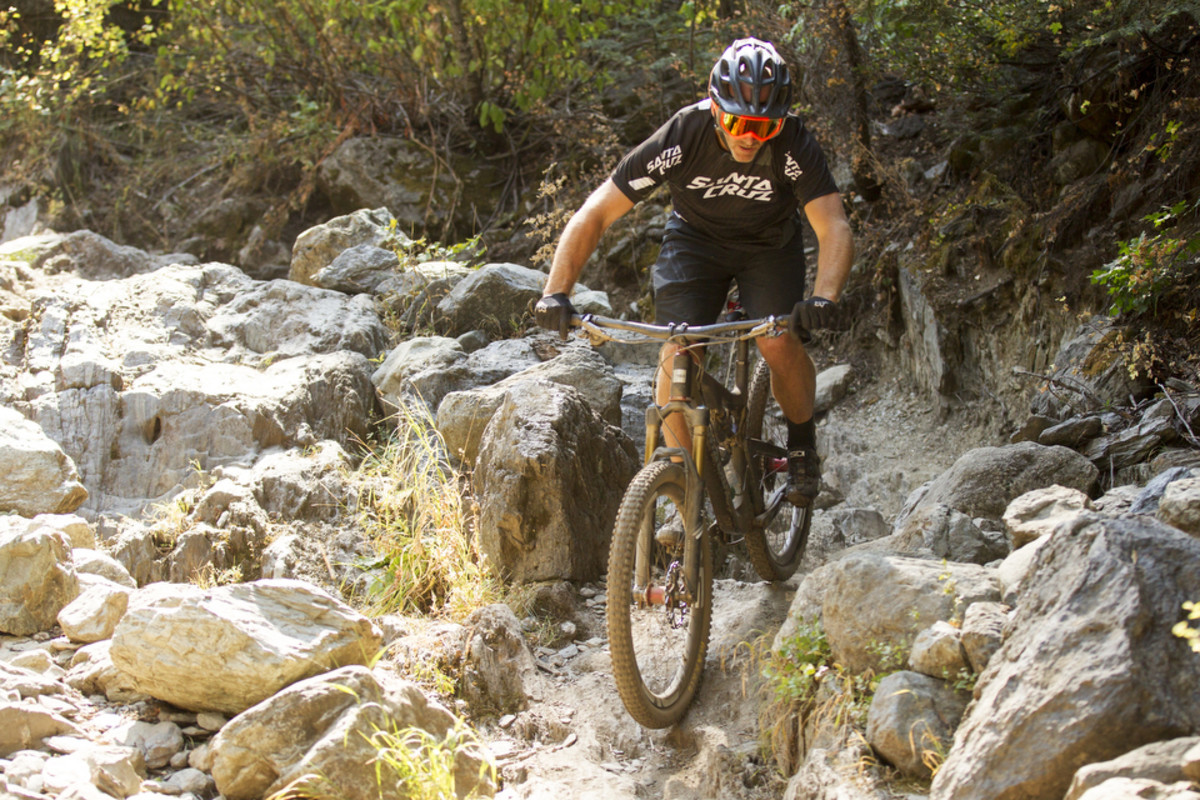 Roskopp riding during Santa Cruz's recent launch in Downieville, CA. Photo: Gary Perkin

So online sales are not imminent for Santa Cruz?
It's going to happen, but I see the dealer being the channel, the conduit. It's all about getting the end consumer the product the easiest way. You can buy a car online, you can do anything. The system is figured out, you've just got to get the percentage of the deal and make sure it all works. It's going to be something similar to that. The bike industry is a little more sensitive–oversensitive–there are a lot of dealers who are passionate about riding bikes and everything, but they're not really business people and you're starting to see those get weeded out.

What do you see trend-wise? Santa Cruz has not gotten onboard with fatbikes or plus-size bikes yet.
I think the fatbike is great for people who live in deserts or have sand everywhere or in the snow. I can see that, but I've seen them ridden around Santa Cruz and it's confusing to seem them on regular trails. Why do you want to ride something that's slower and heavier? Granted if you're not a good rider and you want something that you can go over stuff, I get that part, and hopefully that will turn people onto riding a real bike.
The plus thing–there's something there, it's kind of like a smaller version of the fatbike. It doesn't have as much drag and it's not as heavy. We're always trying to make bikes faster, and coming from where I do from the race side, I always wanted to go faster and have the best performance I can get to get from point a to point b, while having the most fun at the same time. The fatbike thing, other than snow and sand, I don't see a purpose. On regular trails, it's not what we are or what we do. And I'm not going to chase it like everybody else. We have our niche, we're not trying to just to grow the company to make numbers.

Is there some concern about that getting diluted as the company grows? That close-knit feeling this company has, is there any worry about it getting too big to the point where you lose that family feeling?
You have to be conscientious of it, but like I said we're not going to go make fatbikes. I think if we started going down that path, we'd definitely lose our niche and the soul. They'll have to take me away screaming and kicking to do certain things that are out on the market right now. There's no fucking way. I'm very opinionated, and that won't change. If it does then it's time to go.

It does seem like the industry is playing catch up. Like brands are making certain products just to make them right now.
The bike industry is one of the most non-creative industries I've ever been involved with. I'm not being arrogant, but we get copied a lot. It's great, I don't mind. I've got ideas until the end of the world, but it's like, c'mon guys put some more thought into it. Just don't look at what someone else is doing, just change the color slightly and do it. If you're chasing for the money, you'll never get it. We do it because we're all passionate about what we're doing. If you do it well, the money comes. But it's not about the money, it's about the lifestyle and feeding our urge to get out on the bike. It exudes from within, it's who we are, it's what we do.
Related:
News: Santa Cruz Bicycles Sold to Pon Holdings
Balancing Act: Santa Cruz's Revised 5010