When Knight Ide was 27 years old, he went on his first real mountain bike ride, joining his younger sister Lilias on the trail. "I puked on that ride," he says. "I felt like an idiot with my jeans and boots on, riding my crappy, rigid Giant Yukon. But something on that ride woke something up inside me."
Now 43, Ide is considered the godfather of northern Vermont mountain biking and the unofficial mayor of the town of East Burke–home of the Kingdom Trails–who brought downhill and enduro-riding to Burke, then took it to levels no one imagined possible. Ide brushes off the praise. He's more interested in talking about his latest passion project: developing a backcountry hut-to-hut ride on 900 acres of private land near his hometown.
Born in Brownington, Vermont, and raised by hippie parents on an 80-acre sheep farm, Ide grew up skiing, fishing and hiking. By 19, he was a dad and didn't recreate much. He raised his son, built things from stone and skied when he could.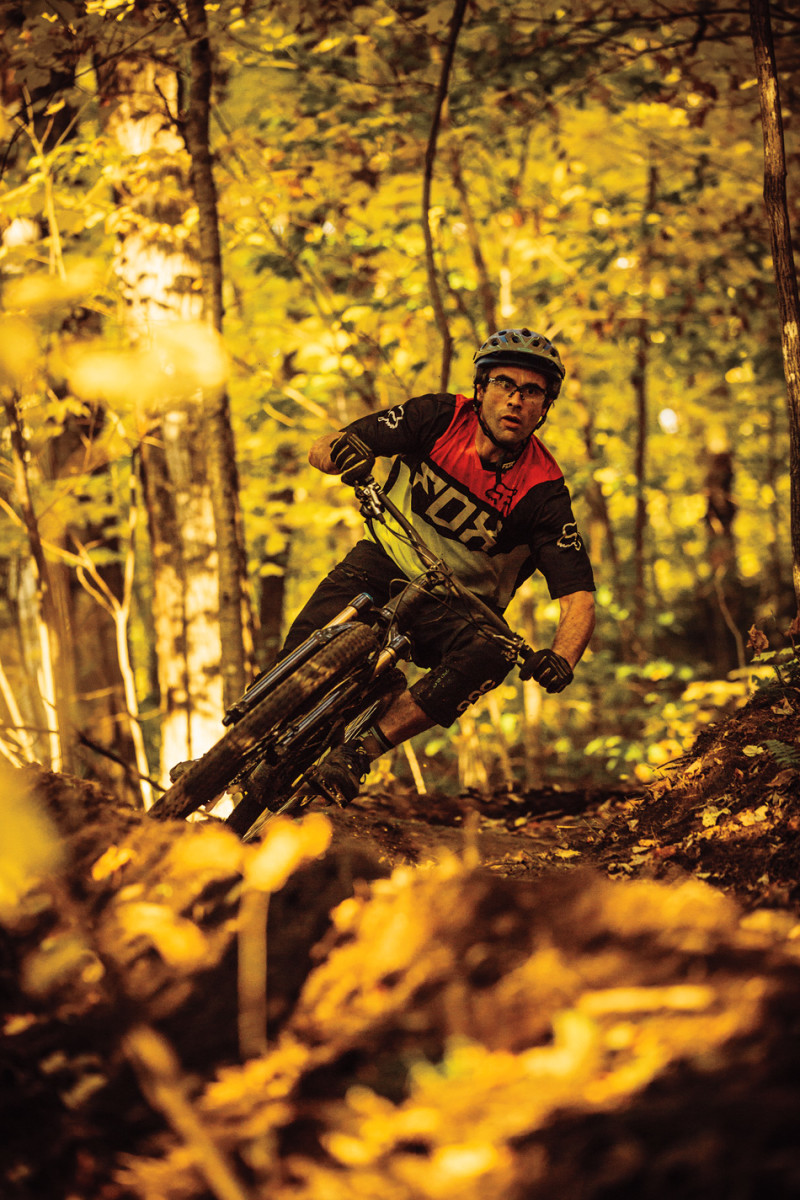 Then at 28, Ide stubbed out his cigarette for good, walked into East Burke Sports and rode home on a Trek 6500. In the first week, he flatted on every ride. "I always wanted to make my bike fly through the air," he says. "The first week I blew 10 tubes. Jumping is all I wanted to do."
Ide upgraded his bike parts and eventually ditched the Trek for a Santa Cruz Bullit. Then someone from Sinister Bikes spotted him at a jump demo and gave him a contract. He started to travel to destinations in Canada and the western U.S. where downhill was 'a thing.' "Every place I went, I realized that East Burke could offer all the same aspects of mountain biking I was traveling for, so I came home," says Ide.
By the mid 2000s, Ide and his crew, the NEK Freeriders, were poaching runs on hiking trails and deer paths on nearby Burke Mountain. A ranger busted the group, but the nonprofit Kingdom Trails Association (KTA) negotiated with the state to legalize Ide's rogue trails.
"We trusted Knight and knew he would take care of those trails and build more," says Tim Tierney, executive director of the KTA. "He helped us understand a new kind of riding, and the potential we had here."
Ide hosted unofficial freeride festivals, recruiting riders on the MTBR forums to fill entries. The runs were barely more than moose trails. Riders slept and partied at the campground, loaded into Ide's dump truck with bikes and shuttled to the summit. They rode Wear and Tear, named for the toll it took on riders' bodies and bikes. "Two out of 50 people would ride whole thing," says Ide. "Bikes would be bouncing off the slopes and flying off the mountain."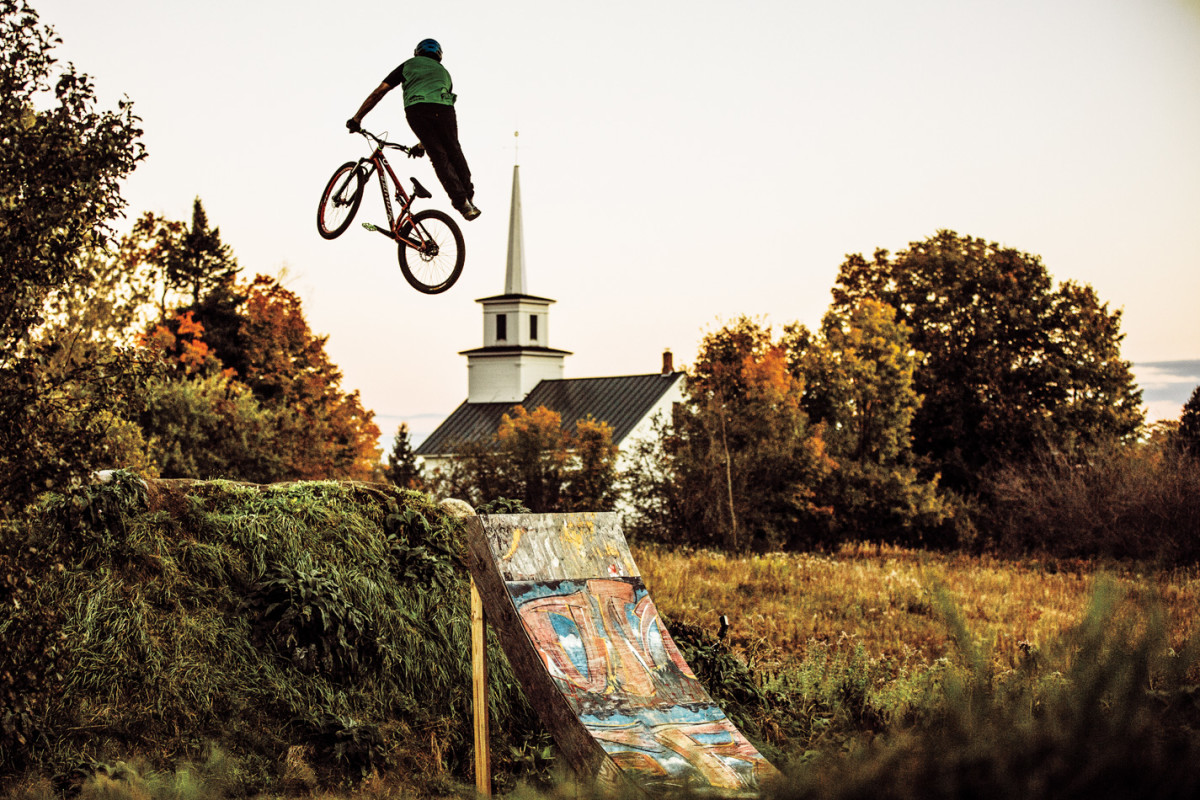 That gave Ide the idea for a new business: a shuttle service to the top of Burke Mountain. He bought an old airport bus with 250,000 miles on it, and charged shuttlers $5 a ride or $20 for the day. That's when he first met local pro Alex McAndrew, who now rides for Transition Bikes. "We did three laps before the brakes started smoking profusely, then Knight flipped between shuttling us in his dump truck and his pickup truck," McAndrew says.
Ide is a ticker tape of ideas. Look past his square jaw and gap-toothed smile, through the goggles or safety glasses, and his profoundly deep and intelligent eyes reveal his passion, energy, drive and determination. A hardworking Yankee to the core, his fundamental tenet is that hard work gets you what you want.
He built an indoor jump park in a family-owned building in St. Johnsbury. And when he wanted dirt jumps in his backyard, he built them. "I have a compulsion to be in the air on my mountain bike, and I have a construction company that owns excavation equipment," he explains. "So I built mountain bike jumps." His mini mounds and tame tabletops grew to legendary proportions over time, both physically and anecdotally, with pro riders and production companies seeking them out.
Ide dismisses the awe and wonder over his private park. "For every hour of excavation time I've put into my acre-and-a-half of backyard dirt, riders–including a lot of famous hands–have put in 10 times that in shovel time." Timo Pritzel, Aaron Chase and Cam Zink have all helped sculpt Ide's jumps. Segments of "Kranked 7" were filmed in Ide's yard, as was an episode of Chase, Zink and Dave Smutok's "Hold on Loosely" tour. Red Bull filmed there for its Signature Series promo video. "It's no claim to fame, but it's pretty cool for someone who loves that part of mountain biking as much as I do to get texts from friends all over the country saying, 'Hey, I saw your backyard on NBC today,'" says Ide.
Digging in the backyard is also how Ide became a dad for the second time. His then-girlfriend (now wife) Jen was working as a para-educator in neighboring Lyndonville. She brought home a weekend guest named Daymien, an unsettled kindergartner and foster kid with a reputation for being uncontrollable, who had bounced between homes.
"All I did on the weekends back then was dig and ride bikes," says Ide. "The kid spent the whole weekend digging with me and riding in the backyard. I couldn't believe how much he loved to dig. If you're into the freeride aspect of mountain biking, there's a connection that transcends generations. Most avid riders have experienced that connection. I made that connection with this kid."
Ide and Jen had never talked about having kids, adopting or getting married, but when Daymien was headed to yet another foster home, they both wanted to protect him. They became his foster family, then spent six months trying–and failing–to convince friends to adopt him. "At that point, our choice was to adopt ourselves or send him packing," says Ide. "We were in love with him–so it really wasn't a choice at all." And Ide could relate to 'Day.' "He saw something at our house that he wanted and he worked hard to get it."
"We would joke growing up that he was a true knight–always kind, generous, taking care of people," says Lilias. "Knight is how he rides," concurs Tierney. "He's all in, going for it with everything he jumps into–he backs up his words with his actions."
If you didn't know Ide's résumé, it'd be easy to pass him off as a guy whose greatest talent is with a shovel–after all, he's one of the best-respected trailbuilders in the East. But that would be severely underselling him. "He sees the possibilities, not the obstacles, and acts on them," says Lilias. "He pushes the limits with everything he does; he works his ass off, he does things right and he's really damn smart. It's possible that he thinks about bike-related stuff every second of every hour of every day."
She might be right. Currently on Ide's to-do list: Make sure Burke produces top riders. He's coached kids before, but this year Ide created the East Burke DH Enduro Team. "I want to make mountain biking part of the average Vermonter's life, like soccer or basketball, a sport offered in school," says Ide. "In B.C. and the Pacific Northwest, riding is part of the culture. I want that for Burke and Vermont as well. And it's happening."
That's because Ide is making it happen.
He also recently revived his guide service, IdeRideMTB Tours, with McAndrew and his girlfriend, Ella Skalwold, to bring more riders to the Kingdom. He employs seasonally five people building trails, and Ide's typically out working in the dirt by 5:30 a.m. and hitting jumps until dark. He also manages rental properties for mountain bikers.
"I do it for the love of it. I never really thought I would end up staying here in Caledonia County my whole life," says Ide. "But when I got into mountain biking, that clinched it for me and it's what kept me here. I see joy on a rider's face when they ride great trail. It makes me hoot and holler and yell and scream. It gives me an awesome feeling inside."