Twenty years ago, Kelli Emmett was living in Aruba tending bar. She was a chain smoker who didn't care about physical activity. "I hated exercise," remembers Emmett. "I routinely got kicked out of gym class in high school."
Emmett, now 38 and a pro on the Juliana-SRAM team, grew up on a 16,000-tree apple orchard in Plymouth, Michigan. Dipping caramel apples was her forte–she'd make 1,000 in a typical day. She drove tractors, picked apples and went dirt biking.
On the first anniversary of her move to the Dutch Caribbean island, Emmett's mom, worried she might die of alcohol poisoning, visited her and offered to pay for college if she came home. It was 1998. Emmett returned to Michigan, enrolled in Western Michigan University and rode a mountain bike for the first time.
"I vividly remember the ride," says Emmett. "It was the middle of winter and my dad and brother, both avid mountain bikers, convinced me to go. It was cold and miserable–we rode 3.5 miles."
She didn't see the point of racing or even riding, but she reluctantly pedaled to lose the Aruba alcohol weight. Then one weekend when she was home from college, she found a Billy's Bike Shop team jersey hanging in her closet. Emmett stopped into the shop to get her bike worked on, and Billy prodded, "What's it going to take to get you racin'?"
Emmett caved, and she immediately excelled. The self-described "speed-freak-dirt-biker-non-athlete" took home a silver medal in her first XC race, the Fort Custer Stampede, even though she pushed her bike up the hills. "I surprised myself with what I could do," she says.
Emmett The Racer devised a training plan. If she had a race on Saturday, she wouldn't smoke on Friday. Eventually she tossed her cigarettes for good, and by 2000, she was the National Collegiate Champion. She scored a contract with GT the next season.
But riding at the pro level was filled with setbacks. The GT team shut down after a year. Then she joined the Luna Mountain Bike Team for a year. "I didn't understand how to train or to know myself as a racer … they let me go," she says. Emmett briefly rode for the Specialized Pro Mountain Bike Team before the domestic team folded. Ford picked her up, but that team folded two years later, when the auto industry crashed. She finally found stability with Giant Bicycles in 2007 and rode with its Factory Off-Road Team for eight years, racking up a Singlespeed World Championship, three Super D National Championships and a Downieville All-Mountain World Championship, among other accolades.
Through it all, she managed to stay positive, although there were certainly dim moments. When Luna fired Emmett in 2002, she quit racing and returned to Michigan to work on the farm, getting up before dawn to make donuts and cider.
Early one morning, a fellow orchard worker hassled her: "You're going to quit traveling and seeing the world to work in a cider mill every day at 5 a.m. making donuts?"
"It made me rethink my decision," says Emmett. "I went back to Colorado to give it another try."
Her upbringing had provided perspective that helped her ride her highs and survive the lows.
"I am lucky enough to have great parents who raised me to believe that anything is possible if you work hard enough, and that you'll be successful if you find a career you love," says Emmett. "We were never told we needed to go to college after high school, get married, or have kids. We were raised to be super independent and find a life that makes us happy."
Racing brought Emmett close to her dad, but it also almost broke them apart. "When I first started racing my dad would come to every race," says Emmett. "It was too much. I was struggling, I wasn't good enough and he was telling me what to do. I couldn't deal."
They worked through it and when he passed away in 2007, the two were close. His death was a huge blow. It was the same year she crashed and broke her arm while she was trying to make the Olympic team. "I flailed through that season," she says. "It made me step back again and re-evaluate why I kept racing. It brought me back to my love of being on my bike."
Emmett changed her focus from winning every race to better experiencing the places she rode and appreciating the people she was with. Following what she describes as a "horrible, dark season," Emmett had the season of her career, winning both the Sea Otter Classic XC race and the Santa Ynez Valley National Mountain Bike Classic. She soon developed a reputation as a well-rounded racer with strong results in Super D, enduro, cyclocross, XC and 100-mile endurance events. But eventually the diversity became frustrating–Emmett wanted to focus solely on enduro.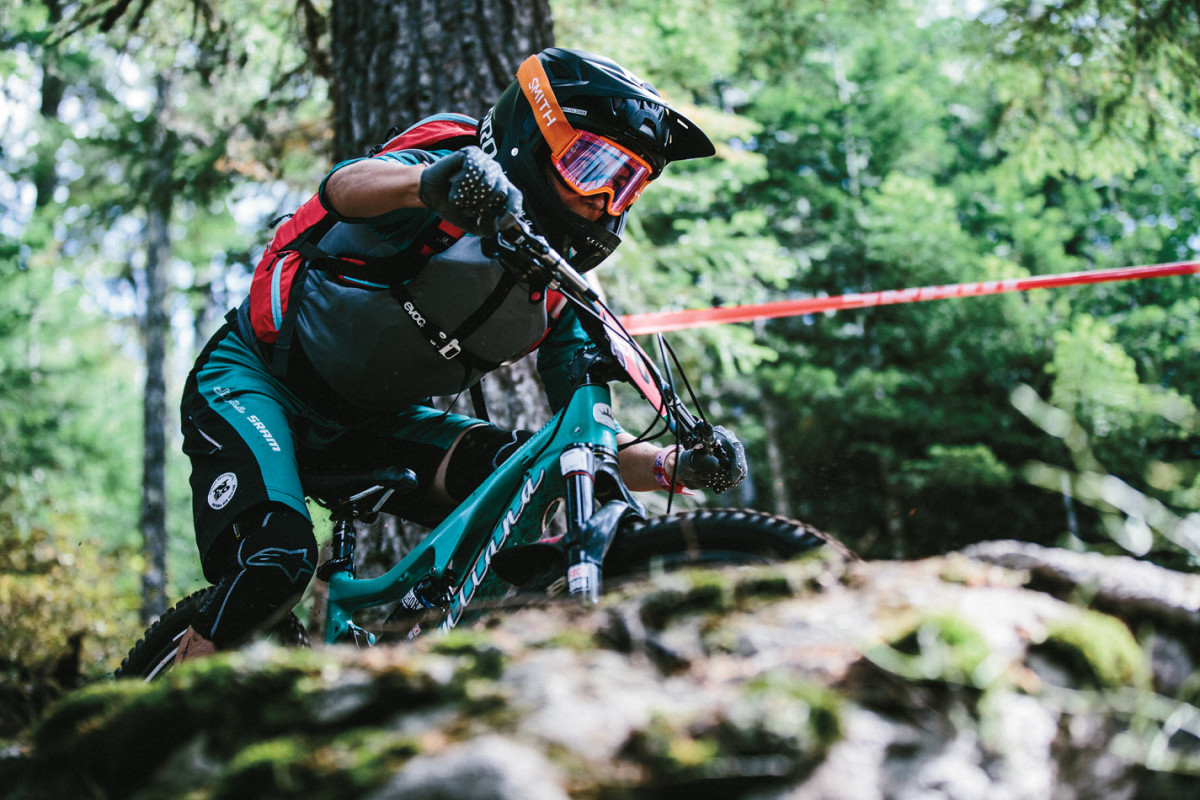 She was fit, but lacked technique. At her first enduro race, she was recovering from the Leadville 100. "I roll into Winter Park, and everyone is hooting and hollering and having a good time," Emmett says. "I was freaking out and wondering how you hit table tops. I could pedal well enough so I did well, but I had never even been to Winter Park." Emmett won. She was hooked but scared, so she went back to basics. She took skills clinics. She hired a coach, then fired him. "I found I know my own body best, and I do best on my own training program," says Emmett. The skills were challenging, and so were the dynamics of enduro.
"It's considered a men's sport even if no one is saying that," she says. "There is huge disparity in race payouts." In one race Emmett received $500 for the win, while the top male finisher on the same course earned $1,300. After the final 2014 Enduro World Series race in Italy, four of the top eight women were asked to leave their team's athlete rosters to be ambassadors, according to Emmett. "Not only are women not respected and not paid equitably, they're also asked to teach clinics, write stories and take off their clothes to justify themselves as racers," she says. "I work just as hard as the guys, but they don't get asked to do bikini shots."
In early 2015, Emmett was invited to join the enduro-focused Juliana-SRAM Pro Team, which was a dream come true.
"Like Juli Furtado, Kelli comes from a cross-country background, but she's also won World Cups and downhill races," said Katie Zaffke, Juliana's brand manager. "Like Juli, Kelli wants to grow as a rider and person. She ventures out of her comfort zone. To me, that shows she is a go-getter. She wants new experiences."
Emmett says it was hard for her to leave Giant after so many years, but she identified with Juliana Bicycles. "I like how Juliana and SRAM portray women in the industry. And I wanted to be part of Juliana's ride experience–empowering women riders and showing women on cool adventures on really nice bikes."
The road is hard, but Emmett is sticking with it, for now. "I've said it's my last year a lot of times," says Emmett, who is on the cusp of her 39th birthday. "I have another year in my Juliana contract. A lot can happen in a year. It's still the beginning with Juliana–I am still all excited and fired up. Juliana has supported me in everything I wanted to do, and they continue to.
"I'd be happy to cut back on racing," she adds, "but I don't want to leave racing broken." Emmett also coaches and runs the sales department for Enduro Bites, a Colorado Springs sports food company that she co-owns.
"I wear a lot of hats," says Emmett. "And it's a great learning process." When she crashed and broke her collarbone last September while shuttling Pikes Peak with friends, Enduro Bites was a good diversion. "I've been using my mind while my body is broken," says Emmett. "It's been an interesting glimpse into the 'real' world. I keep wondering: 'When's the rest day?'"
Ultimately, Emmett rides because she loves the sport. "I am not out there to promote myself," she says. "I want to be a role model, to inspire other people to get out and ride bikes. The beauty of the mountains and being outdoors relaxes me and gives me a sense of quietness, the sense that everything is good. I like winning races, but even more important to me is sharing the experience of riding.
"Go ride your bike with your friends," she adds. "It'll make your life better."