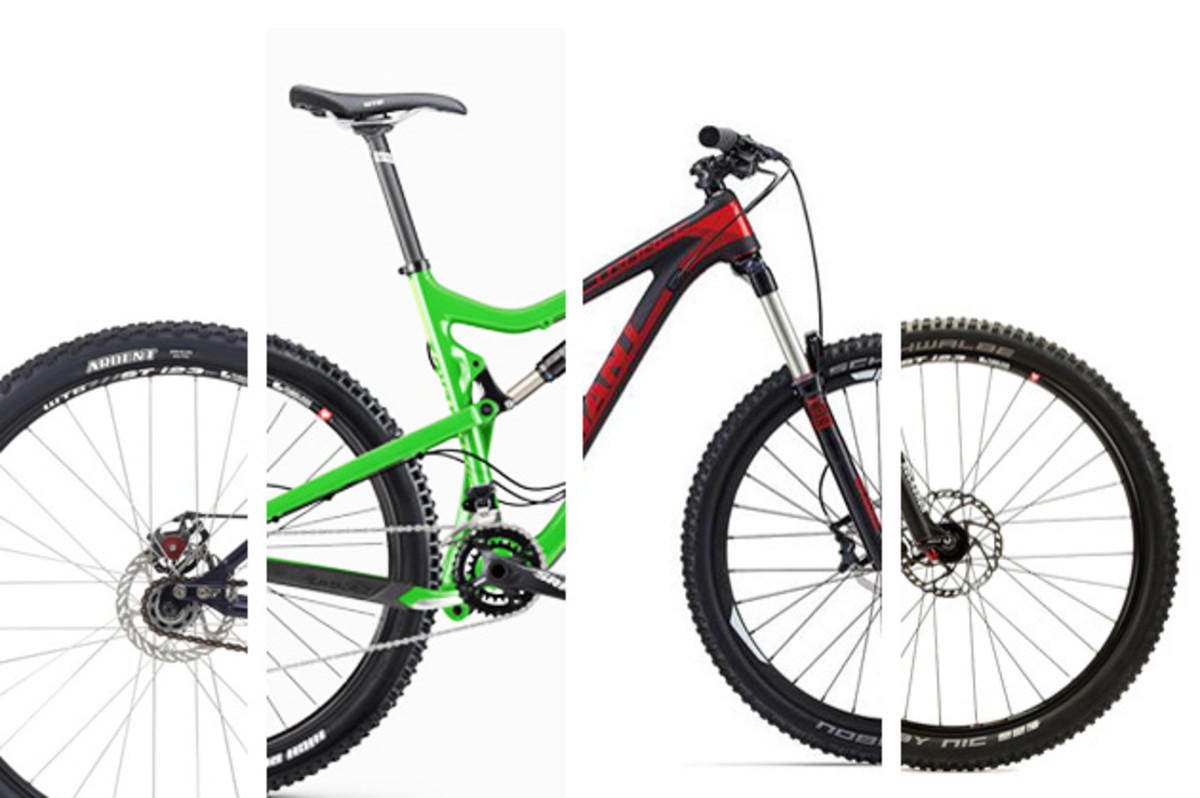 I am stumbling over five and six and seven-thousand dollar bikes. It's almost impossible not to—there are 36 of the things dog-piled in a greasy orgy between me and the fridge full of beer in the back of our garage in Bend, Oregon.
As we put the wraps on the testing portion of the upcoming Bible of Bike Tests gear guide issue, it occurs to me that we'll probably experience a rash of comments demanding that we account for the fact that so many of our test bikes are just so damn pricey.
Why are bikes so expensive these days?
I've given my best shot at explaining the Rising Price of Kick Ass phenomenon here, but rather than rehash that whole mess, I thought I'd point to a few 2015 models that strike me as being a particularly good value.
And by "value" I don't mean "cheap" or "inexpensive"; I mean bikes with parts that don't require constant maintenance or, worse yet, complete replacement within a season of hard riding. If you have to pony up a grand for a new fork after just one summer of riding, I don't care how much you paid for your rig—it wasn't a bargain after all. You're better off spending a bit more than you'd like if it nets you a frame, brakes, suspension fork and wheels that won't hold you back or gouge an even larger hole in your bank account in the near future.
These, then, are bikes that rock, right out of the box. This is by no means a comprehensive list—just a few of the models that strike my fancy. Okay, here goes….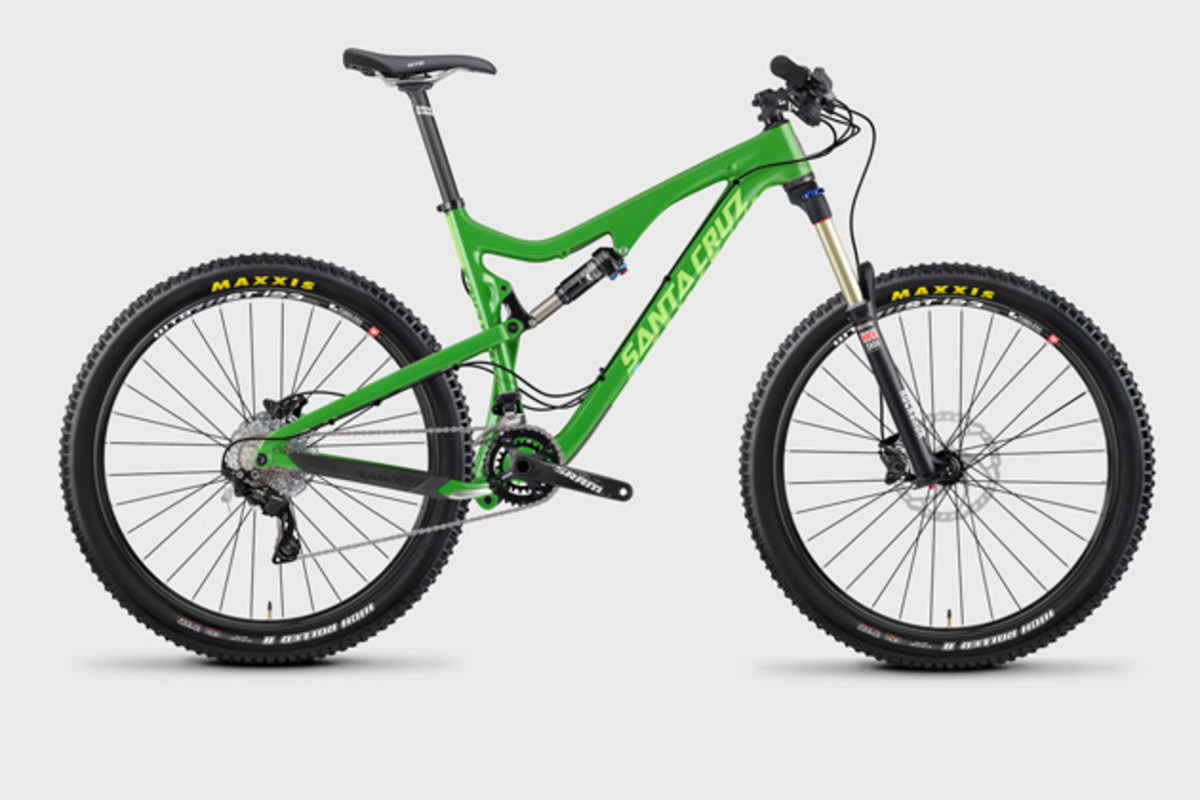 Santa Cruz Bronson Carbon R || $3,600
Last year we reviewed a Bronson, Santa Cruz's all-mountain slayer…a kind of 650b reboot of their Blur LTc model. The six-inch (150 millimeter) travel Bronson inspired both lust and envy—plus a ton of hate mail from people who railed at the idea of spending ten grand on a bike…no matter how sexy it was. Well, Santa Cruz is offering a carbon Bronson (with a much more pocket-friendly parts kit) for about a third of that price tag. A big chunk of the savings comes from the base-level "Carbon" frame.
In a nutshell, Santa Cruz uses a less expensive carbon fiber that nets the same strength and stiffness as their high-end composite frame, but adds about a half pound of weight to the bike. They then offer the wallet-friendly frames shod with either an "R" or "S" build kits. If you opt for a more expensive build kit, the parts will be mated to the regular, high-end "Carbon C" frames, which sell for nearly three grand all by themselves.
At this point, this less-expensive carbon-frame deal is available on only three models: the Bronson, Tallboy and 5010. Personally speaking, I'd happily stomach that extra half-pound. I have a feeling I won't be alone in feeling that way.
The base-level "R" kit you see here includes a Fox Float CTD rear shock, a RockShox Sektor Gold RL fork and Shimano Deore brakes and largely SLX drivetrain. In short, you can walk out the door with a full carbon Santa Cruz for less than four grand. If you spend another $1,100 for the "S" kit, you can upgrade to a RockShox Pike and a RockShox Reverb Stealth post. Any way you slice it, it's impressive as hell. Kudos to Santa Cruz for opening the door a bit wider for more riders to walk through.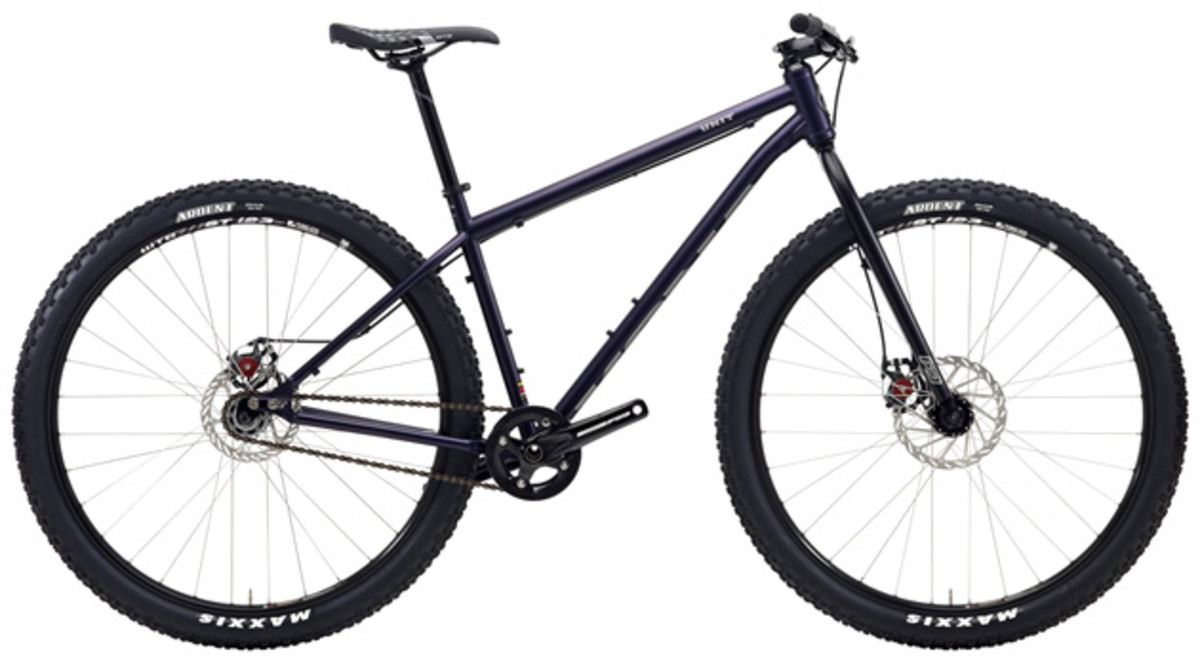 Kona Unit || $1,050
I'll be honest, I don't spend a ton of time on hardtails anymore. I'm a sucker for squish. Still, there are times when I get a hankering to simplify things and that's when a bike like the Kona Unit is called for. This steel singlespeed has been in the Kona lineup for an eternity and it's easy to understand why: simple, elegant, bombproof….there's a lot to love here, including the excellent Reynolds 520 chromoly frame and the WTB ST i23 wheelset. No suspension fork? I guess there are always folks out there who appreciate the simplicity of a steel fork… I'm not one of them—I spent too many years knocking my fillings out on rigid bikes, but at this price you can still afford to spring for the suspension fork of your choice. As for wheel size, the Unit is a 29er. I know 650b is all the rage these days, but I'll always opt for wagon wheels on a hardtail. If you don't have four or five or six inches of suspension smoothing things out, you definitely benefit from the larger wheels' ability to float over baby heads and roots.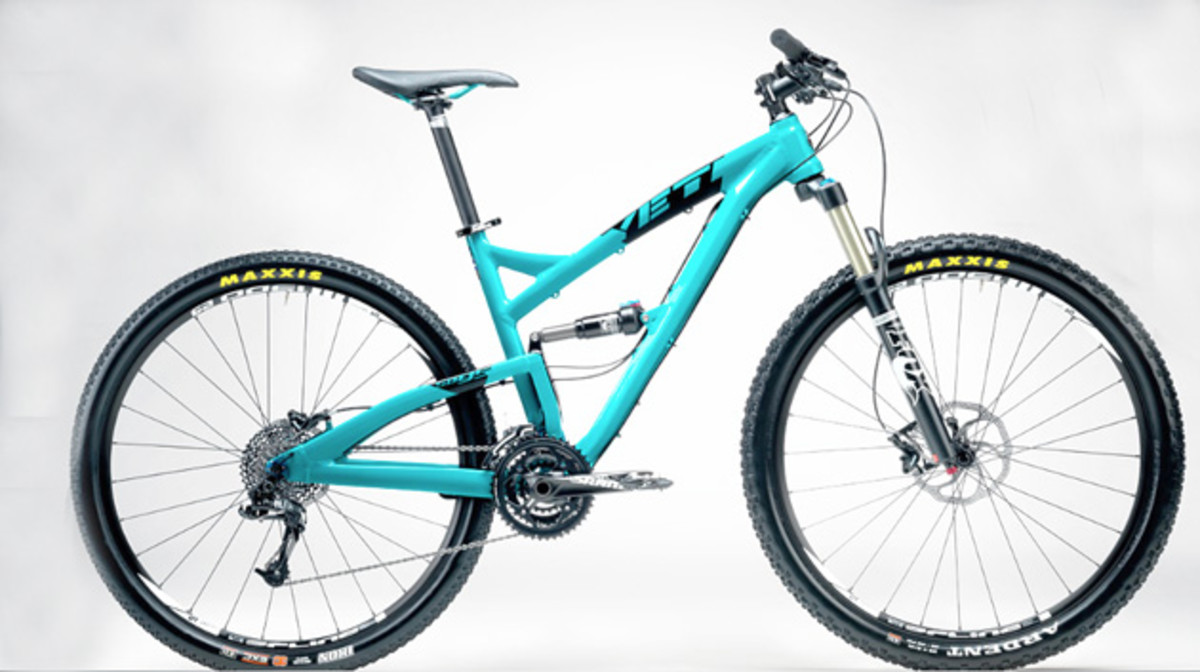 Yeti SB95 Comp $2,900
While the dirt world is abuzz with news of the new Switch Infinity Yeti models (the SB5 and SB6), the SB95 is still worthy of your attention. Yeti's all-mountain 29er sports 5 inches of travel, a burly aluminum frame, Yeti's excellent Switch rear suspension and an entirely respectable set of parts that include a Fox 34 fork, Fox Evolution rear shock, SRAM X7/X9 drivetrain, DT Swiss M1900 wheelset and Avid Elixir 5 brakes. You get all that for less than three grand. When it comes to long-travel 29ers, it's one of the best price-point packages you'll find today.
---
---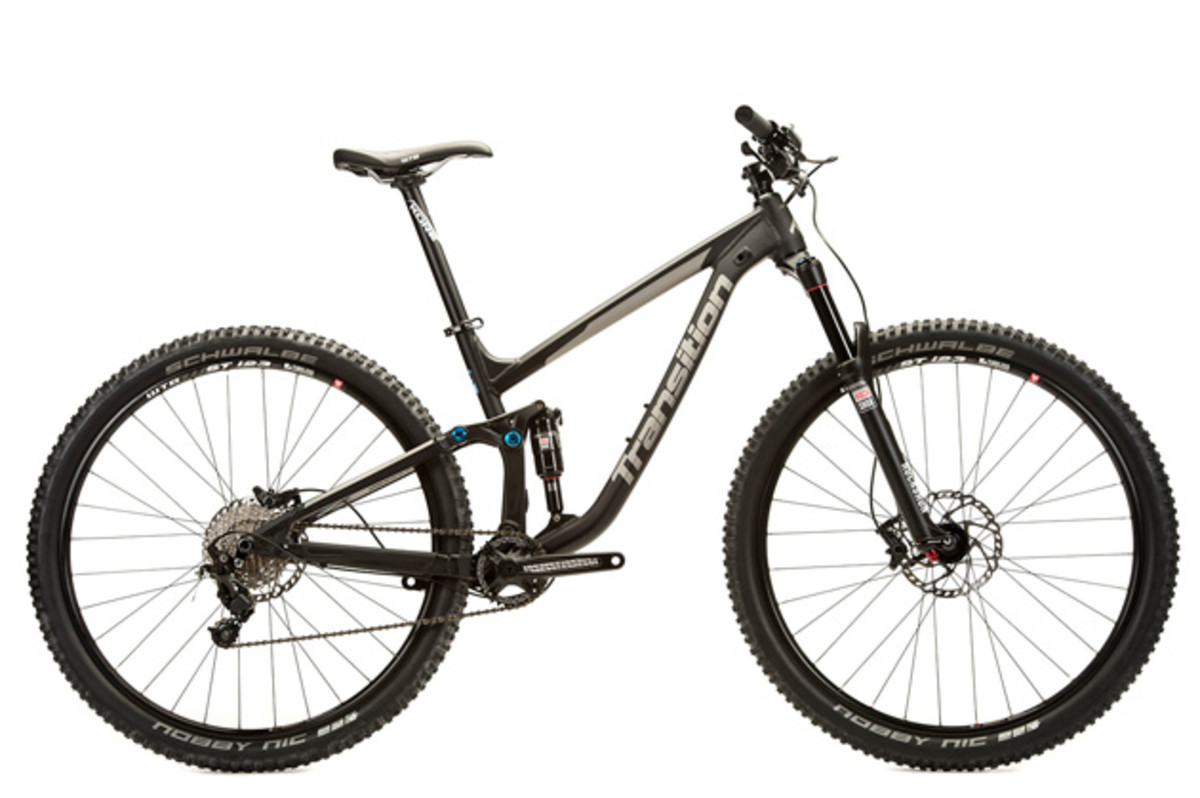 Transition Smuggler 2 || $3,300
2015 is year of big change at Transition Bicycles, which is unrolling four new models featuring their Giddy Up Link Suspension design—a twist on the Horst Link four-bar suspension system—the one that is no longer protected by a patent. That said, the new bikes are no Specialized clones. There are a lot of ways to skin the four-bar cat and this is an interesting one. The Smuggler is the aggressive 29er version, sporting slack angles, a sprawling top tube, short stem, 5 inches (130-millimeters) of travel up front and 4.5 inches (115-millimeters) of squish out back. But more to the point, the bike likes to be ridden hard and fast. It pedals briskly, but the slack angles and progressive rear suspension come into their own when you're pushing the bike hard on technical descents. The Smuggler is available as a frame only ($1,800) and in two build kit options. This is the less expensive build kit, but you'd hardly know it by looking at it: the RockShox Pike RC fork, Monarch RT3 Debonair rear shock, WTB i23 wheelset and smart mix of Shimano Deore and SLX are all solid picks. The pairing of the 32-tooth Race Face Narrow-Wide ring with a conventional 11-36 cassette might intimidate some riders who must pedal big climbs on a daily basis, but the Smuggler 2 comes with a Hive Extended Range 42-tooth cog, which will help ratchet down the grunt level on just about any climb.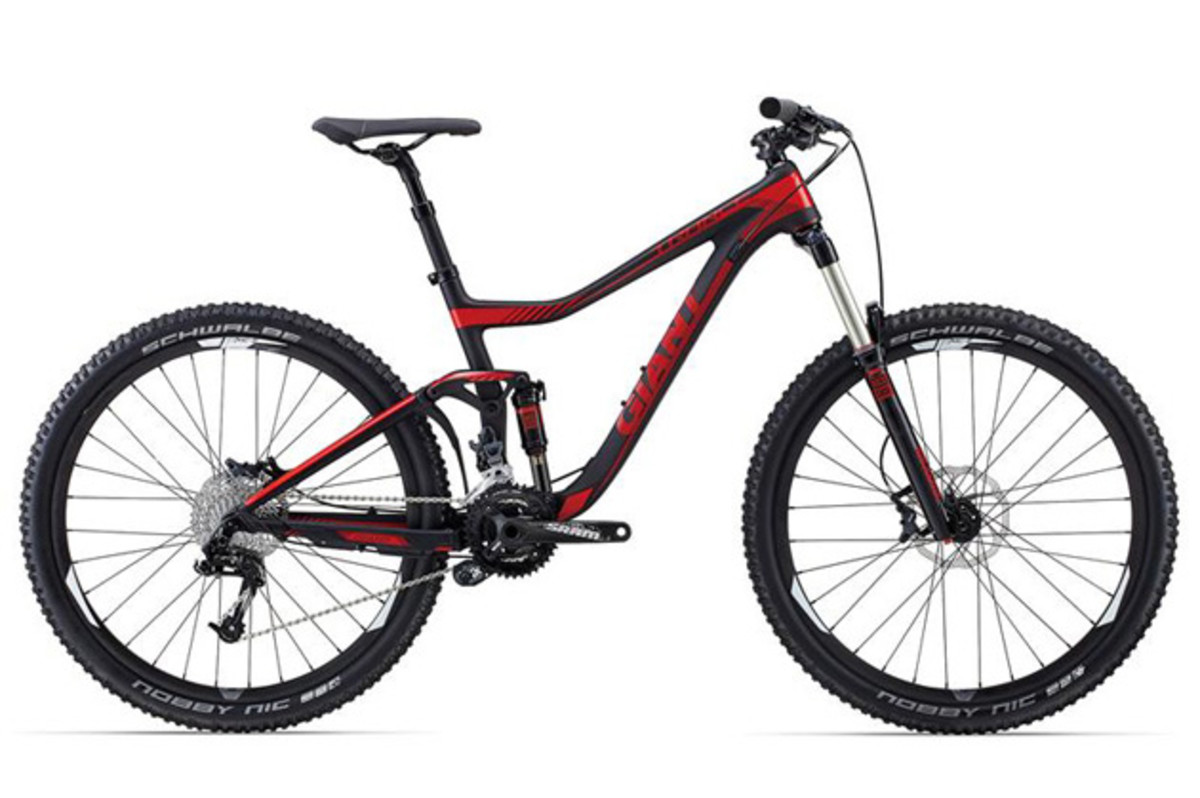 Giant Trance Advanced 27.5 2 || $3,600
I've made no secret of my love for Giant's reboot of the Trance: I picked the hopped up Trance Advanced SX as my favorite bike during last year's (2014) Bible of Bike Tests. This was one case when dropping down from 29er to 650b hoops made a bike a hell of a lot better. The Trance Advanced sports 5.5 inches (140 millimeters) of silky-smooth suspension, a carbon front triangle and an aluminum rear end. It's a crazy versatile rig. Put a 160-millimeter travel fork up front (it'll accommodate it) and you have yourself an absolute weapon. The version you see here sells for just a little more than what you'd spend on the frame alone…which makes it a stunning deal. Giant saves money by spec'ing a RockShox Sektor RL fork and a budget Giant-branded wheelset, but you also get a solid SRAM X7/X9 drivetrain, SRAM Guide R brakes and a dropper post. Did I mention that this is the same frame that you get on the $7,750 top-of-the-line Trance Advanced 27.5 O model? Damn, this is an astonishingly good price.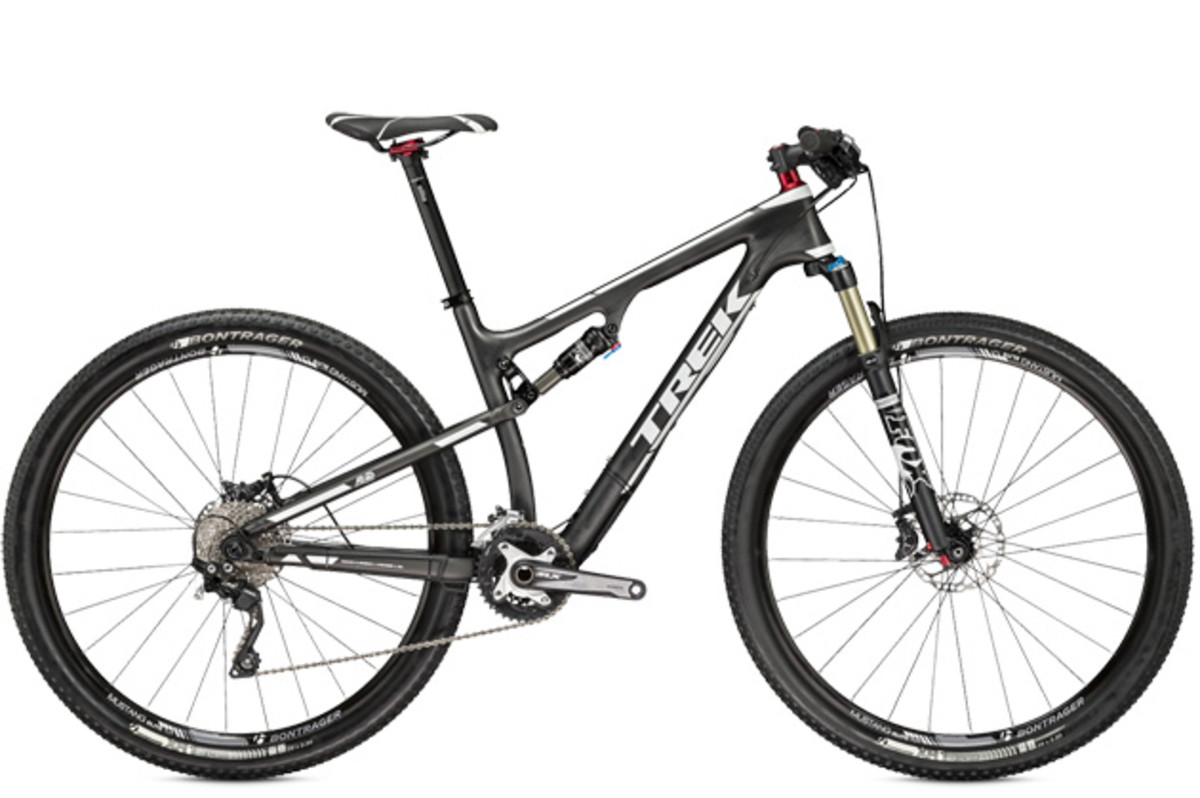 Trek Superfly FS 9.7 SL || $3,680
The Superfly FS is one of the most competent cross-country race rigs I've thrown a leg over. Looking for a bike that just makes you want to put the hammer down and pedal until you either humiliate yourself or your friends who thought today was supposed to be a mellow spin? This is your pony. Trek offers less expensive aluminum models, but this model rocks a sexy carbon front end and four inches (100 millimeters) of quality front and rear suspension, courtesy of Fox. Trek keeps the price from reaching into the stratosphere by equipping the bike with a smart mix of Shimano Deore, SLX and XT drivetrain. There's not a weak part in the mix. It's a good option for anyone who wants to race, but can't stomach the idea of parting ways with six, seven or ten-thousand dollars in the pursuit of winning a set of crappy tires at next weekend's big race.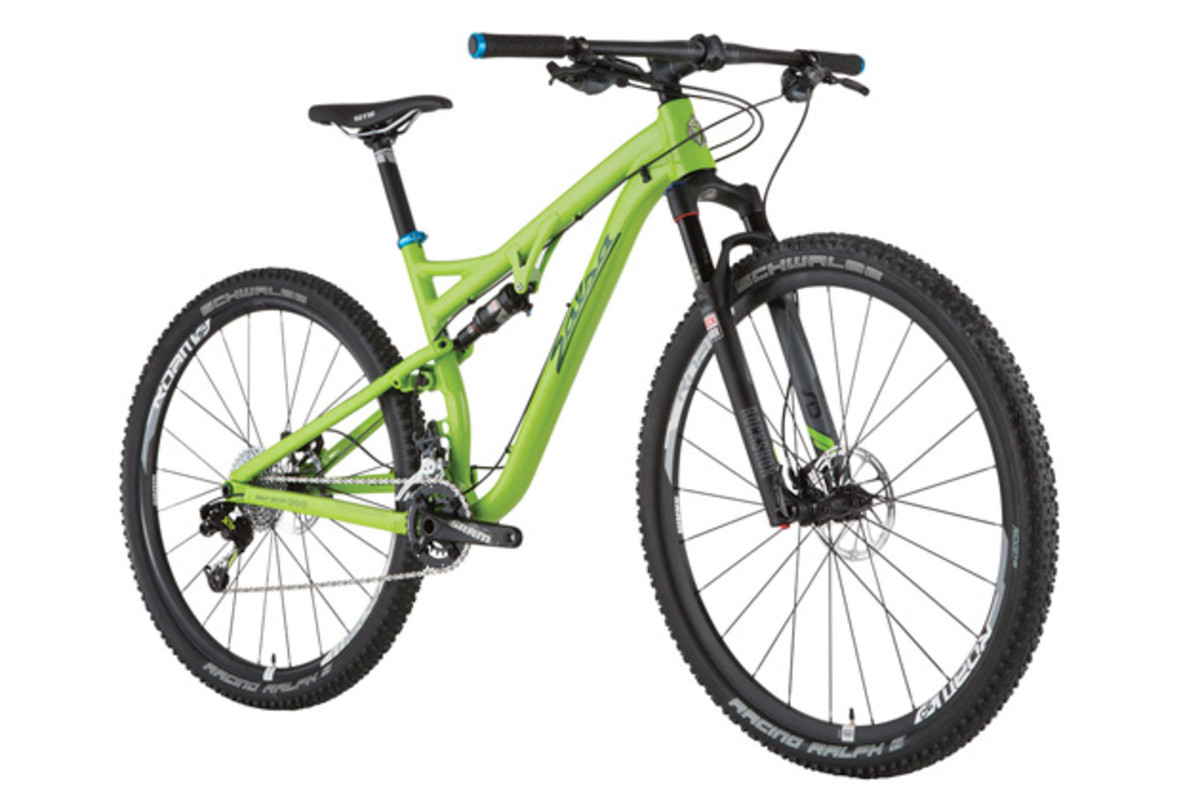 Salsa Spearfish 2 || $3,400
At first glance, a cross-country bike with a mere 3 inches (80 millimeters) of rear suspension seems a throwback to the nineties, but the Spearfish is no crusty retro model. Salsa teamed with Dave Weagle to create a surprisingly capable racer that feels like it sports far more travel than the spec sheet suggests. The bike's Split Pivot suspension design is top notch and the bike gets a thumbs up for its slightly slack and low geometry. With the Spearfish, Salsa attempted to create a bike that would excel in long-distance races. They've achieved that, but they've also created an uber-capable bike that plain rips on technical terrain. Think of it as a very fit, mile-eating machine that has a trail bike chip on its shoulder. And let me be clear: I absolutely hated the old Spearfish models of the past; they pedaled well, but bored the living hell out of me. The 2014 and 2015 Spearfish models are a refreshing reboot. Efficient? Yes. Fun? Surprisingly so. It's a winning combination.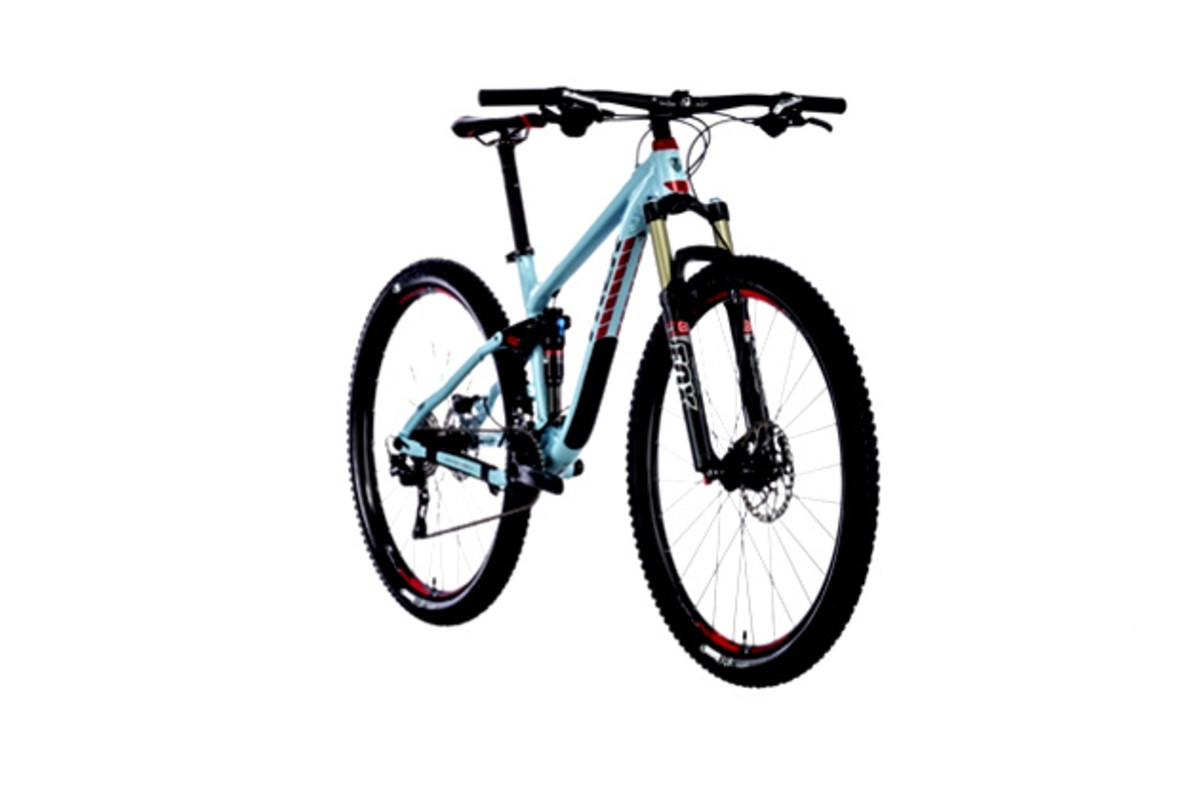 Trek Fuel EX 8 29 (or 650b) || $2,940
The Fuel EX 8 is one of those models you see all over the place—it's proven a consistently kick butt performer at a hard-to-beat price for years now. The 2015 model is no exception. The aluminum frame is mated to a mix of Shimano SLX/XT components and gets its bump-eating prowess courtesy of a Fox 32 fork and Trek's excellent Fox DRCV rear shock. There's not a weak link on the sucker. The 29er version is even more capable than its smaller-wheeled ancestors, but if you harbor hate for the 29, you can get the same rig harnessed to 650b (27.5-inch) wheels.
---
---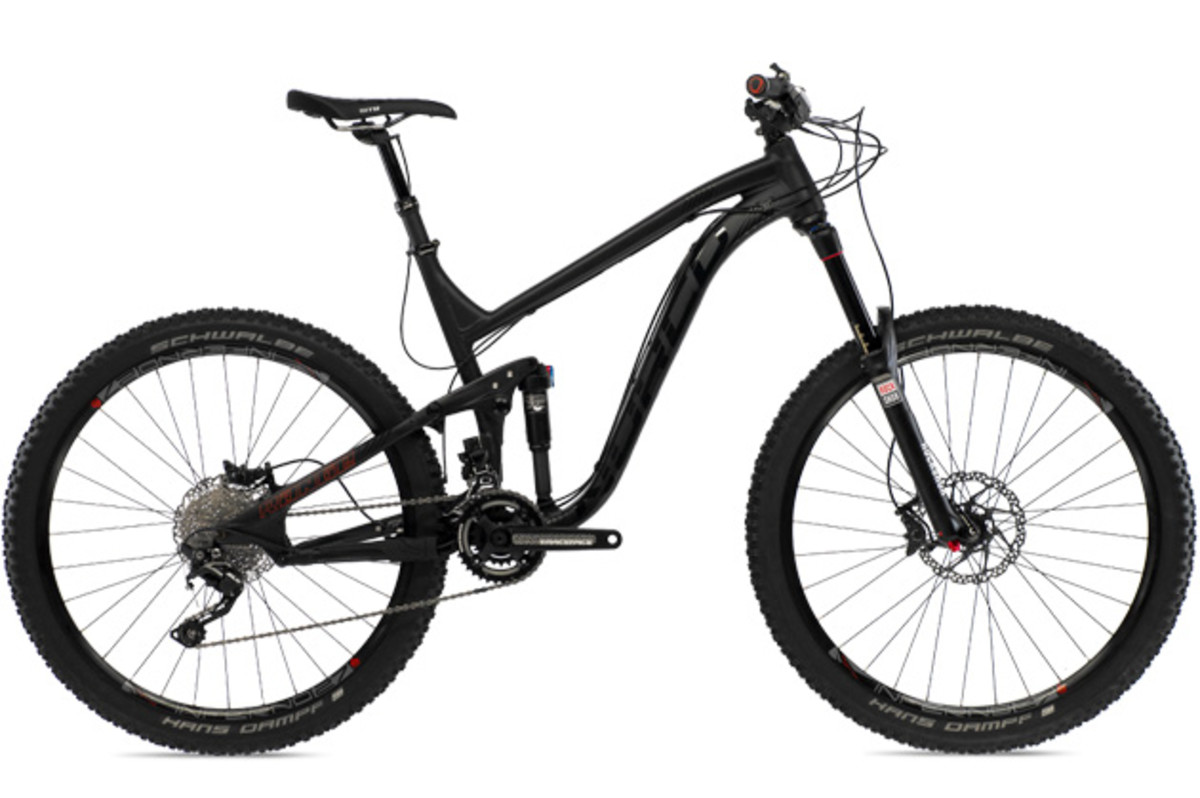 Norco Range A 7.1 || $3,095
Norco has been killing it lately with their Sight and Range models—extremely capable, long-travel bikes that climb well and offer a fearless disposition on descents. The Range boasts 6.3 inches (160 millimeters) of travel, courtesy of a RockShox Pike RC fork and Fox Float CTD Evolution rear shock. Braking duties are handled by Shimano Deore stoppers and the drivetrain is a mainly Shimano SLX kit. For a hair more than three grand, you also get a KindShock dropper post. If you're looking for a well-equipped brawler on a budget, it's hard to go wrong with this one.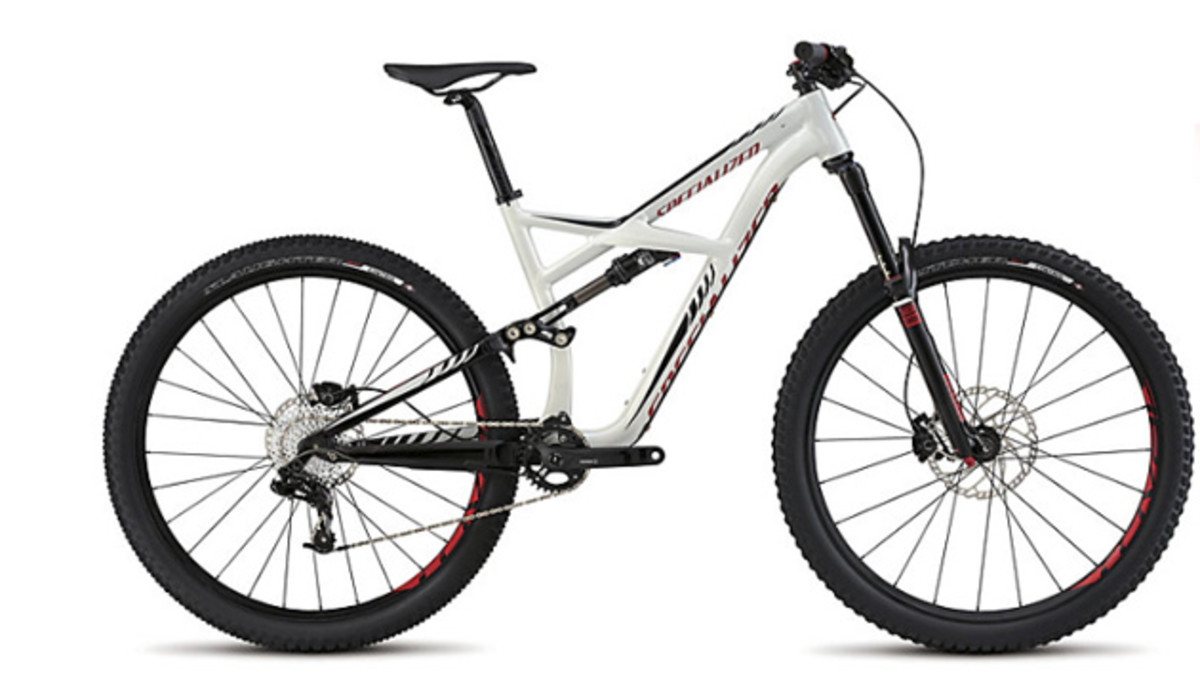 Specialized Enduro Comp 29 (or 650b) $3,600
Saving the best for last? Maybe. The Enduro is truly a genre-defining bike. You're looking at six inches of travel courtesy of one of the most refined suspension systems every built. Specialized has been tweaking Horst Leitner's original four-bar design for more than fifteen years and it shows—the bike climbs far better than any six-inch travel rig should and it absolutely slays descents like a mini-DH bike. This is the base level Enduro, but it sports the same aluminum frame as the $5,000 Elite model. What's more, it sports the excellent RockShox Pike RC fork, and a Fox Float CTD Evolution rear shock. Yeah, the Deore drivetrain and brakes aren't going to set your inner gear geek on fire, but they work pretty damn well given the low ticket price (especially the Deore stoppers). More to the point, the two big ticket items (the frame and fork) are damn near impeccable.
The only people I know who don't like the Enduro 29er are people who haven't ridden one. Really, it's that good. The thing has a shorter rear end than some four-inch travel XC race rigs. If you poo-poo wagon wheelers on principle, you need to hold off on slagging this thing until you ride it. But….I know some people just won't believe me. Specialized knows that too, which is why you can get the same exact component kit mated to a 650b (27.5) frame. Same price, different wheels, slightly shorter rear end, and a tad more (165 millimeters) travel. At this price, you can't go wrong either way.
More reviews: