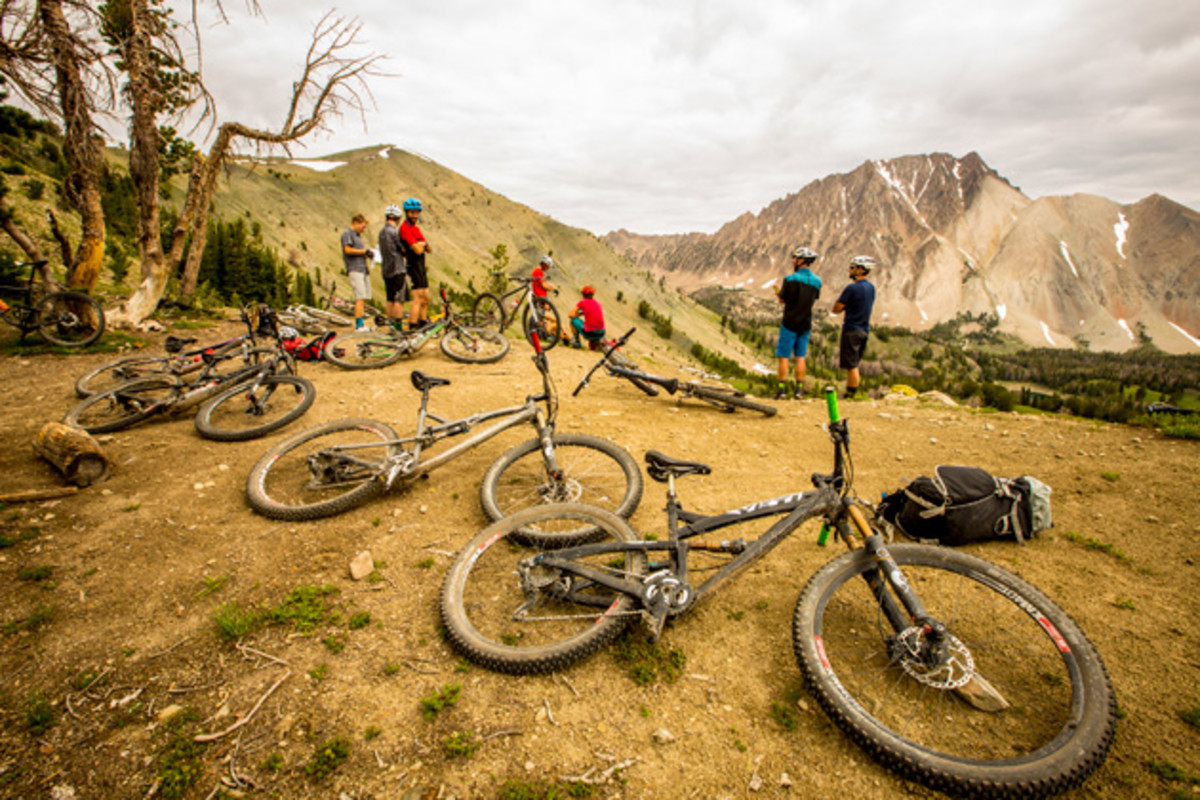 Polar bears eating polar bears, the conflagration du jour in the Middle East, Donald Trump's unwillingness to invest in a decent hairpiece…. This rock we live on brims with problems beyond your control. You can either go crazy sweating the crap you can't change or you can shrug it off and get on with business of living.
For decades now I've chalked the whole ban on mountain biking in Wilderness areas into the "Crap I am definitely not going to sweat today" category. The ban on bikes was big. It was complex. It was beyond my control. So, I went out for a ride and thought about something–pretty much anything–else.
This past year, however, Wilderness has been on my mind. A lot. And if I've bored you by flogging this dead horse into a bloody pulp, I apologize, but there's are two reasons I've been plugging away at this: (1) The rate at which we are getting kicked off of public lands is accelerating; and (2) We mountain bikers might finally be able to do something about it.
You–Public Enemy Number One
The Forest Service (the federal agency managing the largest chunk of Wilderness areas in the States) has taken a new, hardline stance against mountain bikes, closing hundreds of miles of trails to mountain bikers not because those trails lie in Wilderness areas, but because they might one day–maybe decades from now–be considered for possible Wilderness designation.
Forest Service representatives have been surprisingly candid about their motivations for banning bikes in Recommended Wilderness and Wilderness Study Areas: you might fall in love with those trails. After days spent riding and maintaining those remote, lonely trails, you might get real pissed if they decide to kick you off them.
The Forest Service's new approach, then, is to just kick you off those trails now–before you and other riders get too attached to them. They want to nip you in the bud.
In a 2009 New York Times article, the Forest Service's Northern Region Director, Dave Bull was amazingly blasé about the policy. "We can reduce the level of nonconforming uses," said Bull "so there's not a contingency that then would cause Congress to have second thoughts on our recommendation."
The Forest Service, to be fair, has been given plenty of incentive to adopt what is, let's call a spade a spade, anti-mountain-bike policy. In several cases, the Forest Service has been sued by traditional environmental groups, who argued that allowing mountain bikes in Wilderness Study Areas and Recommended Wilderness areas reduced their potential to one day join the National Wilderness Preservation System. Mountain bikers, on the other hand, don't sue federal agencies when they get kicked off the trails. If you were the Forest Service and you wanted to avoid yet another lawsuit, who would you listen to?
From New Mexico to North Carolina
Just in case you think this is merely a problem for those unlucky riders in Montana, who've been getting a raw deal for years now, it's worth noting that the Forest Service is required by law to re-evaluate all of the lands they manage for potential inclusion in America's Wilderness system. Until recently, this didn't cause much concern amongst riders, but now that the Forest Service is managing potential Wilderness areas as, well, de facto Wilderness, we stand a chance to lose access to trails in some part of the country just about every damn year.
Examples?
Los Angeles riders narrowly dodged the bullet a few years back. Right now Albuquerque riders stand the chance of losing access to trails in the Sandia Ranger District of Cibola National Forest. Last week there was a scare (fortunately, a false alarm) that Park City, Utah's famed Wasatch Crest Trail might be included in a Wilderness bill. Oh, and if you live on the East Coast and you think that this is just a problem for those of us out West, some of the best trails in North Carolina's Pisgah National forest are being considered for inclusion in this "almost Wilderness" limbo land.
Rather ominously, the Forest Service (in its draft evaluation form for Pisgah and Nantahala National Forests) makes a distinction between "…primitive and unconfined recreation activities that connect visitors to nature; such as hiking, backpacking, horseback riding…." and activities "that occur within the area which would not be considered primitive and unconfined….such as mountain bike trails [emphasis added], concentrated use/large group gatherings, wagon trains, motorized-use trails, etc."
As Dylan so famously put it, you don't need a weatherman to know which way the wind blows…
You have until December 15th to tell the Forest Service that you'd rather not lose access to trails in the Daniel Ridge, Laurel Mountain, Cedar Rock Mountain, South Mills River, Woods Mountain, and Jarrett Creek areas of Pisgah. So, yeah, click that link and get on it.
DON'T SHRUG THIS ONE OFF
A few years ago, you could dismiss your exclusion from America's Wilderness as just another one of those things beyond your control. There were still plenty of trails to ride and Congress wasn't voting a new Wilderness into being every year. Now, however, that the Forest Service is essentially managing potential Wilderness areas as actual Wilderness areas (as far as mountain biking is concerned, at least), we all stand the chance to lose access to more trails every year. Apathy isn't a luxury we can afford any longer.
If you care, there are a couple things you can do.
For starters, pay attention to what's happening in your neck of the woods and chime in when your trails land on the chopping block. Next, look beyond your own corner of the country. We can't afford to leave folks in Montana, New Mexico, North Carolina and all points in between hanging out there in the wind.
The people who want you off the trails keep winning because they are united. It's time we learned something from them. It's time we got organized. If you're a member of IMBA and you want them to fight the ban on bikes, tell them that. If you want to help the Sustainable Trails Coalition bring the fight to Congress, join their campaign. Give your vote of support to Wilderness B and to the SaveMontanaTrails campaign.
There are, by conservative estimates, about eight million mountain bikers in the United States alone. It's time we stopped acting like the marginalized, minority that was so easily kicked to the curb back in 1984.
Show up. Get vocal. Get involved. Support one another. If we don't, we stand to lose a hell of a lot.
Related:
Watch Gathering Storm – The Bikes and Wilderness Story