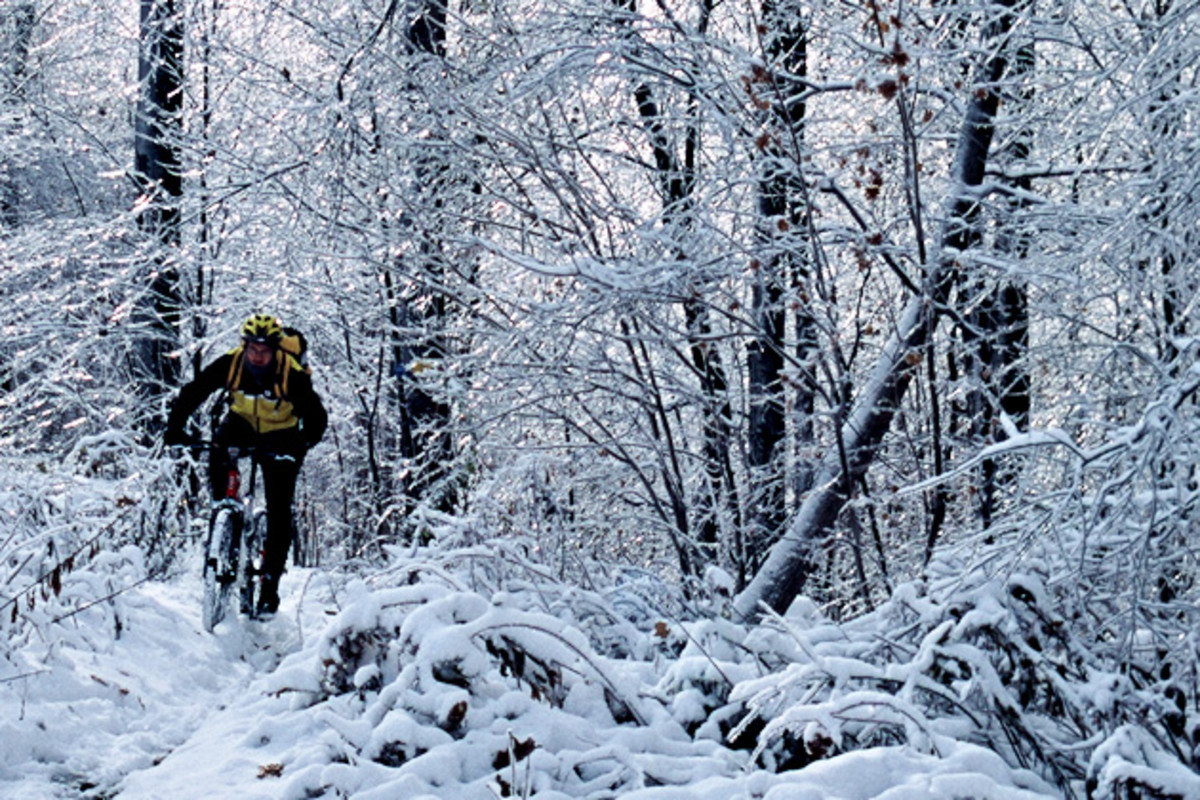 December in Buffalo is cold. No, make that cold as hell–at least if, you know, fire and brimstone suddenly became passé and hell's interior decorator took it upon him or herself to bury the joint in ice, mud and more ice. Followed by six solid months of misery.
I should have seen all of this coming before I actually moved to Buffalo–shit weather is kind of what the funky, decaying city is famous for, after all–but staring out the window of my crappy rental, watching the Lake Effect snow smother the city, the reality of it all was starting to sink in. From where I was sitting at that frost-covered window, four years in Buffalo looked a lot more like an eternity.
That, at any rate, is what I thought when I first moved to beautiful Buffalo. The city was rundown. The weather was miserable. The trails? Well, you needed to get in a car and drive a spell before your tires ever hit dirt. Hell, even road riding in Buffalo was its own brand of mean-street suckiness. I quickly took to crossing the Peace Bridge, flashing my passport to the bored guards and riding into Canada instead. Doing that made me feel like a traitor, but the Canadian side of the Niagara river was all vineyards and country roads. The Buffalo side 15 years ago? Broken bottles, potholes and derelict Superfund sites.
It's safe to say that my first five months in Buffalo were spent looking up at the sky and asking what I'd done wrong to deserve this place. But at some point, I wised up. If I've learned anything in life, it is that every place has its charms. They might not be obvious, but if you're looking, you'll find them presently.
The first thing I realized was that Buffalo was home to the coolest bunch of cyclists I'd ever met. Being a cyclist in sunny California is a walk in the park. Anyone can do it. Stuffing yourself into some Lycra and heading out for a ride when there's a foot of snow on the ground and trees are snapping like popcorn because they're entombed in so much ice…? That takes serious heart.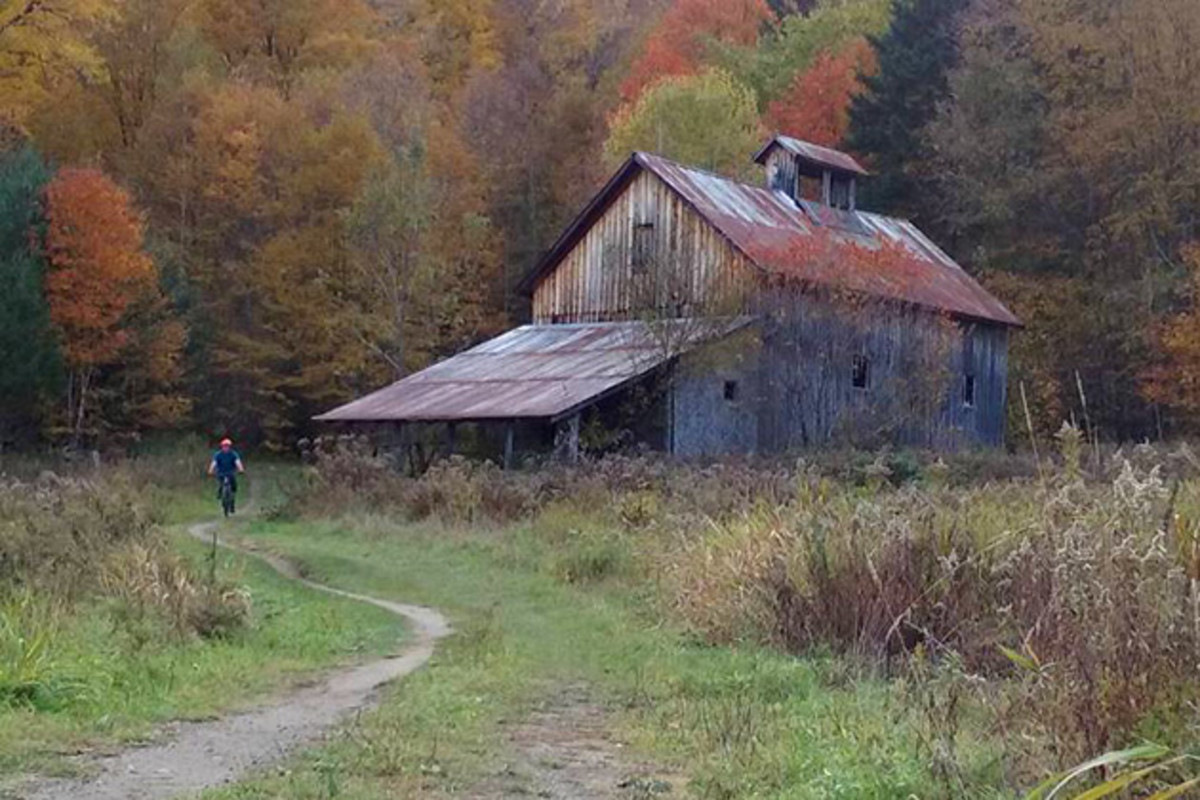 The riders I soon met at Campus WheelWorks, on Elmwood, were hardcore–they weren't necessarily the hardest, fastest riders I'd ever met, but they were truly the most dedicated. It's pissing rain? The trails are covered in slush? Your eyeballs run the risk of freezing solid? Didn't matter. They still rode. You could argue that, well, if you live in Buffalo and you're going to ride, then that's just the reality you have to accept. Fair enough. But let me tell you, a lot of people, when faced with that proposition, stop being cyclists altogether. Those that keep pedaling are a flavor of badass that you rarely encounter these days. I miss those guys. Hats off to `em.
The second thing I realized was that even though I had to stuff my Honda Civic full of muddy bikes every time I wanted to get a taste of singletrack, the riding just outside of Buffalo was damn good. What it lacked in massive climbs and killer descents, it more than made up for in tight, twisty and awesome. The Bruce Trail, Hunter's Creek, Ellicottville, Letchworth….I came to love those places. I loved them in spring when they were still mushy. I loved them in the summer when the forests became muggy and the dirt hard-packed and I loved them in the fall when the forest floor would disappear beneath a blanket of gold and red leaves. I even loved to ride those places in the snow–even if it was less riding and more a matter of stumbling and hacking and slipping and crashing. At some level all mountain biking is both different and all the same. Your breath comes in ragged bursts, your lungs and legs burn and you're happy as hell to be feeling every bit of it.
Time speeds up as you get older. When you're young, you hear older, greyer, fatter people trot out that old cliché and you roll your eyes, but one day you wake up and realize how freakishly true it is. So it was with me. I dropped into Buffalo, sure as hell that I wouldn't last a week there. Four years later, I found myself packing my bags, wondering where the hell the time had gone and regretting the fact that I was leaving a city that I'd genuinely come to love.
Every fall I get to thinking about Buffalo. I miss the changing colors, the fresh-pressed apple cider for sale in some farmer's utterly unhygienic barn and, more than anything else, the pressing sense that now, right now, is the time to get out there and get some trail before it's all buried beneath so much snow and ice.
Don't get me wrong–I'm a west coast guy with deep-south roots. The Northeast and I were never going to have a long-term relationship. We're too different. But a lot of relationships are like that; never destined to stand the test of time, but vital all the same. Sometimes your mind travels back to the people and places you used to love. For me, that place will always be the Northeast. If you're out there right now–somewhere in New York, New Jersey, New Hampshire, Maine, Pennsylvania or Vermont–enjoy the ride.
Winter is looming. The days of dirt are coming to an end–get out there and make the most of them before they're just so many memories.
Related:
The Web Monkey Speaks: Safety is Overrated