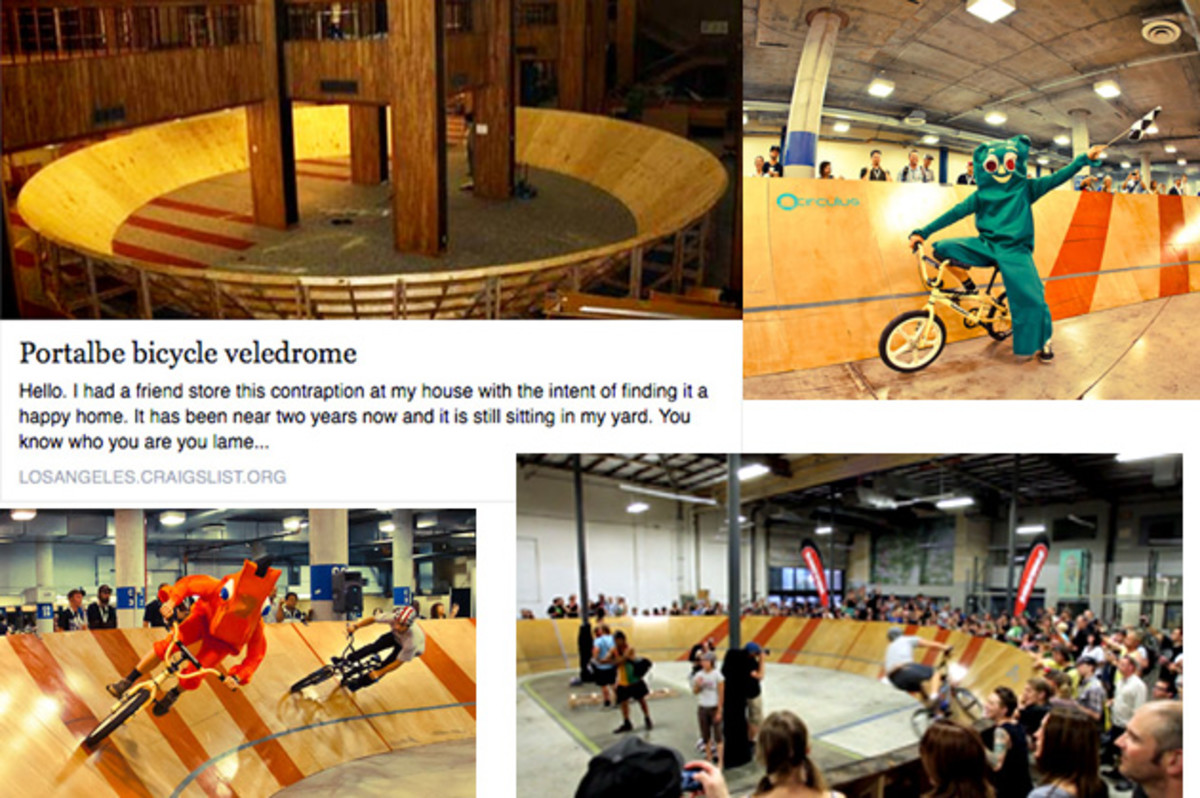 Dan Powell woke up a couple weeks ago to find an army of emails lurking in his inbox. This is par for the course for a guy like Powell—as a co-owner of Portland Design Works, a company that designs and sells bicycle accessories, Powell is always heavy lifting at the keyboard, But it only took a few clicks that morning to break Powell's heart—an old friend was for sale. On Craigslist. To the highest bidder or, shoot, really to anyone who was willing to show up, take her home and treat her right.
You know that person you once loved? The one who's still stubbornly at the center of so many of your fondest memories? For Dan Powell, Circulus is that kind of person. Never mind the fact that Circulus isn't actually a person. That's beside the point.
Sure, you could always say Circulus is just 157-feet of plywood, canted at a 45-degree angle, but Circulus means more to Dan than that. Dan and Circulus have history. A lot of people, in fact, have history with Circulus, which is what made that Craigslist advert such a bummer. Circulus, clearly, had lost its way somewhere along the line. Gone from media darling to a pile of rubbish warping away in some backyard in the valley.
Dan Powell's next Facebook post said it all. "Status: heartbroken."
IT ALL STARTED OUT SO WELL
Circulus began its life five years ago inside Sam Starr's mind. At the time, Starr was a Fine Arts major at Pomona College. As Starr put it in his thesis write up, he spent his undergraduate years "…focused on projects that explored interdisciplinary, hybridized pockets of knowledge and often involved intensive fabrication processes." Which, in a roundabout fashion, explains why it made complete sense for Starr to cap off his education by building a velodrome inside a campus library.
Two months and a hell of a lot of CAD drawings and plywood later, Starr completed his thesis project and dubbed it Circulus. It immediately attracted attention. Riders could zip around the library every five seconds. A velodrome inside a Library? Come on—that's just cool. Plenty of newspapers, websites and magazines thought so too. Urban Velo ran a piece on Circulus. So did the LA Times.
Several hundred miles away, Dan Powell was setting up shop in Portland, Oregon when he read about Circulus and thought what most of us would think: Man, I'd really like a velodrome at the office. The difference here is that Powell then called up Starr, who was graduating, and actually offered to buy the giant pile of wood. They agreed on a $1,600 payment—roughly half of what Starr had spent to build it and about $1,600 more than Dan Powell actually had in his pocket. Powell jumped on a plane to LA, promptly borrowed $1,600 from some friends, rallied those friends to help him pack it all up and the rest is history.
Or as Powell recalls it, "I drank 15 beers and passed out on a couch. In the morning I had a hangover. And I had a 26-foot Penske truck with a portable bike track in it. Portland, by the way, is a 1,000 mile drive away. I had lots of time to contemplate what I'd done."
CIRCULUS GOES TO PORTLANDIA
Back in Portland Circulus became a celebrity in its own right. Once Powell finished paying back his personal velodrome loans and bolted the thing together, people began showing up in droves to race on Circulus. The little velodrome only stood five feet above the ground, but its stature was huge in the community. Races were held. Beer was consumed. Fun was had. But you do have to wonder why anyone trying to start a company that, you know, makes a profit, would stick a giant time-eating plaything in their office.
"It was rad," says Powell. "Very fun to ride every day and a really great reason to have a few friends (or a few hundred friends) over for a party after work. That said, it was also a stressor between my business partner Erik and I. Erik is a very practical guy, and a great friend. He was very accommodating, but Circulus was certainly a risky thing to have hanging around, for sure. Especially when people just started showing up to ride it all the time, often during business hours. We were always afraid someone would high side out of that thing and get seriously hurt, or worse yet hurt someone watching it."
INTO THE DUNGEON
The guys at PDW were saved the question of whether or not to keep Circulus when they received a call from the organizers of Interbike—the bike industry's annual tradeshow in Las Vegas. The people behind Interbike wanted to glom onto some of Circulus' magic. Out came the cordless impact drivers and into a moving van went Circulus.
Back when Interbike was held at the Sands Convention Center, there was a floor, below the main show, where the less well-heeled bike and component brands could set up a budget-priced booth and trot out their wares. This floor was referred to as "the dungeon" and it was considered the uncool kids' corner of the tradeshow playground. To be fair, there were plenty of great products down there, but there were even more hollow-eyed, sweaty and desperate people trying to sell you snow tires for your hybrid and blinky-lights for your recumbent in that place. Interbike's dungeon was a sad place full of broken dreams.
But in September of 2011, Interbike plopped Circulus down, right there in the center of the dungeon. There was a DJ. There was beer. There were people racing in Gumby and Pokey suits. More to the point, Interbike's dungeon was, for the first and last time in history, the coolest place to be at the tradeshow. Hundreds of people rode the velodrome. Thousands cheered. A good time was had by all.
COMING DOWN FROM THE HIGH
Here, however, is where Dan Powell departed ways with Circulus. They'd been cohabitating for a year and a half, but it was time to move on. "We had a tenant moving into the warehouse where the track had been living, so we knew after the show we'd have to get rid of Circulus. I spoke with Jeff Frane at All City [Ed. All City is a bike brand owned by QBP], and it seemed like Circulus should go to him. Frane was going to travel around like a carney, setting up Circulus so people could rip around on it on All City bikes. He started putting together plans for an All City mid-western tour…it was a great fit for that brand."
Then the lawyers got involved. You see, lawyers spend a lot of time in courts looking at people with neck braces and debating just how much their clients are going to pay for the "pain and suffering" associated with said neck brace. Lawyers see a mini velodrome that is going to be set up in dozens of cities and ridden by anyone over the age of four, and they think "Ohhhhh, shit…"
"The legal department at QBP had a much different idea about Circulus," confirms Powell. "So Circulus had to go. And I totally understood why. Jeff found Danny Gamboa, and he seemed like a great fit. Danny is some kind of filmmaker in LA. I have no details of how he got the track, or if he paid for it. What I do know is that he set it up in LA in a park as part of CicLAvia at some point. We saw images. It looked amazing."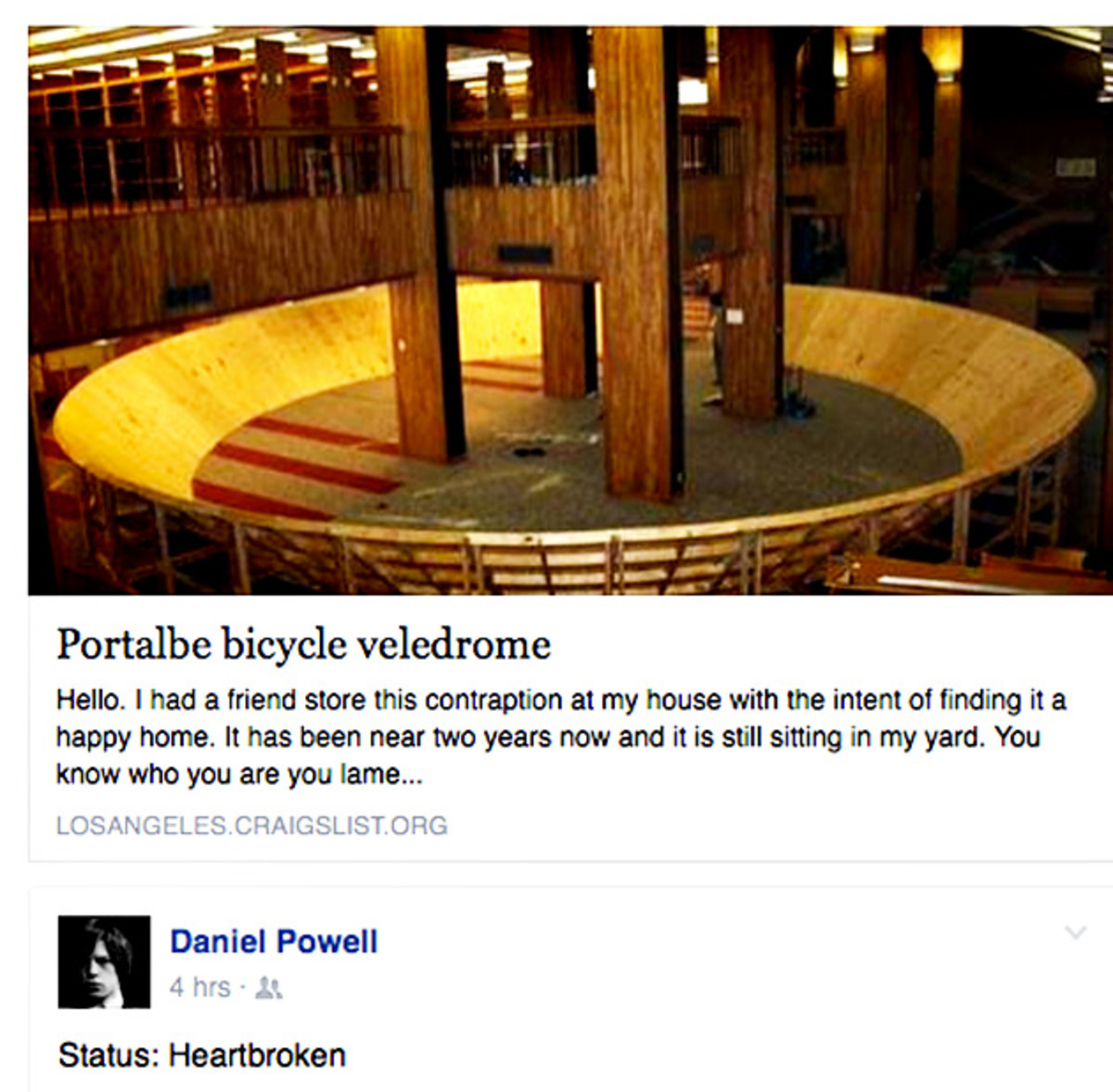 OFF THE RADAR
That's the last Dan Powell or, really, pretty much anyone, heard of Circulus. Sam Starr's art project had racked up scores of articles in the span of just a few years. Everyone from dirty bike messengers to World Cup racers had taken a spin on the thing. Circulus had been a thing. And then, like so many celebrities that suddenly appear and dominate the public imagination, it just fell off the radar.
"For a couple of years the track just sort of vanished," says Powell. "The rumors of what became of Circulus fueled its cult status. Every once in a while, I'd get an email, or a text about the track, but it was weird. It's a huge thing to just disappear."
A few weeks ago, an ad for "Portalbe bicycle velodrome" popped up on craiglist Los Angeles. It read:
I had a friend store this contraption at my house with the intent of finding it a happy home. It has been near two years now and it is still sitting in my yard. You know who you are you lame hipster in case you read this, burn in hell :)
You can assemble this with long wood or drywall screws and it is about a 40 x 40 banked wooden track that you can ride one with bikes, mini bike, roller skates etc.
I want it to go to a happy home, not for firewood. NOT to be taken to lame ass burning man and then burned by a bunch of yuppie raver douches.
It is free, but only to the right person or group. You have to prove to me it will be used again and not be allowed to fall into disrepair. It is super cool and I'd love to have it set up but I lack the space to do so.
You will need a big box truck of flat bed to haul it away and 4-6 able bodied people to do it. I only have one day off a week so it will have to fall on a Monday or you'll need to be ready to pick it up at 4 or 5 am to get it out in time on any other day. I will provide the coffee for this at no extra charge.
That's when friends began emailing Powell and breaking the news to him.
There's a point in the video above when Powell says his dream for Circulus was for someone to take it "…and they can move it around from city to city and they can set it up in different places and people can come see it and ride it. Just experience it for themselves…."
Given his history with the velodrome, you can imagine seeing Circulus on craigslist and discovering that it's been collecting dust in somebody's backyard had to be a let down.
"My heart sank," Say Powell. "In reality I knew that CIrculus is tough to love, unless you've got lots of time, money and space on your hands. Oh and insurance, you'll need insurance. It wasn't built to be a circus side show. It was an art installation that we kind of ruined by bringing it to so many people. I'm kind of sad about that knowledge too, but like I've always said about Circulus, I've got no regrets. I'd do it all over again if I could."
CIRCULUS, WHERE ARE YOU NOW?
Now, of course, the only question that remains is "Where is Circulus today?" The craigslist ad was pulled not long after it went up, which means that someone likely drove over to collect on that offer of free plywood and coffee. Did Circulus find a new, loving home? Somewhere dry, somewhere free of termites, some place where it will be ridden and loved? Or is Circulus just so much kindling and spare lag bolts now?
If somebody out there knows, send us a line. And, above all, put Circulus to good use. A thing that brought the cycling world so much love, deserves a little of it in return.
Related
The Web Monkey Speaks: Buzzkill
The Web Monkey Speaks: Are You Going to Wear That?
The Web Monkey Speaks: Screw Retro