I finally find what I'd been searching for, tucked behind an abandoned bassinet and a pile of moldy kayaking gear. It's a cardboard bike box, like any you'd find in any dumpster behind any bike shop anywhere in the country. This one, however, is more bruised than most….
Jesus, when did I last open this thing? Was it 2000? Maybe 2001? I haven't a clue, but like so many of the things in my life that I consider precious (that spare Ford C4 transmission, a rusty Savage 12-gauge, my battered Datsun 510 repair manuals…), I've dragged this box from San Juan Capistrano to Huntington Beach to Fresno to Buffalo to Humboldt County and finally, here, to Bellingham. It would have probably stayed up in the attic, sheltering tomorrow's best and brightest wood rats if my wife hadn't looked at me the other day and asked, "Where's my old hardtail?"
So here I am in the attic, I've got my redneck Hazmat suit on (greasy Carhartt overalls) and I'm cautiously opening up a box I last packed when the presidency was just a crazy gleam in George W. Bush's eye. The contents: a then, state-of-the-art Kona Explosif hardtail.
BEST OF INTENTIONS
This was my wife's ride and we packed it fully expecting to pull it out a month later. But one thing led to another–she jumped into her residency program and, for the next four years hardly had time to sleep, much less ride her bike. By the time her work life settled down, she'd drank the dragon's blood of full-suspension and never felt inclined to ask for her trusty–albeit bone-rattling–hardtail again. For a while, she even joined the legions of masochistic trail runners who look at a ribbon of singletrack as nothing more than a great piece of dirt on which to twist an ankle. Yet another reason the Kona slept. The box that was supposed to be a means of transporting her beloved bike from one home to another became, instead, its tomb.
Which was a shame because this bike was truly pimped–I'd built this thing up as a time capsule dedicated to everything that was awesome about mountain biking at the time. Eighty-millimeter Marzocchi Z2 Atom 80? Check. Shimano XTR shifters and rear derailleur–and I mean, the hallowed 8-speed stuff? Check. Swank Cook Bros F-series crank, Bontrager Race Lite wheelset, and Avid Speed Dial 2.0 levers paired to XTR V-brakes? Check and, hell yeah, check, check.
This bike was so awesome it hurt just to put it in a box and retire it for a month…we had no idea we were actually interring for a decade and a half. I drag the steel Kona out of its coffin and begin to put it back together. The mint-green Michelin rubber has dry rotted. Which is okay, because those Wild Grippers that I remember as being so rad now look suspiciously like cyclocross tires. They say 2.1 on the sidewalls, but I have my doubts. I toss them aside and get around to lubing everything. Then I roll out of the garage and on the trails. Holy shit. This bike sucks.
Okay, that's a bit harsh, the hardtail has plenty of snap and a nice, lively feel to it, but seriously…how the hell did we bomb these things down technical trails? By today's standards, the bike feels skittish and flat-out punishing. The shifting I remember thinking could never be bettered is sorta clumsy. I death grip the brake levers and find that, when it comes to stopping this bike on soggy trails, I might as well let go of the V-brakes and just close my eyes and recite the Hail Mary.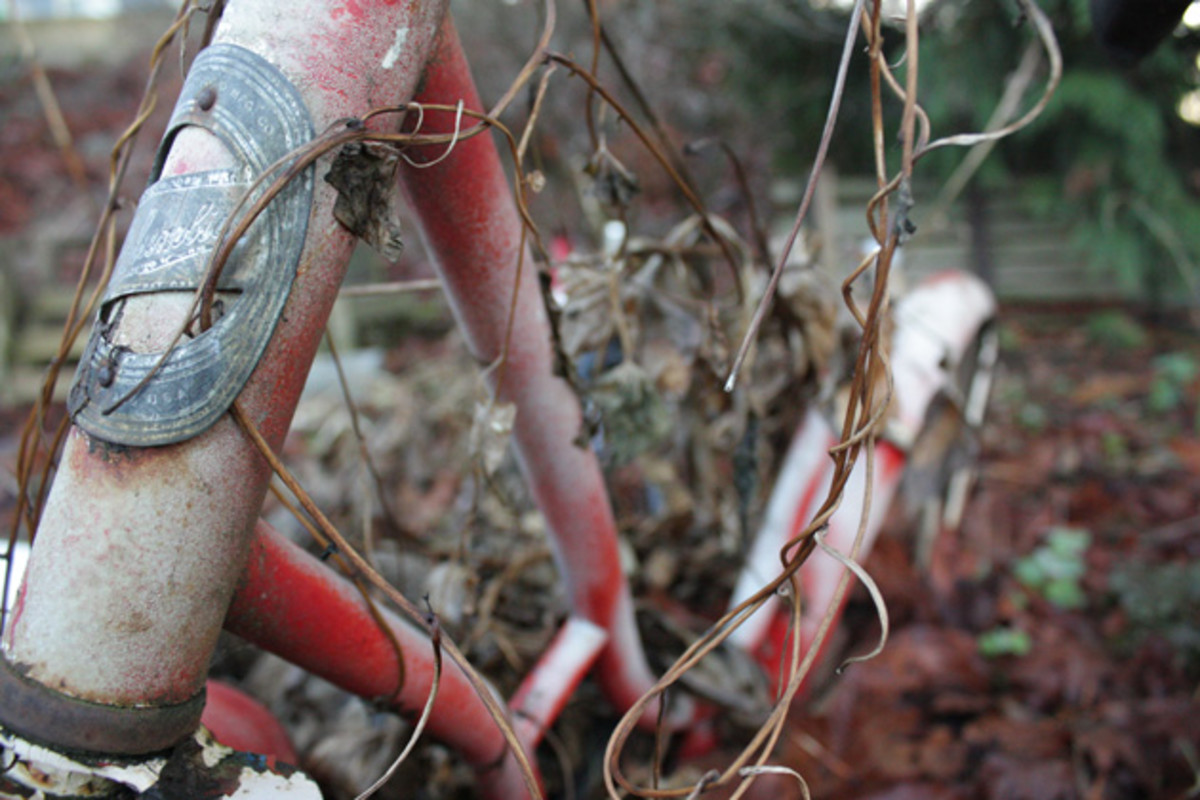 TIME IS CRUEL
People wax on and on about classic bikes. There are forum groups and collector clubs and fiercely devoted individuals who will pay a grand for a Paul Precision Components derailleur or a pair of original Grease Guard hubs. I am not one of them. I'm not saying there's no value to the past. I appreciate the artistry that made those old components a reality. I love the way a pair of Roller Cam brakes looks and I love the memories that come flooding back to me whenever I see some cool, rare quirky piece of mountain biking history, but do I actually want to ride that shit? Hell no.
Mountain bikes are so much better today than they were 15, 10, and 5 years ago. The rate of evolution is simply unreal. Road bikes? Sure, they've gotten lighter, but you can make the case that a lot of those early and mid-80s steel bikes actually boast better ride quality than a lot of today's high-tech carbon models. In fact, I'll make that argument all day long. And here's an undeniable fact: Yesterday's road bike happily performs the same task as today's road bike–under a capable pilot, it rips up smooth asphalt climbs and zooms down equally smooth asphalt descents.
Mountain biking is different. Mountain biking has evolved in a way that most sports haven't. Go ahead and check out Kranked 1: That movie blew everyone's minds when it came out. It was the absolute cutting edge of riding. Today, half of the kids in my neighborhood can do at least half of what went down in that flick. Evolution.
How people ride, what people ride, it's all progressed to a higher level and so have the bikes. We just finished testing a raft of all-mountain and enduro bikes for our Bible of Bike Tests issue that sport nearly as much travel as downhill bikes from 1999, yet weigh as much your average steel hardtail from the same year. If you had said, back in 1999, that such a thing would even be possible, you'd have been tossed into a padded room.
JANIS JOPLIN HAD IT RIGHT
So, what am I saying here? Am I telling you to sell off your old bike and rush out to dump a couple grand on a new rig? No. Look, if you like what you're riding, power to you. Don't, however, go 'saving' today's parts for tomorrow's ride.
There's this line that Janis Joplin croons in "Ball and Chain:" If you got it today, you don't wear it tomorrow, man. That lyric always confused me when I was a kid, but it makes a lot of sense to me today. Mountain bikes don't age gracefully. If you have it, use it. Ride the hell out of it. Get it dirty. Wear that shit out. Use it the way some overworked and over-caffeinated engineer dreamed you would. This stuff is meant to be used and abused. That's a good thing. Whatever you do, don't go sealing the stuff away in a box, believing that you'll pull it out 15 years from now and love it just as much as you did today. It doesn't work that way.
Trust me, I know.
More from the Web Monkey:
The Web Monkey Speaks: The Tao of Dio
The Web Monkey Speaks: Bicycle on the Brain