It's not often that you pass by a store called Freckles Guns & Fireworks. So when you do, you've got to pull over. After all, in 'Murica, you can never have enough guns and fireworks. Walking in, I'm confronted by half-naked mermaid statues, hand-honed pocket knives and a slightly disturbing mummy. A sign that forbids swearing has me making sure my inner dock worker doesn't slip out.
Owners Terry and Mary Bock aren't shy about striking up conversation, and seem as intrigued by our bikes as we are of their, well, everything.
"Y'all want to see what's in the back room?" Terry asks. Moments later, I'm staring at an antique electric chair. "I don't keep it out," Terry explains. "It's awfully rare and the kids are always wanting to sit in it."
After hearing about our plans to ride the nearby trails, Terry digs out a videocassette that shows a history of French Lick's West Baden Springs hotel. After fiddling with it–rewinding it, fast-forwarding it–Terry sits back like a kid watching a documentary about Santa. Mary grabs the seat next to him, petting the dog on her lap while watching the grainy video for what might be the hundredth time. Their pride is palpable.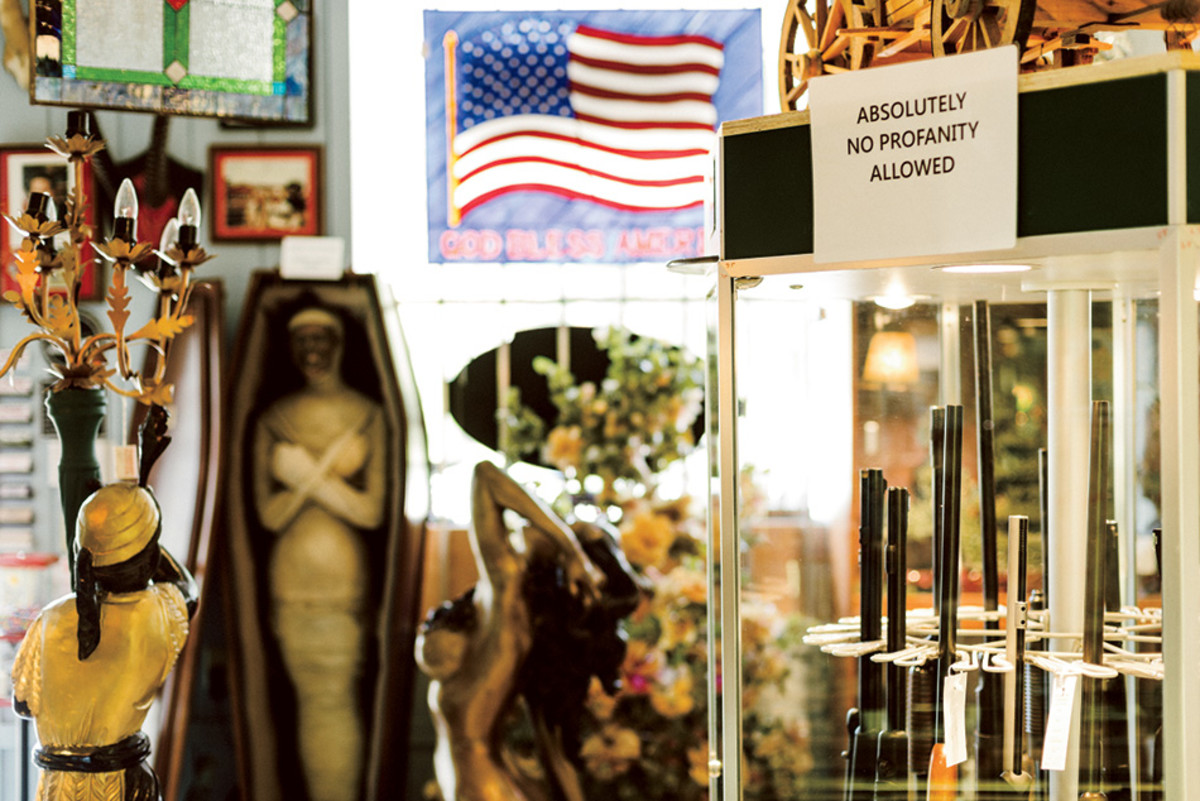 Motorcycles and Mountain Dew
The trail map for Indiana's Brown County State Park reminds me of Disneyworld. There are so many highlights that it's tough to know where to start. It's hard to believe, standing here among oaks, elms and maples that overlook nearly 30 miles of mountain-bike trails, that a map of Brown County from 10 years ago only offered a few dirt roads for bikes.
This singletrack story didn't start in the dirt. It began in windowless meeting rooms with a couple of trail-hungry riders. Mountain biking options in Indiana were so dismal in 2003 that IMBA assigned the state a D+ rating, the lowest grade given to any state at the time. The Hoosier Mountain Bike Association (HMBA), formed only a few years before this, teamed up with the Indiana Bicycling Coalition and used the failing grade as a reason to approach Indiana's Department of Natural Resources (DNR) about developing mountain bike trails. Up until that point, outdoor recreation in these parts involved hooks, bullets or motors. "At first, they didn't really know what we were talking about," says professional trailbuilder Alex Stewart, one of HMBA's founding members. "To them, mountain biking meant motorcycles and Mountain Dew commercials."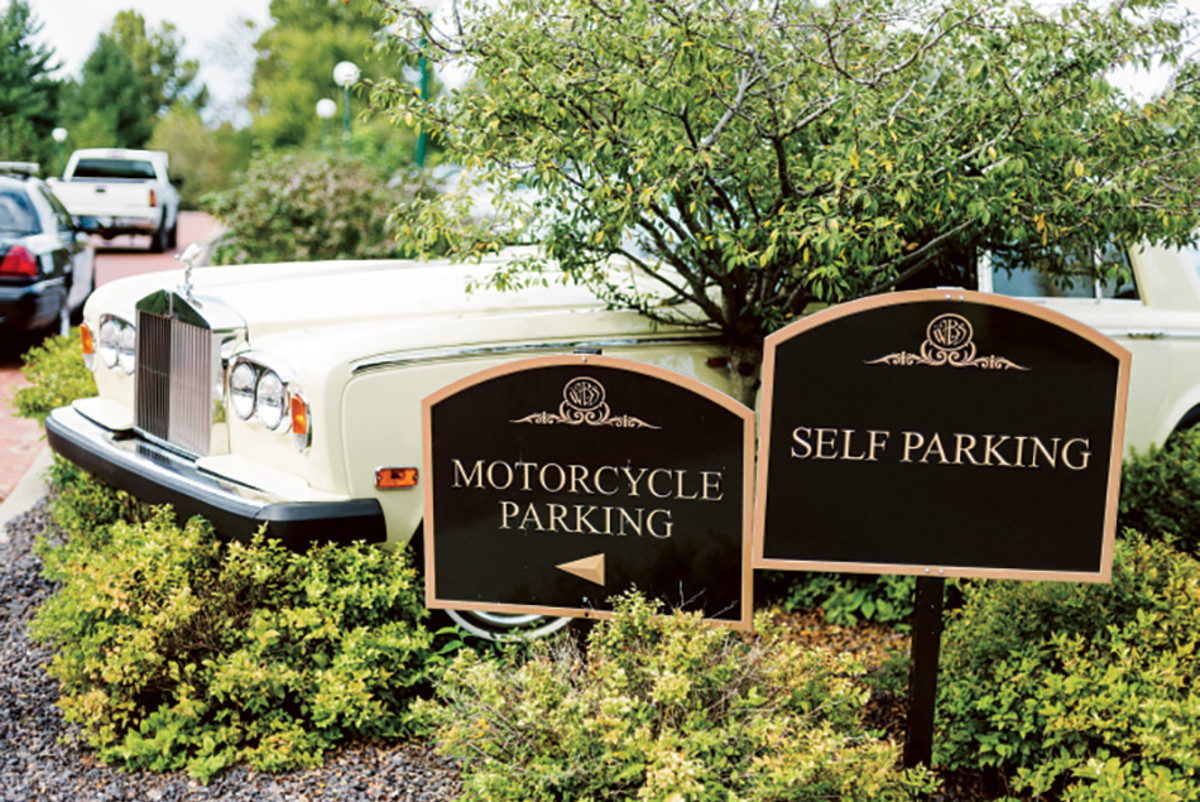 Indiana's DNR recognized the need for trails and offered riders access to two of the state's most prized parks: Brown County and Versailles State Parks. Hoosier aspirations for more mountain-bike trails could be realized. All they had to do was build them. Week after week and year after year, riders entered the woods, parked their bikes and chiseled away at steep hillsides using the same techniques as the Civilian Conservation Corps workers who had toiled in the park three generations before.
"I was apprehensive during the initial trailbuilding process," says Brown County Park Manager Doug Baird. "But I could see they were bound and determined that whatever was done was going to be done right."
As I ride along the park's flowy beginner trails and pick my way through rockier routes like Walnut and Schooner, everything that transpired in the past 10 years seems like a blip in time. The tedious hand-building of the park's first trails, the bucket loads of Ibuprofen that followed, the $250,000 trails grant awarded to HMBA in 2008, and the accolades that Brown County has received since–the area's history is a blur under my wheels.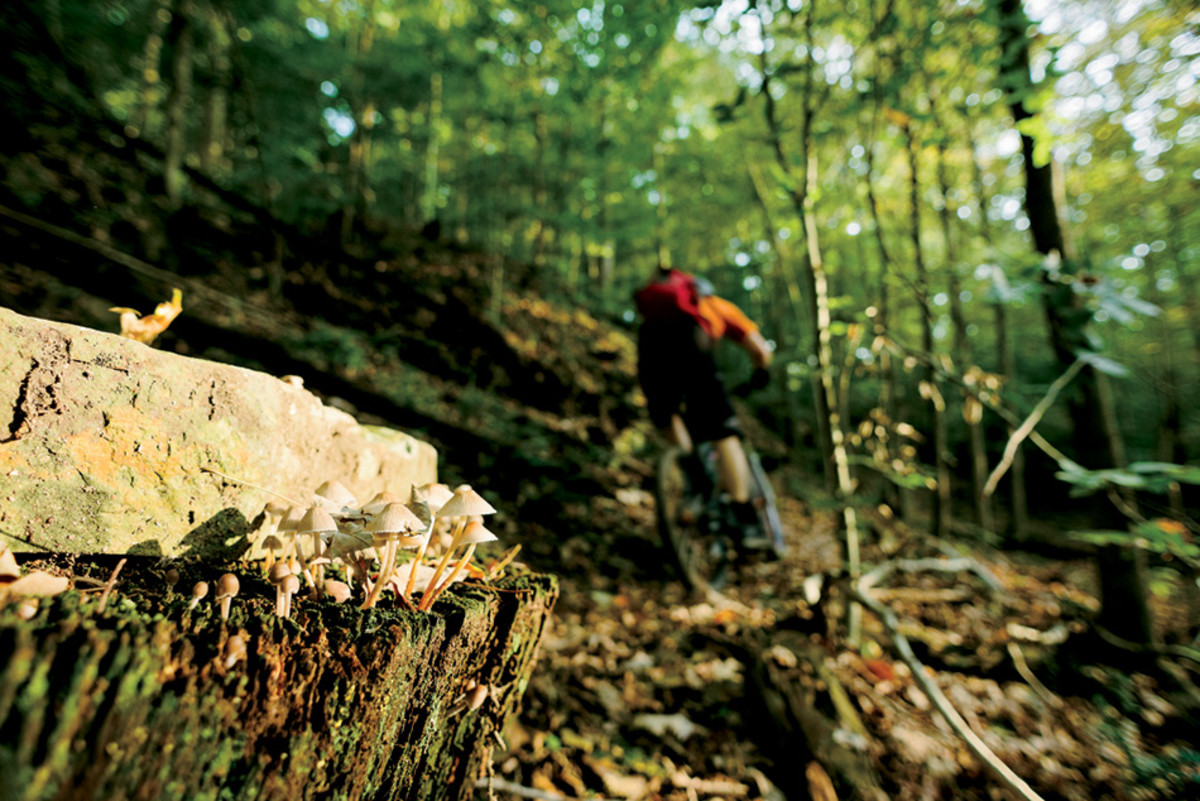 Schooner Session
While our group of self-admitted trail geeks stops to session one of Schooner's many rock gardens, we can't help but gawk at the invisible sweat soaked into craggy features most would assume are the result of mother nature's handiwork. The intermittent drizzle has started up again, making forays into rock navigation an exercise in self-flagellation. My borrowed bike is repeatedly slung toward the ground. Thankfully, with my body there to break its fall, the bike didn't suffer any scratches. I eventually give up trying to solve the stony puzzles and fall in line behind Rob Serbent's steady pace, mimicking his smooth lines.
Rob's probably ridden these trails a thousand times and walked them almost as much under the pretense of trail work. Flowing along in his wake, you wouldn't guess that only three years ago he was relearning how to walk and hooked up to a machine the size of a dorm refrigerator responsible for pumping blood through both ventricles of his brand-new heart.
Bobbing up and down Brown County's sinuous trails, we dip into nearly opaque patches of fog held captive by the pocketed terrain, turning an already amazing ride into an ethereal adventure of beauty and rocky brutality. When our ride is over, we stand at the appropriately named Hesitation Point overlooking miles of hills nicknamed "the Little Smokies" and watch as a monstrous storm cloud heads our way, consuming one ridgeline after another.
We could run to our cars and get home dry, but we don't. Our conversation about the dozen or so miles of trail in store for the park and the tenuous balance between new-school flow trails and hand-built backcountry experiences comes to a halt. Instead, we stand in awe until the storm envelopes us.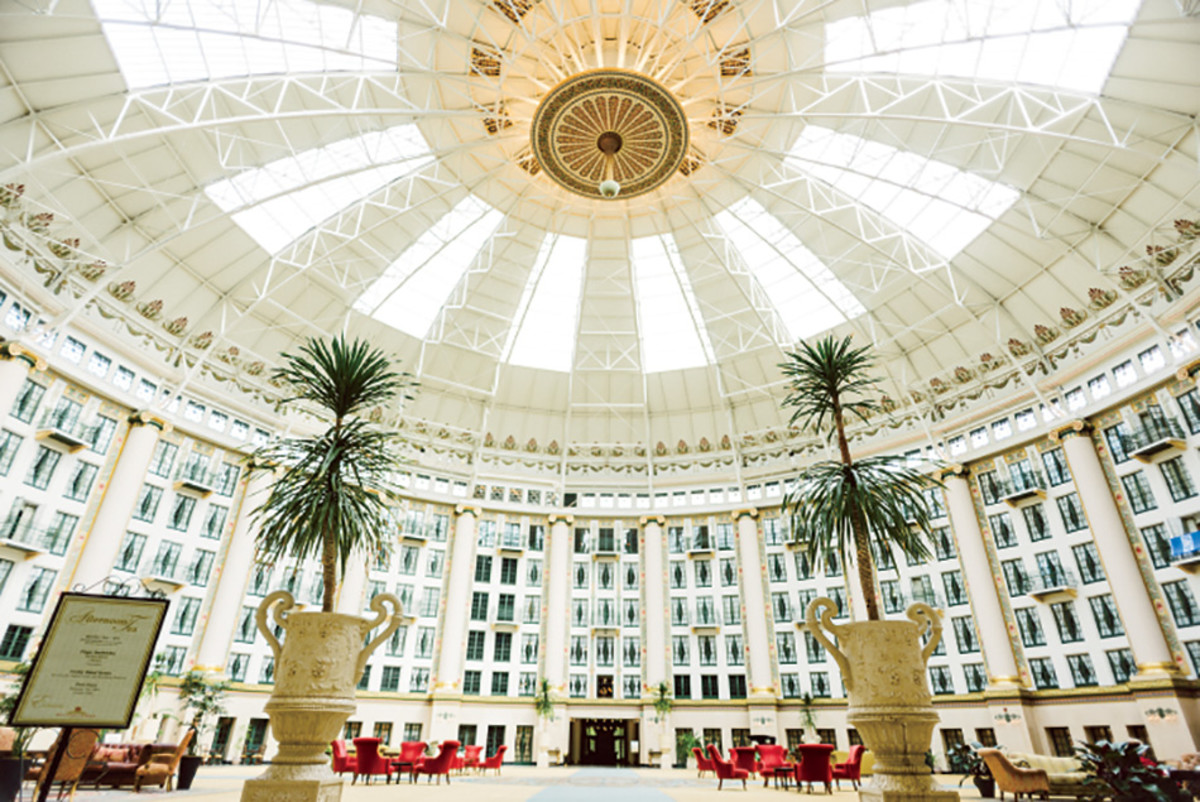 The New Golf
The words opulence and mountain biking don't often go hand in hand, but French Lick Resort is looking to change that by investing in trails on property that's attracted the richest of the rich for more than 170 years. Founded in 1857, the small town with a population just shy of 2,000 was once a spa destination for the region's elite and the location where Franklin D. Roosevelt announced his intentions to run for President. It was even a favorite spot of gangster Al Capone. But this is Indiana, so the most important fact you need to know about French Lick is that it is Larry Bird's hometown.
Two historic buildings–the French Lick Resort Hotel and the West Baden Springs Hotel–tower above everything else. On this particularly sunny day, the massive gold dome of the West Baden Hotel shines almost as bright as the sun itself. Seeming a little out of place among the resort's golf course, casino, indoor bowling alley and botanical gardens, there is a sign directing patrons to mountain bike trails.
As more communities embrace recreational tourism to hedge against economic uncertainty, trails might just become the new golf course. The professionally built figure-eight trail system at French Lick Resort consists of the beginner-friendly Buffalo Trace Trail and intermediate Waterfall Trail, which undulates through verdant woods and brings riders up to the stone waterfall for which it was named. It's a fun trail that's become a regular part of Indiana's mountain bike race series.
As good as a post-ride beer tastes, it turns out that a post-ride beer tastes even better from inside West Baden's 200-foot, dome-topped atrium that once housed a double-decked bicycle track. Walking through the West Baden hotel proves a surreal experience, not only because I may be carrying the funk of a fresh ride, but also because this is the same weekend as the Concours d'Elegance car show. On the way to the parking lot, we ogle cars that make the most expensive bikes seem economical.
We pack up under moonlight after a long day, ready to watch cornfields pass by the car window as sleep and showers beckon. Except for Chad Irey. Instead, he breaks down his bike so it can fit on a contraption of his own creation that's mounted to his motorcycle. His ingenuity isn't surprising. He's behind the trails at Devou Park in Covington, Kentucky, which are hallmarked by chest-high berms and big jumps.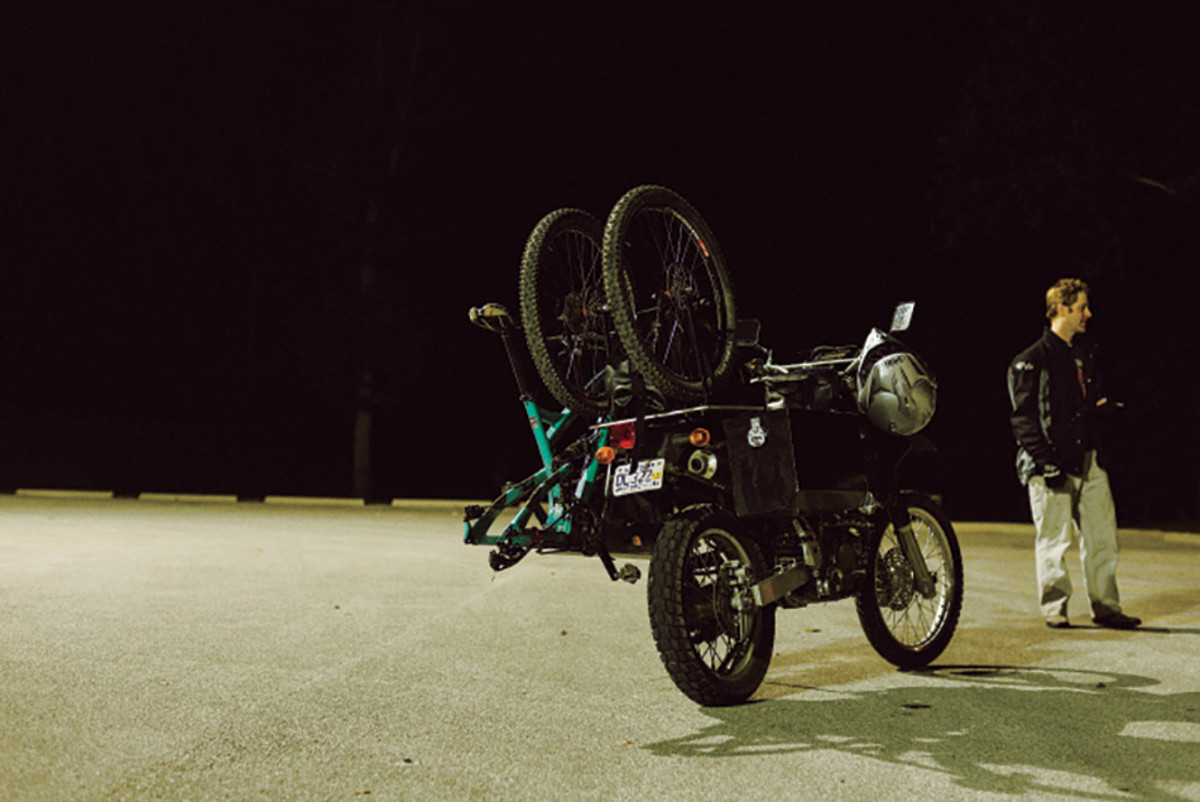 Like Alex, Chad's passion to create trails led him to volunteer thousands of hours before entering the less-than-lucrative career of professional trailbuilding. You might think that two professional trailbuilders wouldn't get along in this dog-eat-dog world, but it's just the opposite. Alex is sponsoring Chad at this year's Professional Trail Builders Association Conference.
Caves of Change
It was almost 20 years ago that I first explored Kentucky's Mammoth Cave National Park. With more than 400 miles of underground passageways, Mammoth is the longest cave system in the world and almost twice as long as Mexico's runner-up. I still remember squeezing through tight routes like Tall Man's Misery and Fat Man's Misery, and how the underground labyrinth revealed a room so large it turned the damp air into a din of echoes.
For all the eerie beauty of this area's caves, what stands out most about my first trip here wasn't underground at all, but over in nearby Cave City where I had stumbled upon Golgotha Fun Park. Golgotha is the skull-shaped hill said to be the site of Jesus' crucifixion–which I suppose is as good a theme as any for a little putt-putt and go-karting. In front was a sign proclaiming it to be "America's #1 Shaded Biblical Mini Golf." Seeing as it was the top dog of crucifix-themed putt-putt, I remember having to play a round.
I had putted through Moses' parting of the Red Sea and nailed a hole-in-one under scripture reminding heathens of the hellfire and damnation ahead. In some ways, this completely non-ironic "Fun Park" was as awe-inspiring as the cave system that ran beneath my feet.
These days, a lot has changed. Golgotha Fun Park is now shuttered and suffering the ravages of disuse. And Mammoth Cave National Park has added something else to its natural attractions: mountain bike trails.
Mountain biking in national parks is seen by many as the Holy Grail of acceptance. Realization of that goal long lurched somewhere between unlikely and impossible. It's a little surprising then that an area so rooted in tradition was on the forefront of changing the tide of mountain biking's most difficult frontier. In 1999, the Bowling Green League of Bicyclists entered into a two-year agreement with the National Park Service to allow mountain biking on the Sal Hallow Trail, which was technically considered a farm road though overgrowth had necked it down to singletrack.
"Opening Sal Hallow to mountain biking was an experiment for the park to find out the impacts bikers had. They wondered, 'Do bikers damage it? Do they help it?'" says Chip Winger, chairman of the Southwest Kentucky Mountain Bike Association. "What they discovered was that mountain biking helped smooth out the ruts left by horses. They also found mountain bikers were a force when it comes to volunteering."
Mountain bikers proved their dedication to stewardship through thousands of volunteer hours spent rerouting most of the Sal Hallow trail, now considered by many to be the best in the park. In 2004, their hard work led to an unprecedented event in the heart of horse country–the park closed Sal Hallow to equestrians.
After a contentious planning process and many tense meetings in 2008, a plan was created to give Sal Hallow back to equestrians and create a new hiking/biking trail. On the last evening Sal Hallow was open to mountain bikers, 15 riders gathered for one last hurrah in the dark. Before they took off, the rangers looked at the riders who had become synonymous with toiling in the dirt and said, "We're going to miss you guys."
Kentucky Lemonade
What was intended to be a quick switch to the new trail turned into two years of waiting for the development of the Big Hallow trail. Once again, mountain bikers took a bad situation and used it to create something better. Instead of twiddling their thumbs, they turned their momentum toward nearby Nolin Lake State Park, Ben Hawes Park and Bowling Green's first bike park.
"There are more and more people getting into mountain biking around here. We've even got new bike shops moving into town," says Johnny Johnson, SW KyMBA's Vice-Chairman. SW KyMBA and the Subaru/IMBA Trail Care Crew recently hosted a special preview ride on the Big Hallow trail, and Mammoth Cave National Park is now one of 45 National Park Service units to allow mountain biking.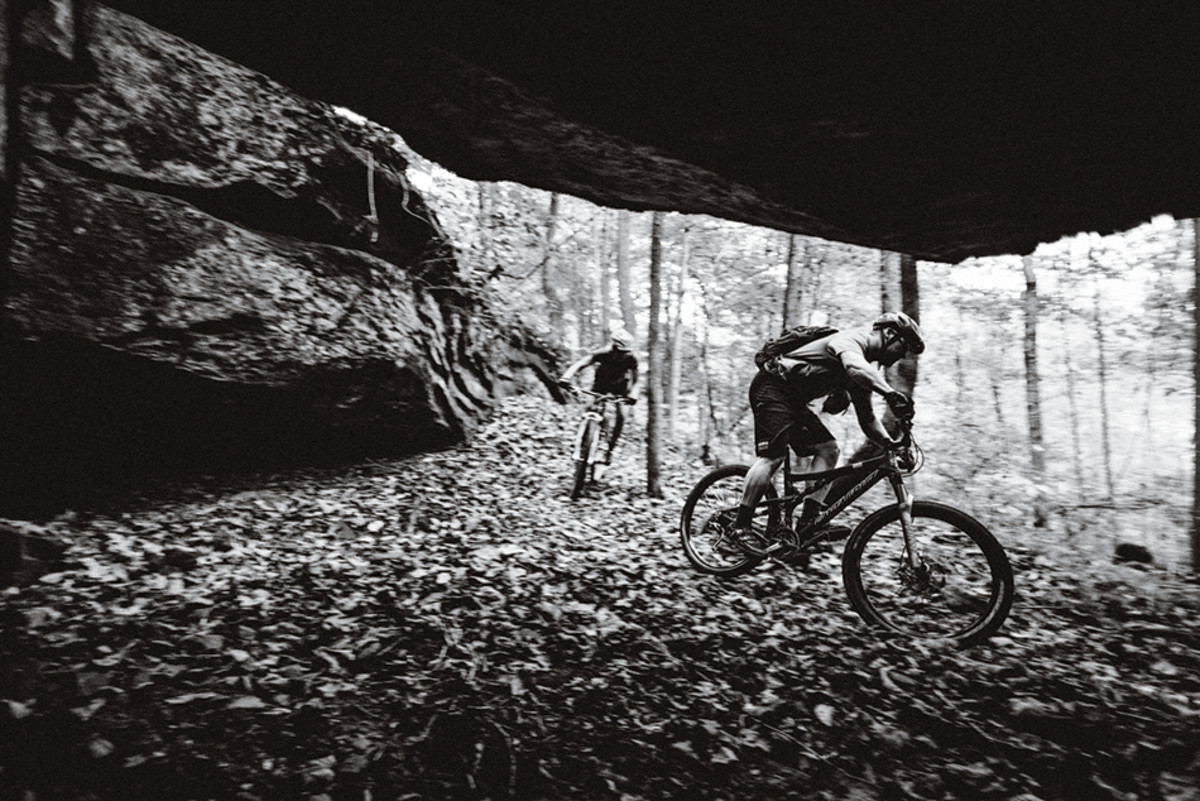 Hike and Bike
At O'Bannon State Park just north of the Kentucky-Indiana border, it's the kind of gray, damp day that can settle into the Ohio River Valley for weeks. We wrap up our ride at the park whose meticulous trail design and rocky texture leave the flowing singletrack under our tires wet, but far from muddy.
As we take a break from winding along bluffs overlooking the mighty Ohio River to take in the view, we meet a man with white hair and a walking stalk. "Y'all gonna ride the hiking trail?" the man asked. In some places, this question would ooze condescension, but not here. He's referring to the Adventure Hiking trail, which is a rugged 24-mile trail that was opened to bikes a few years ago.
"You should give it a try," he says. "I always see a coupla bikers out there when I hike. I don't know how y'all do it though." We chat for a bit before going our separate ways. "Have a good hike," I say. "Have a good ride," he responds.
After another glorious day on the trails, photographer Stephen Wilde and I end our ride by climbing a 70-year-old fire tower that stands nearly 10 stories tall. The rain finally stopped, but the tower's steel steps remain slick. After days of riding, I'm hating my legs a little bit for not being stronger. My stomach flutters and my feet tingle as the trees below get smaller and our white rental car looks increasingly Euro.
At the top, Stephen and I crack open beers brewed just a few miles away at the New Albanian Brewery. A red she-devil in a pantsuit stares up at us from the label. "What did you expect when we came here?" I ask. "Not this," he says with a smile.
Louisville Sluggers
With trail systems popping up in every nook and cranny of Kentuckiana, it's hard to believe that the biggest development might just be right around the corner. The home of the Kentucky Derby is setting its sights on becoming a great riding town. In the past few years, Louisville has made impressive strides for the skinny-tired sect. The Louisville Loop initiative is underway to create a 100-mile paved loop throughout the city. In 2013, the World Cyclocross Championship graced American soil for the first time at Louisville's Eva Bandman Cyclocross Park. Bike lanes and artistic bike racks are popping up everywhere.
Now, there's a vision to become the first major city to offer more than 100 miles of singletrack in town. This idea would have been laughable 10 years ago, but now seems feasible as new trails traverse historic Cherokee-Seneca Park and Waverly Park in the city's center.
Perhaps the most exciting part of achieving that vision will be a new trail system and bike park slated to open at the Parklands at Floyd's Fork in 2015. The project shakes up the tradition of waiting for municipal, state and federal bureaucracy to come around to mountain biking. Instead, the Parklands consist of nearly 4,000 acres of preserved land owned and managed by 21st Century Parks, a nonprofit organization created to bring a fresh vision to what parks can mean to a city.
"We've challenged our architects to design a world-class mountain bike facility within a world-class park," says Parks director Scott Martin. "If Frederick Law Olmsted put a bike park in [New York City's] Central Park when he built it, what would that look like?"
If you're looking to scream downhill until your brake rotors become branding irons, look someplace else. Kentuckiana is not filled with teeter-totters and sick stunts. But that's the beauty of this area. It is rolling and rocky, and it reeks of hard work and resilience, and of a community that is equally modest and welcoming.
It's no small feat to create a trails renaissance in the heart of the tobacco belt. "A lot of our success in Louisville is due to HMBA and everything they've accomplished at Brown County," says Billy Davis, Vice President of KyMBA's Louisville chapter.
That sentiment is common here. Almost everyone involved in this decade-long explosion of trails points to someone else. This wouldn't have been possible without Jonathon, they'll say. Or Mike. Or Richard. Or countless other names that are woven into a history increasingly defined by bikes.