When most people drive through East Burke, Vermont, they witness a scene typical of many small towns in the second-least-populous state in America: A modest country store sits across the main street from a gas station, and that's pretty much downtown.
But those of us with eyes for singletrack would likely notice the bike shop next to the gas station, the trail center tucked away next to the country store and the high percentage of cars with racks carrying full-suspension bikes.
In fact, to a rider, entering the village of East Burke can seem like a sudden shift into a parallel universe in which riding bikes is as essential as breathing air. Sit down at the tiki bar behind the country store in town and you're guaranteed to find it patronized by riders in kits, their bikes leaned over on the lawn. And when you strike up a conversation with one of the riders, still considering it a rarity to meet another mountain biker in a small town like Burke, you'll be surprised when the 60-something-year-old couple across the bar interrupts your new friend's trail tale with a story of their latest ride out on the network of singletrack that has made their town a destination: The Kingdom Trails.
It's really no wonder, then, that the 18th NEMBAfest (the New England Mountain Bike Association's annual festival) returned for the fourth year in a row this past weekend to East Burke, where more than 2,000 people gathered to ride, party and share the stoke.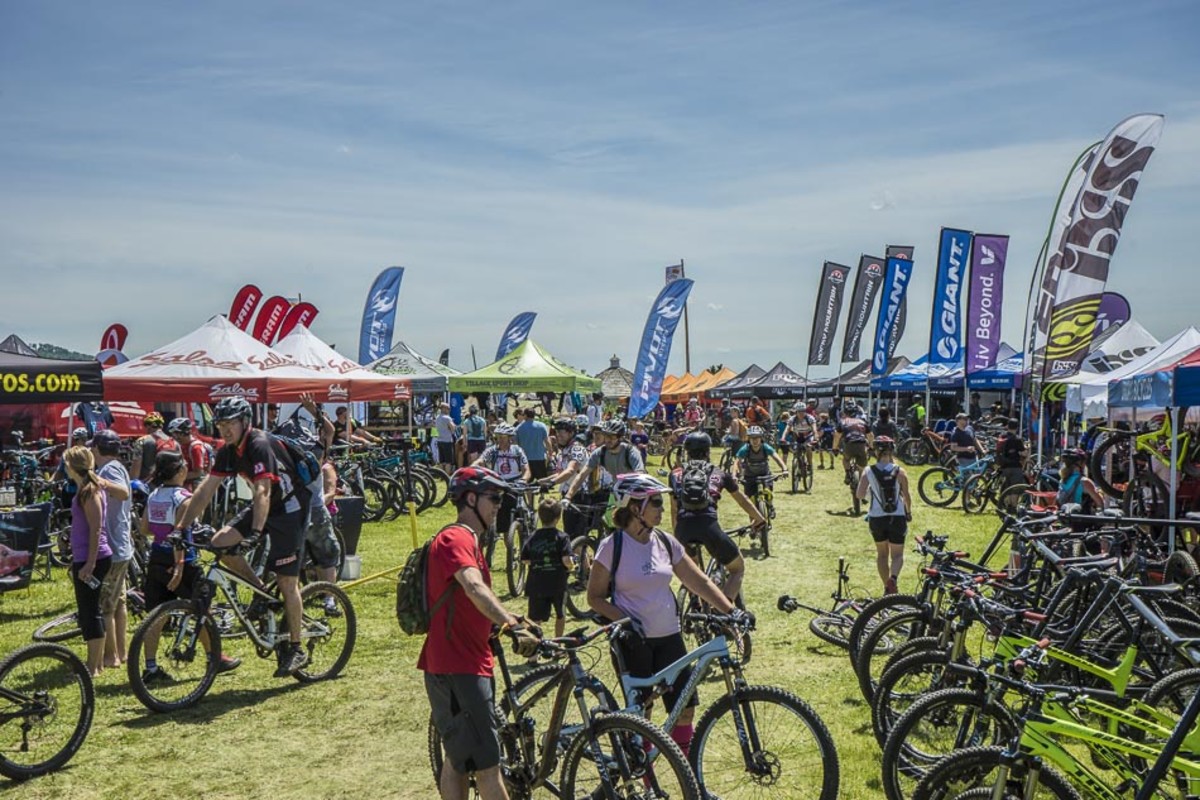 The festival kicked off on Friday, and riders immediately hit the trails on demo bikes and on their own rigs. Most riders stuck to the trails around Darling Hill, where the expo and camping were centered. The trails around Darling Hill are generally buff and outrageously flowy, making it possible to knock out a 20-mile ride in a few hours without feeling like you've just wrestled a rhino, and many riders get in 40 or so miles each day. The most memorable trail of the Darling Hill network is Sidewinder, a descent that snakes down a forest gully, arching into high berms on either side which funnel riders into high-speed g-outs in the middle.

Many riders showed up late on Friday and took some time to explore the expo before Vermont's Kat Wright and the Indomitable Soul Band took the stage inside the expo area. Late arrivals who missed the daylight and couldn't wait to hit the trails hooked up with the organized night ride or just strapped on their lights and hit the trails on their own.
The festival began in earnest on Saturday morning, with campers emerging from their tents and hitting the pancake breakfast before kitting up and heading out on the trails. There was a multitude of events happening all day on Saturday: clinics, yoga, competitions, raffles and even a blessing of the bikes were well attended by people who had penciled them in or were taking a break from riding.
Free shuttles were running all weekend from the expo on Darling Hill down into the village and then up to nearby Burke Mountain, where lifts were spinning to mid-mountain, bringing riders to gravity-fed runs like Knight Slayer and the crowd-favorite Roly Grail, which is essentially a downhill pumptrack.
NEMBAfest attendees could buy a lift pass for half price, and then for a few bucks more hop a shuttle to the top of the mountain, where most bombed down J-Bar, which is rocky and technical at the top, but then gives way to higher speed and flow about half way down.
On Saturday night, the drunken sounds of Vermont's Irish punk band, The CopOuts, spilled over the festival like a broken bottle of Jameson, encouraging a rowdy sing-a-long to covers of songs from The Pogues and the Dropkick Murphys, amongst others. But the looming inevitability of rain sent some campers home that night, and many more left during the storm the following morning. Those who stuck it out until Sunday afternoon were treated to clear skies and relatively empty, albeit wet, trails.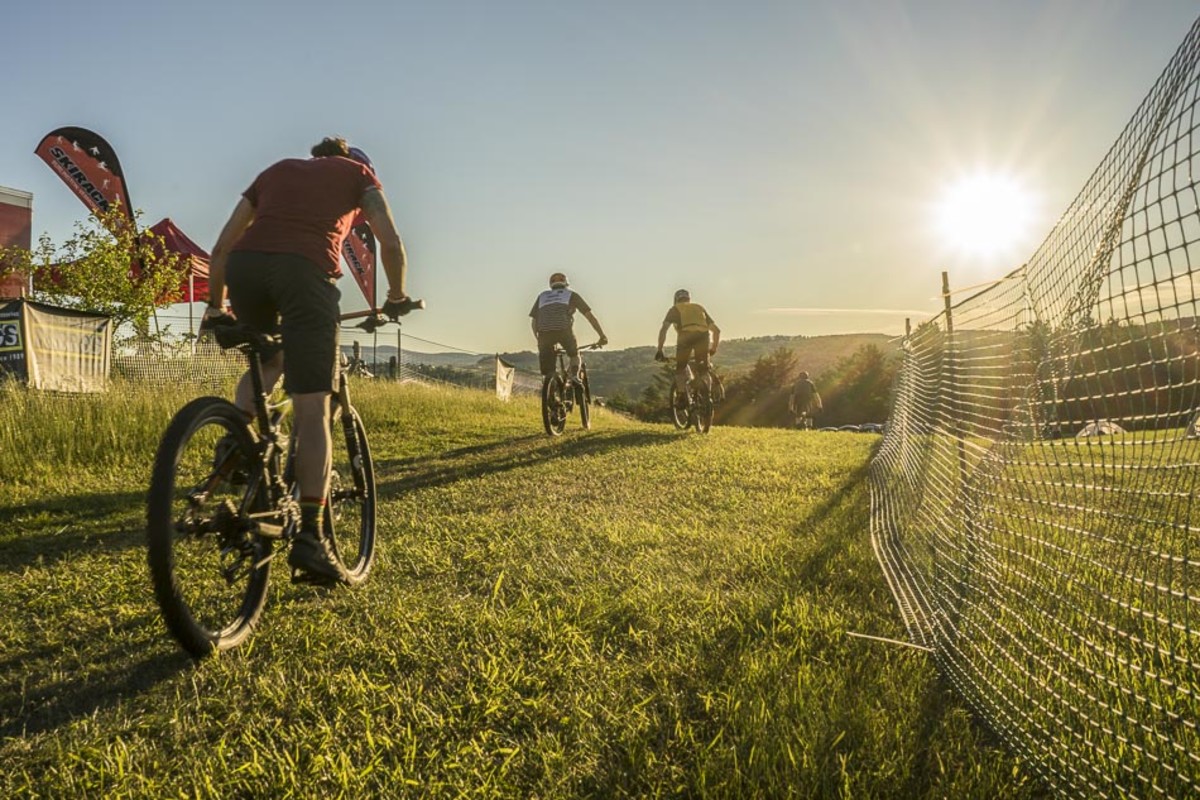 According to Tim Tierney, Kingdom Trails executive director, this year's registration of festival attendees and vendors increased by 30 percent over last year. "NEMBAfest grew from an idea that we should tap into the popularity of our trail system and hold events that would bring folks here to the Northeast Kingdom to help the local economy. We also wanted to be a key player in New England's mountain bike growth and culture," said Tierney. "The proceeds and expenses are split between the two organizations [NEMBA and Kingdom Trails] to continue our missions of maintaining and managing trail systems while promoting the health of mountain biking."

The economic boost from NEMBAfest is evident in town, and not just during the festival. The locals understand the importance of the festival as a showcase of one of their town's primary exports, and close to 200 residents and business owners donated their time to the event, helping with everything from parking to leading group rides. But being there, you never feel that they're just going through the motions for economic reasons. It feels more like almost every local is a passionate rider who genuinely wants to give their time to celebrate with you and make sure you get to experience the trails they ride every week. And in this parallel universe, that's probably not far from the truth.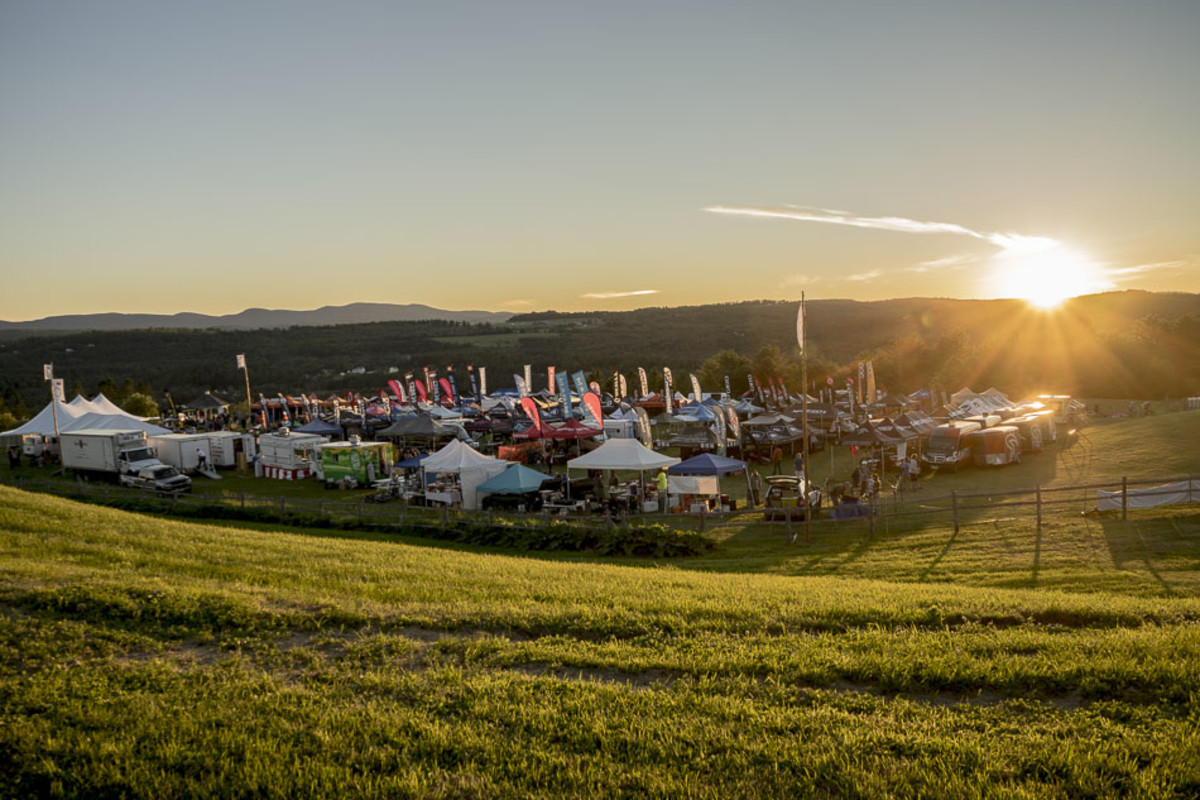 More about the Kingdom Trails and NEMBAfest at kingdomtrails.org.