"Flowers! Stop! Josh, stop!" 
My idea of what's acceptable behavior while racing is different than my son's. He's an 18-year-old racing snake, and I'm an old crock. But Josh doubled back and waited, almost patiently, as I framed and reframed an iPhone shot of a dramatic yellow, red and orange flower (a Lantana Camara, my botany app informed me). We were being shaded by wild fig trees beside the Umkomaas river in South Africa. I had artfully swiveled to get out-of-focus riders in the photo, but they were now long gone, and Josh could contain himself no longer.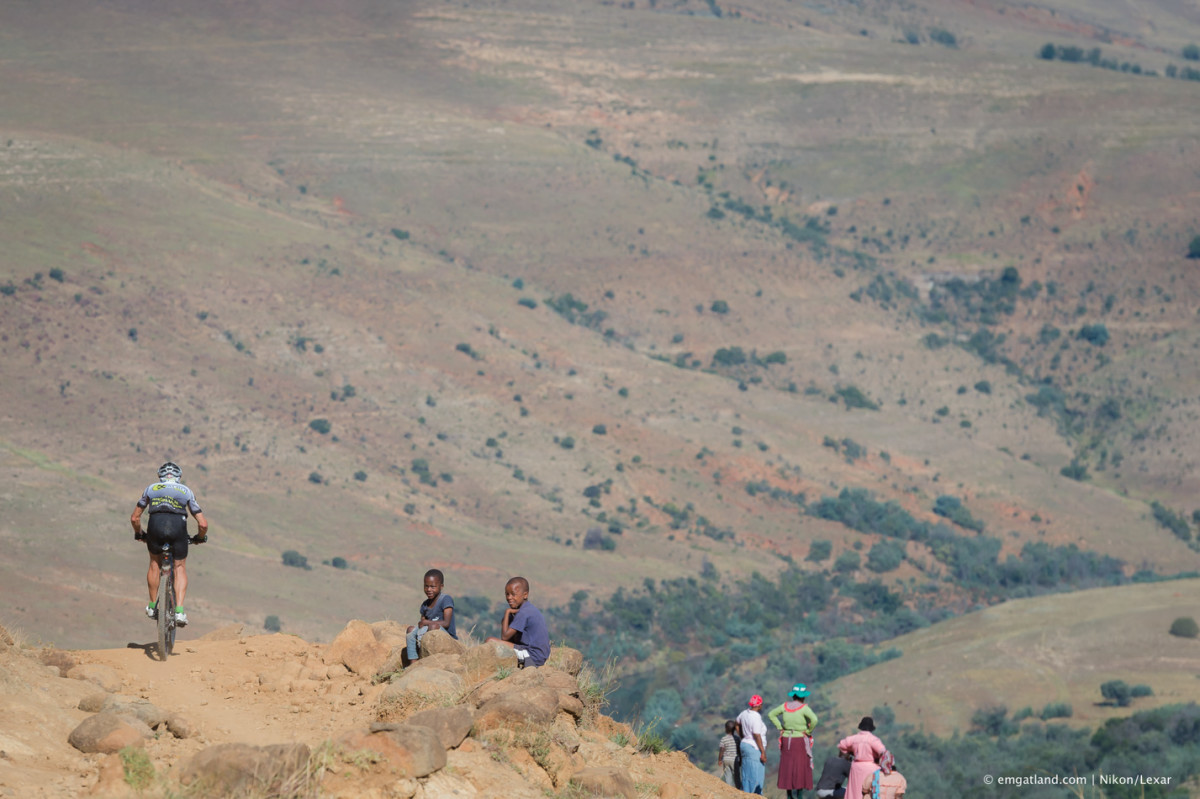 We were riding as a (mismatched) pair in the joBerg2c, a nine-day stage race that stretches 560 miles from Heidelberg, outside of Johannesburg, to Scottburgh, on the KwaZulu-Natal coast. Josh rode ahead, shielding me from the wind. Without me he would be an hour ahead; without him, I'd be a gibbering wreck. Stopping to take photos might seem un-race-like, but with me wheelsucking behind we'd soon catch the riders who had passed, and I felt there was time enough for a photo stop or three. 
Of course, photo ops were also my way of grabbing micro-rests. I couldn't play this joker card too often but, right now, it was north of 40 degrees Celsius (104 degrees Fahrenheit), we were soon to start a dusty 40-mile climb, and I probably wasn't the only one of the pair needing some recovery time. We'd just ridden the Umko Drop, an 11-mile switch-backing descent built and maintained by Zulu tribes folk. Of all the world-class trails we'd ride in the race, this was the most groomed: The red hardpack was dotted with precious few rocks, and even the stream crossings had been preened and plucked, jagged rocks replaced with rideable ones.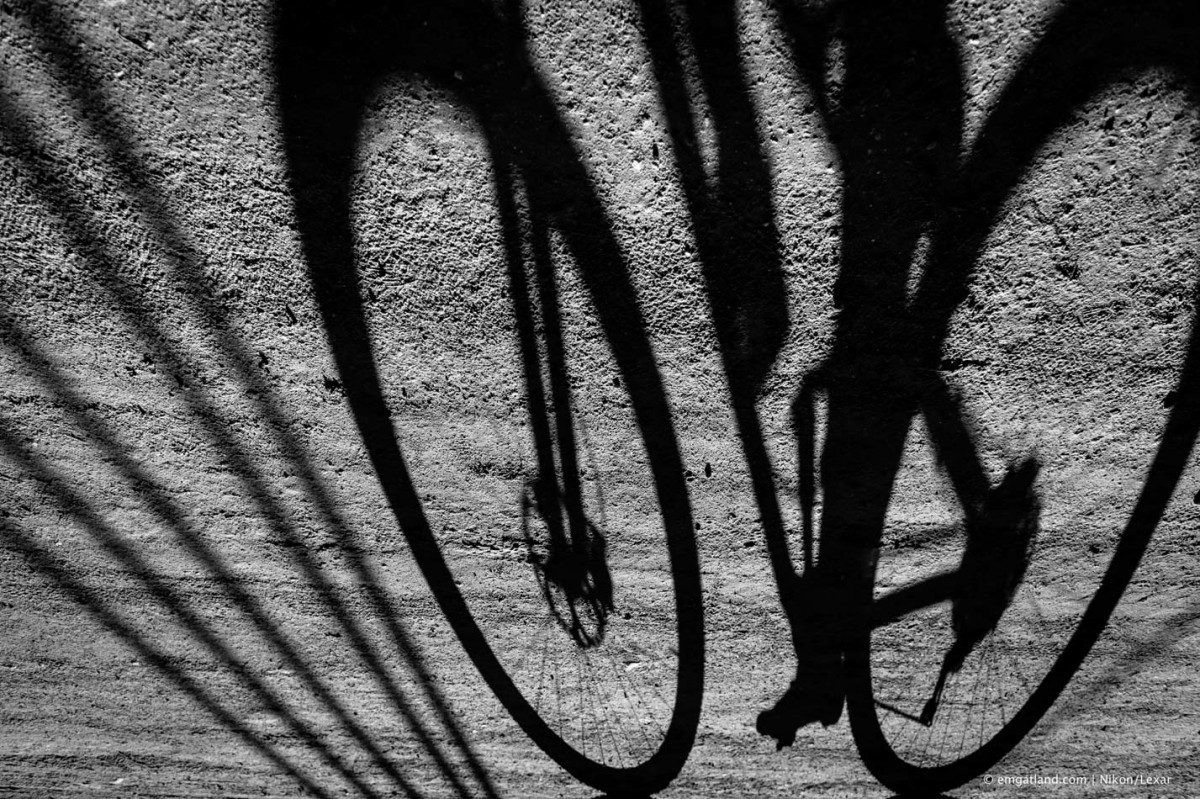 On day 8, the Umko Drop starts on double-track cattle paths lined with mountainside kids eager to high-five daring one-handed riders, but as the trail narrows it appears to plummet over a cliff, before, at the last gasp, opening to reveal a series of switchbacks shimmying down to the river. The locals earn cash for grooming this bench-cut trail because it's also used as the queen stage on a sister event, the Sani2C, a three-day stage race created 12 years ago. 
South Africans love their stage racing. The pro-level Cape Epic is the best known of these races but there are many others. Some–including JoBerg2C–now have year-round boondocks-situated race villages with purpose-built barns that can host up to 1,500 hungry, thirsty riders (overnight accommodation is in two-person tents). 
joBerg2c is younger and smaller than Sani2C. It attracts 700 riders, about a quarter of whom are pure racers.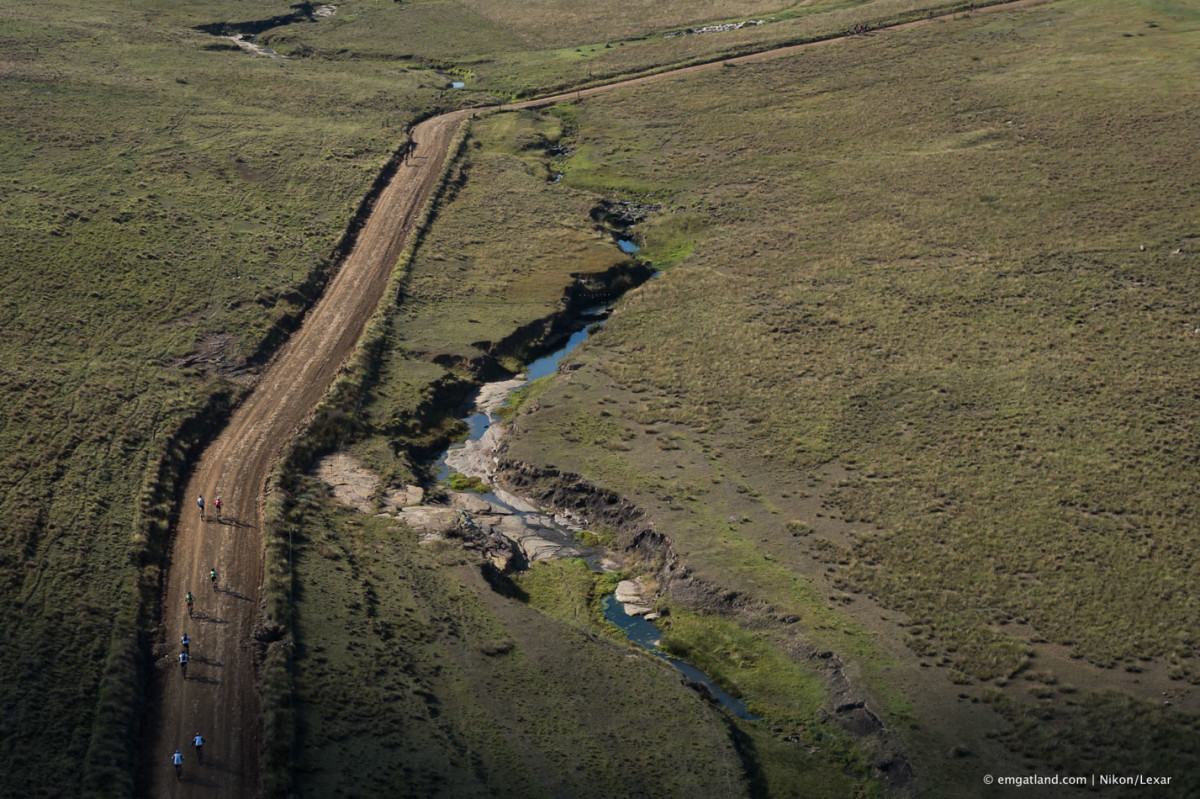 Josh could have finished in the top 50 each day but, aside from two long climbs when I allowed him to ride at his own pace, causing us time penalties, he hung back, accepting the role of super-domestique. When I needed something–painkillers to deaden an old knee injury, for instance–I'd plod on and Josh would stop and retrieve the stash from his bag then sprint to catch me. From the first day, he offered to push me, the kind of helping hand that I gave him when he was much younger.  Gracelessly, I declined even though other pairs in the race often used the tactic to propel the weaker rider. On the fourth day I relented, the son stronger than the father.
While joBerg2c drops in and out of quintessential African river valleys, and riders float along singletrack that teeter on the edge of Zulu gorges, it's not nine days of bushveld. Much of the riding is done on wash-boarded but otherwise nondescript dirt roads, where pacelines form to consume miles. Once away from the corrugated district roads, much of the route goes via hand-cut trails meandering through more than 100 private farms. Don't follow any joBerg2c GPX files if you're ever in this neck of the woods when the race isn't on: You'll be blocked by hundreds of gates and–a point stressed by the race organizers–possibly shot by farmers.
---
The next joBerg2c takes place next April 21-29. It costs $2,400 per pair, all food and accommodation provided. (Solo riders pay $1,480.) The first joBerg2c was staged in 2010, and attracted 12 overseas riders. The 2016 event attracted 113 riders from outside South Africa, including a couple from Alaska. The organizers are keen to get more mixed pairs racing. The food stops en route are provided by local schools, churches and charities who use the event to raise funds. More at joBerg2c.co.za.
Related:
The Farmers and Their Urban Friend – Meet the Organizers of the joBerg2c