Photos by Anthony Smith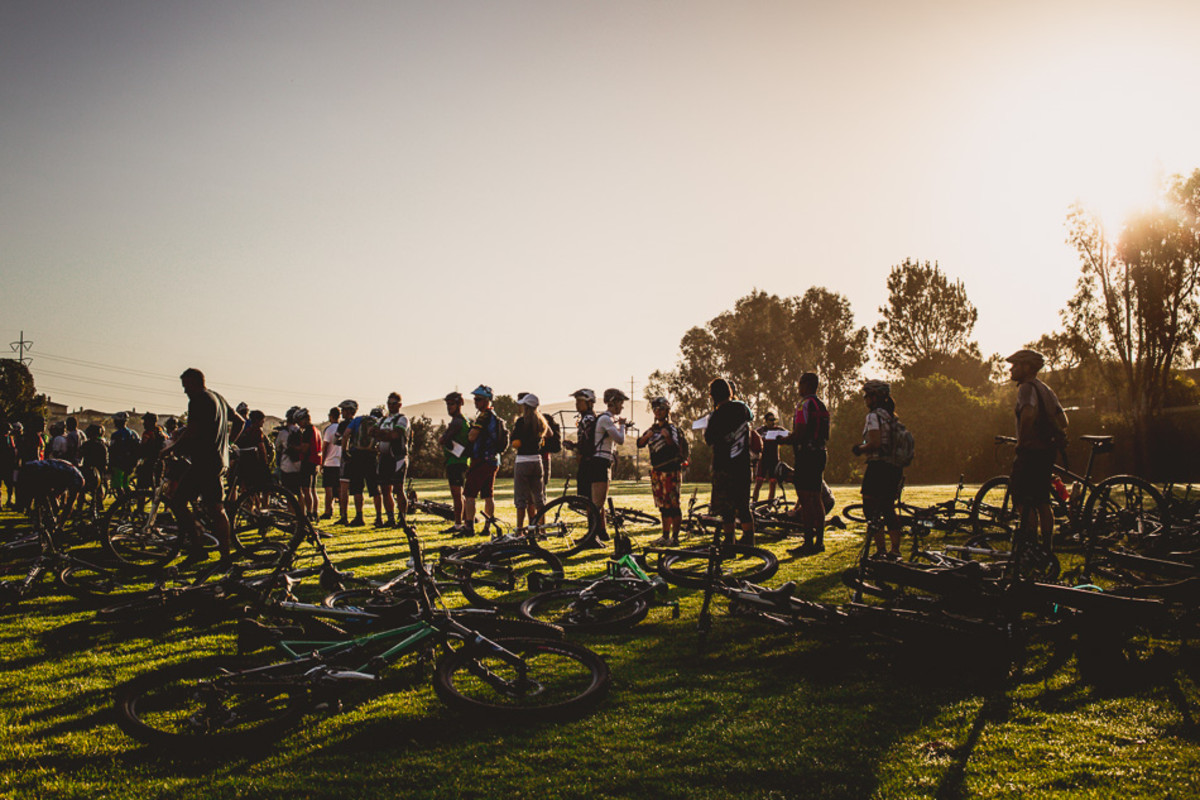 The Archipelago ride is a staple of the San Diego mountain-bike scene. As newcomers to the area–Bike's offices moved from San Clemente in South Orange County to Carlsbad in North County San Diego last December–we thought that 50 miles in the dirt hurt locker followed by a few pints at Green Flash Brewing would be an appropriate welcome to the neighborhood. This year, the 'Arch' ride tallied 49 miles and nearly 6,000 feet of climbing as it snaked point-to-point from Carlsbad to Mira Mesa, almost all on dirt–a good portion of which was singletrack–in a display of the county's excellent connectivity. The ride is the biggest annual fundraiser for the San Diego Mountain Biking Association and a favorite among its members. We rallied a crew of five–myself, photo editor Anthony Smith, online editor Jon Weber, general manager Adam Watkins and account executive David Paz–and joined 250 other local mountain bikers for a long day in the saddle.
Adequately juiced up on coffee and adrenaline, we rolled out of Cadencia Park in Carlsbad just after 7 a.m. on Saturday and almost immediately faced the switchbacks of La Costa, 2 miles of rocky, sandy trail that ascend nearly 500 feet, with a few gut-knotting grades that will test not only your skill in keeping traction in the steeps, but more importantly, your ability to keep down your breakfast. The reward was the ripping Coyote Shat descent, which plummets 630 feet in 1.7 miles in a series of moderately paced switchbacks.
Next up was the first of two creek crossings on the course, neither of which you could just splash right through. They required an actual dismount and careful cleat placement as you navigated a line of river rocks and guided the bike across the water–this was downright shocking given the dry, rain-deprived trails in SoCal. There is hope! Then came 10 miles of steady climbing and descending before the day's first real test of mental mettle–The Way Up climb in Elfin Forest. This 1.5-mile punch of pain spikes 770 feet to the ride's high point of 1,320 feet above sea level in a series of switchbacks dotted with stairsteps and ledges to power up your front wheel up and over while you're gasping for oxygen under the hot sun. If you could do that, you still needed master maneuvering skills to dodge the dozen or so Saturday morning hikers and their dogs. Still, in an effort to distract myself from the suffering, I tried to remind myself during the climb of how lucky we were. The weather was pleasantly in the mid-70s last weekend. Temperatures can soar to the 90s in this inland part of the county, and extreme heat on the exposed terrain would have made Saturday's ride much more strenuous.
By the time we reached the second aid station after a mach fire road descent, I already felt shelled. Cramming in oranges, Rice Krispie bars, sugar-loaded energy "food" and guzzling electrolytes helped fuel a second wind, thankfully, because the best parts of the ride were still to come.
The second half of the ride proved mellower than the first, despite a few soul-crushing fire road climbs with names like Gut Wrencher and Lactic Acid Hill including a short 19-percent leg-ripper, in which "Oh Shit" was spray-painted on the gravel just as you looked up and saw the looming beast. The interspersed sections of fast, rocky trails made the climbs disappear from memory, though. One particular highlight was West Lilac, a newly finished .8-mile section of buff singletrack on Black Mountain. Seeing firsthand the fruits of the SDMBA's labor made the Arch ride that much more meaningful, especially to us newbies.
By the time we rolled through the business park near Green Flash Brewing nearly 8 hours after we started, our motley group was caked in dirt, sweat and/or blood, hallucinating that we were already holding a pint and a greasy food-truck burger and fully enlightened on the impressive breadth of trails North County has to offer. If you get the chance, the Archipelago ride is a must-do–it will challenge your physical strength and your capacity to suffer and reward finishers with an overwhelming sense of accomplishment–what more could you want in an all-day mountain bike ride?