By Kristen Gross
Photos by Margus Riga
Day One of the 2015 BC Bike Race was one of the hottest in the race's history. Racers tackled the rough singletrack of Cumberland, but found no relief on the long fireroad climbs where sky-high temperatures met exposed pitches. The feeling at the start line on Dunsmuir Road in the morning was energetic nonetheless, with many townspeople coming to send off the racers. A tight-knit community, mountain biking is a big part of life in this small Vancouver Island village–a perfect host for the ultimate singletrack experience.
Vitals: BC Bike Race Day 1 2015 – Cumberland
Elevation gain: 1,163m
Total distance: 48km
Top Male: Spencer Paxson (2:26:06)
Top Female: Katerina Nash (2:51:59)
Full results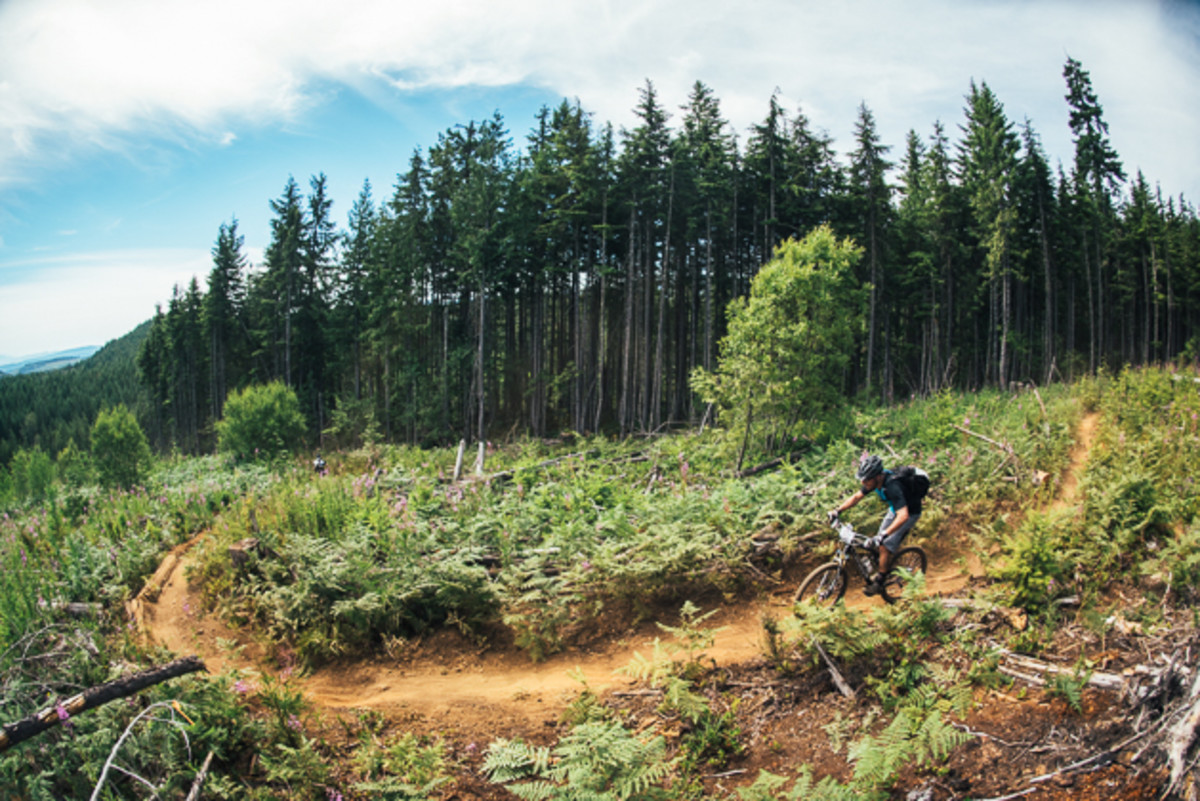 "Mountain biking is everything," said Jeremy Grasby, course designer of the BC Bike Race's inaugural stage, and bike patroller for the rest of the week. "For me, everything else falls into place around that to create a lifestyle that facilitates more riding."
Grasby has been involved with the BC Bike Race since it began. As the race has evolved, so has its demands on its course designers. Guidelines include 70 percent singletrack, maximum mileage of about 50km, ability to accommodate the race's 600+ participants, and adhering to the race's mantra: "No Unrewarded Climbs." The Cumberland course is back again this year as a roaring success, thanks to the hard work of Grasby and his team all year long. This is the second year that the course has been entirely in Cumberland, "behind the yellow gates," rather than venturing over to the Forbidden Plateau. For 2015, BC Bike Race has also brought on board "Feature Trails" in each community. On Day One, that trail is "Blue Collar," built by Grasby himself.
Cumberland is a historic coal mining town, but now logging is the main industry. That, and mountain biking. Of the 3,000-some population, over 200 are avid mountain bikers. A common question from visitors witnessing this ride-anytime lifestyle is, "How do you do it?"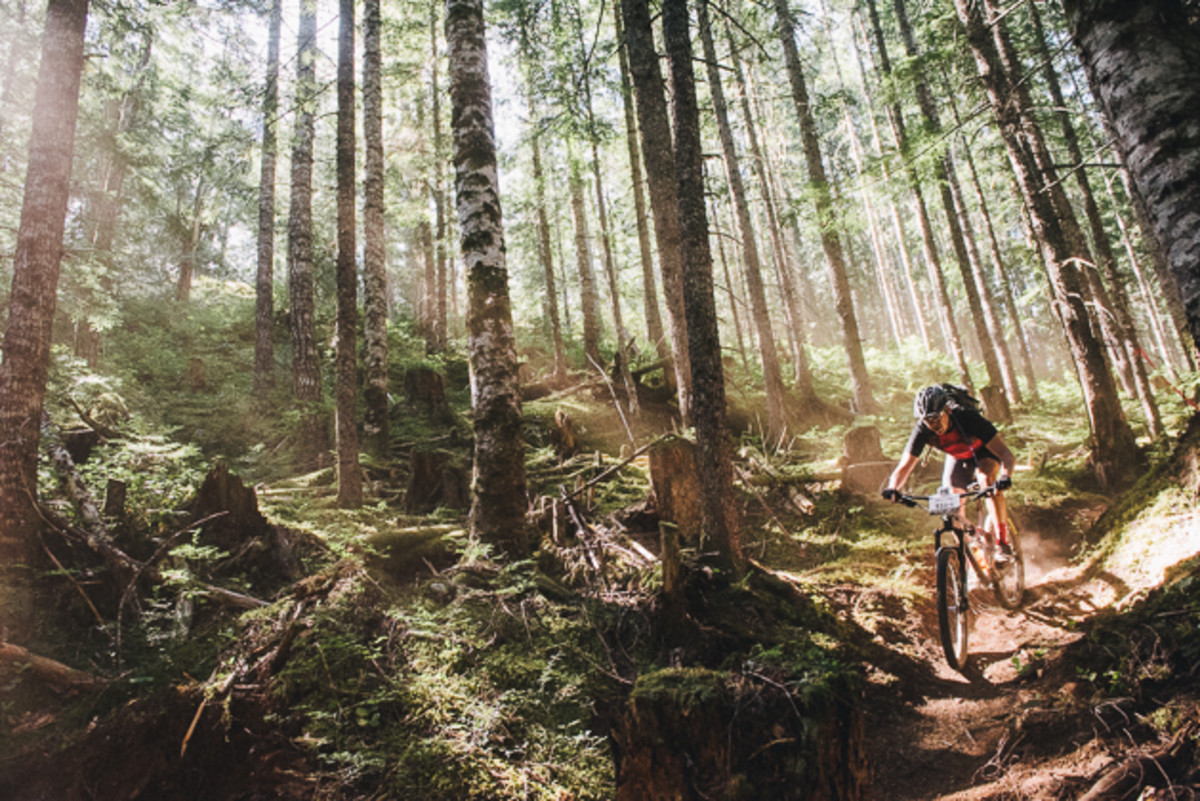 For Grasby, making a living in Cumberland comes in the form of the famous Riding Fool Hostel. He has owned it for 12 years and in that time, Cumberland has gone from half-occupancy in downtown storefronts, to a vibrant, growing community featuring cafes, coffee shops, a strong music scene, and now even a new brewery. "We got our mail at the customs house building, not a latte like it is now as the 'Wandering Moose,'" said Grasby. "The early years were definitely lean–I would leave the hostel for a ride and end up taking down reservation details on a tree if a call came in." Today, Grasby is an engaged member of his community, helping to coach young riders with the local Kids Club, including his own daughters, running events, and promoting trail advocacy and maintenance. "Ultimately, I'm about creating a place for my family to grow and enjoy," said Grasby. "Part of that is creating trails that the entire riding community can use–every age, every level."
Mountain bikers and other outdoor enthusiasts flock to the area to enjoy miles of hand cut singletrack, and some signature races including the Coal Town Classic 50k, the 12 Hours of Cumberland and of course, the BC Bike Race. "I've already got ideas percolating for next year," said Grasby. "But for now, it's all about enjoying this week."
Grasby is also a founding member of the United Riders of Cumberland (UROC), a united voice advocating for the harmonious enhancement of the network. The logging company, Timberwest, has been an extremely neighborly partner, working with local trail builders and riders to maintain the links between systems even as the work of harvesting continues.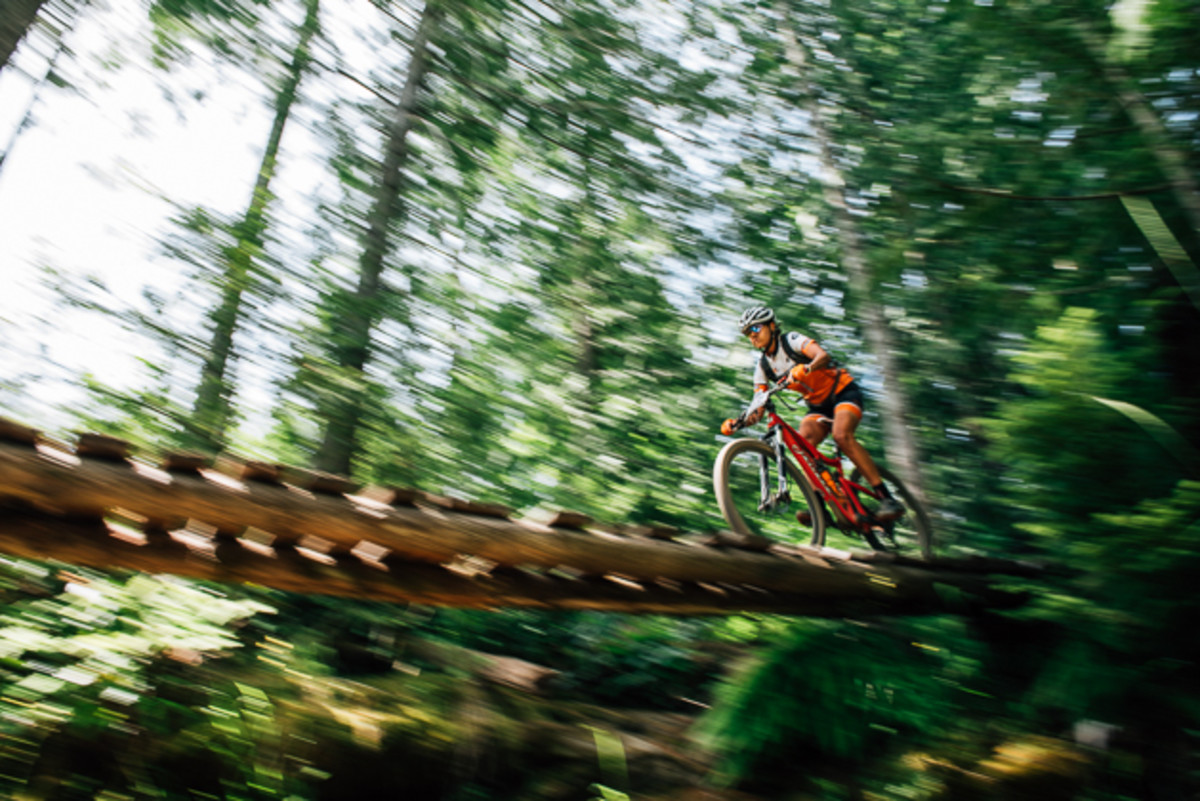 That's why one of the defining features of the course is the unique contrast between deep woodland singletracks and high-visibility clear-cut sections. It's a wonderful experience to ride because Cumberland trail builders use seemingly every stump to create unique features.
However, the most distinct feature today was the heat. Even with the GC competition barely underway, some racers opted to pack it in after overheating in the first half. After the race, on the ferry crossing from Comox to Powell River, we chatted with a racer from Lake Forest, California about his day.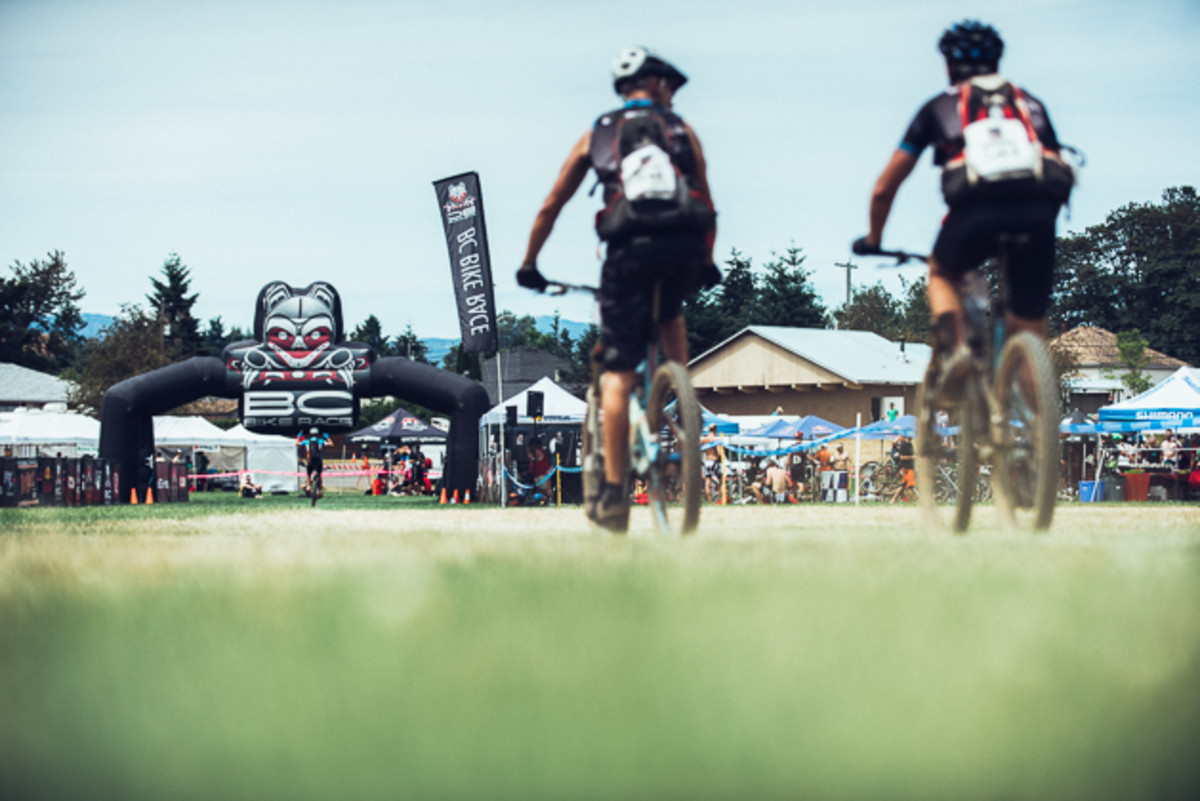 "I think coming from California, I had a bit of an edge today with the weather–that and the loose soil felt just like home to me," said Jeff Jacobson, racer number 132. He is here aboard a Santa Cruz Tallboy, modified with a 120mm X Fusion Trace fork, and minus a dropper post. "It's a distraction for me," explains Jacobson. "Last time I was here, it broke…and it was a bad day."
Jacobson raced solo in 2013, with his wife along as a race volunteer. She made him a scrapbook of the first experience which he has put to work as a tool convincing ten of his friends and Troupe Racing teammates to come back to tackle it again. "The race is great, but I just thought it would be a lot of fun with a group of friends," said Jacobson.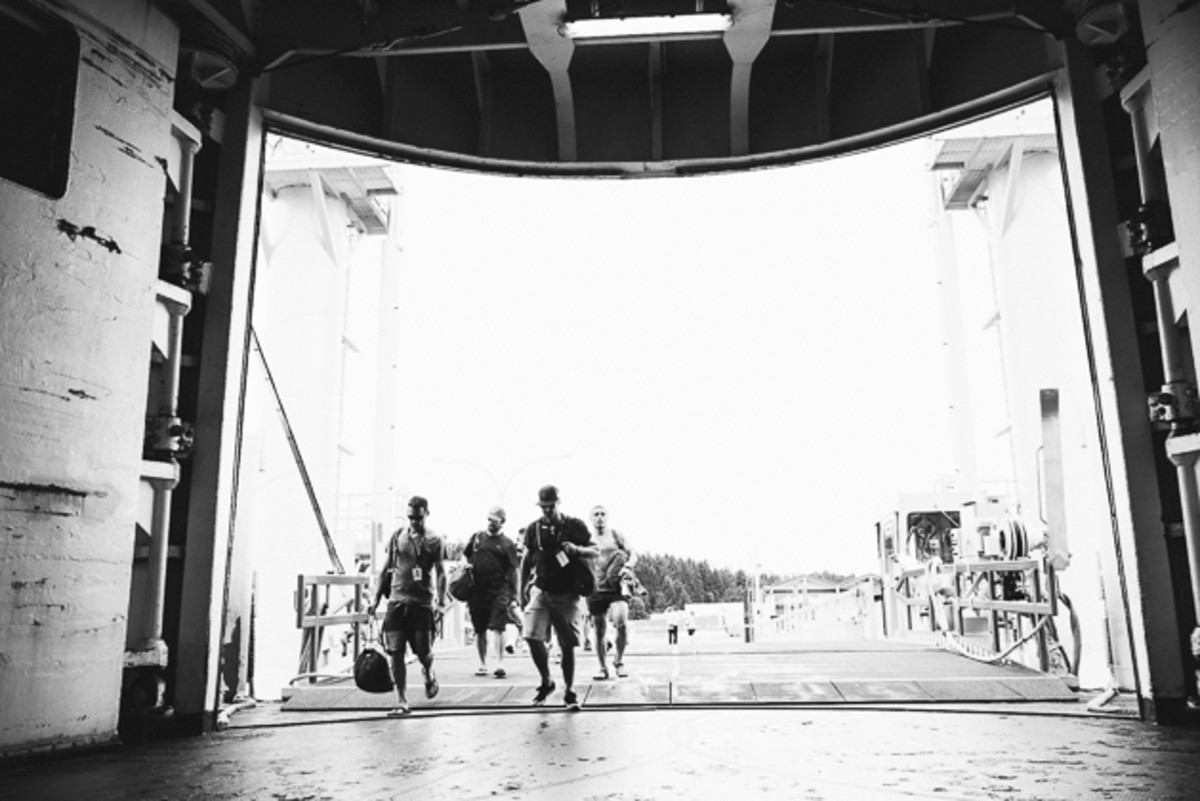 As for his day, Jacobson admits his nutrition could have been better–a big challenge with the temperature rising up to 33 degrees on the exposed fireroad climbs up the Trent Main and Davis Mains. "I think I got a bit too excited for the Cumberland singletrack and didn't eat or drink as much as I should," said Jacobson. He plans to learn from Day One and keep pushing to hopefully climb into the top-30 Open Solo Men's GC. "I just want to do my personal best–I want to make sure I leave everything out there, but also that I ride smart with pacing and nutrition," said Jacobson. "The first day is a shock to the system, and then it seems to get a little easier."
Day Two begins in Powell River at 9:00 a.m. Racers will return to slightly reduced temperatures, but slightly increased mileage. The Powell River course runs 52km and gains an elevation of 1,094m.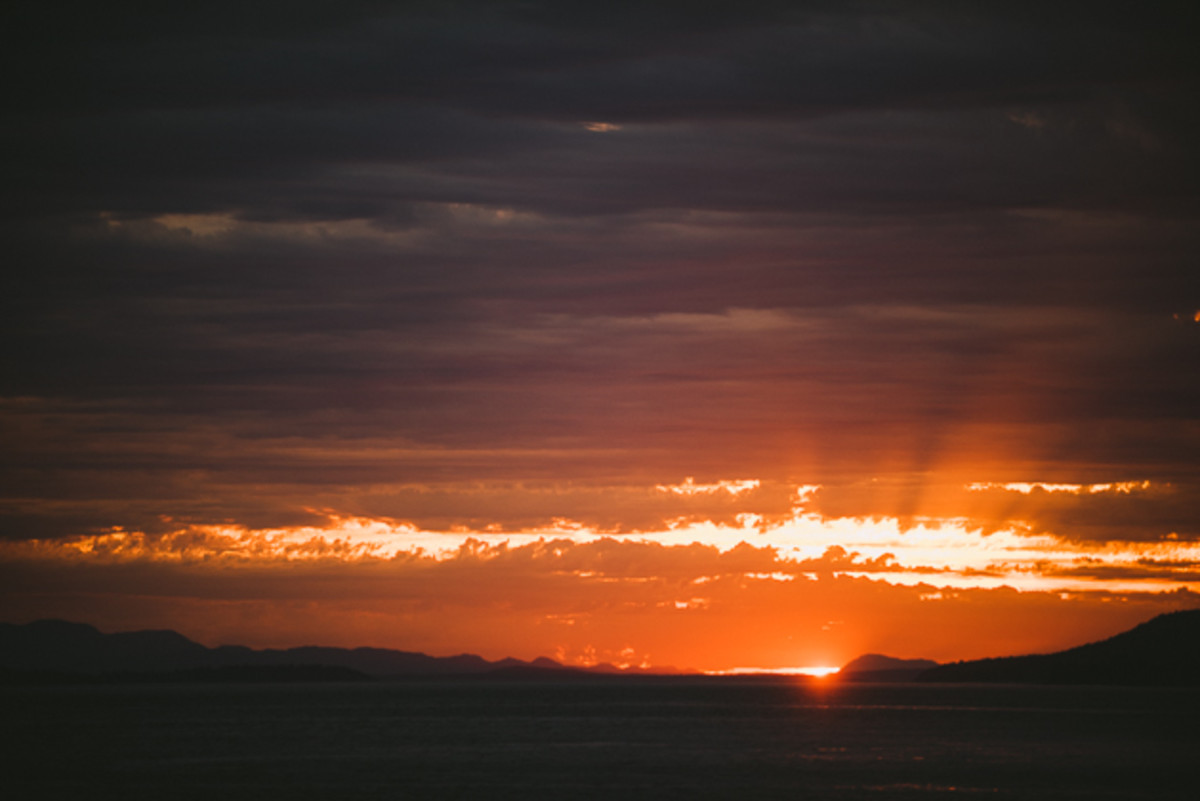 More from the BCBR: