Vernon Felton
I saw a guy with a cape the other day. This guy was hanging outside the Black Drop—Bellingham's hipster, coffee-snob caffeine dispensary. He was holding up a light post, smoking clove cigarettes, looking pensive and, I think I mentioned this, wearing a fucking cape.
"That," I said to my wife, "is a guy without a single friend in the world."
My wife is used to me saying things like this. It's probably because I'm a judgmental prick, which is precisely what she suggested. But I'm sticking by my guns here.
Now, I'm not arguing that having a cape fetish automatically makes you friendless. We all have our dark inner desires. But here's the thing, this guy walked out the door that evening and thought, "You know what would look really cool? What would really tie this whole ensemble together? A cape!" And so he grabbed that velvet-trimmed cape and went out on the town, convinced that he was now properly attired to kick some ass and take numbers. This, in turn, means that none of his "friends" have ever mocked his cape and if that's the case, they really aren't his friends at all.
I MOCK YOU BECAUSE I CARE
We all do stupid things. Who amongst us hasn't worn a mullet or bought a Camaro. Okay, maybe you've never done either, but admit it, you've made your own mistakes. It's called "being human".
Our friends, however, are supposed to function as our de facto idiocy buffer. Friends are the ones who cut the crap and tell it like it is: a mullet isn't ironic, it just makes you look inbred, a 1986 IROC-Z is not a classic and there is no way in hell I am going to be seen anywhere in public with you if you wear that f@cking cape.
A cape is totally acceptable evening wear if you are Aragorn and you're gearing up to kick some orc ass…but wait, you aren't fighting The Dark Lord and his minions? Well, then, no cape for you.
Really, it's that simple.
A friend would let you know this. They'd give a crap. They'd notice that cape upon your shoulders and they'd see a future in which you wore that cape out on the town and wound up: (1) Getting a beat down at the hands of some non Tolkien-loving types; (2) Never successfully reproducing during your key reproductive years; (3) Collectively dooming your own friends to the same fate.
We mock those we love, as Sigmund Freud once noted, because we care about them. Or to put it another way, if I didn't give a damn, I'd just let you hit the town looking like a complete douche bag.
HELLO POT, MY NAME IS KETTLE
But here's the rub: it can be devilishly difficult to discern between those moments when you should intervene on your friend's behalf with some well-placed scorn and the occasions when you should silently acknowledge that "it takes all kinds".
Example.
Your friend is a 42-year old accountant who loves Harry Potter books? Well, you might not dig JK Rowling, but your friend's appreciation of Rowling's ability to craft a story isn't exactly grounds for a mocking. A grown man showing his appreciation for Harry Potter by wearing a Hufflepuff scarf to an MMA match? That is clearly call for a mocking. His safety requires that you ridicule him.
Sadly, mockery is often overzealously applied in cycling circles. Singlespeeders mock downhillers as inbred knuckle draggers. Downhillers mock singlespeeders as hipper-than-thou, retro-revivalists. Fans of baggy apparel mock the Lycra set as Type-A, cross-country types who haven't heard that 1995 is over. Lycra lovers mock the baggy-fans as fashion-over-function wannabees who look a lot like extras from the slave galley in The Seventh Voyage of Sinbad.
But, really, do any of these groups deserve derision? I don't think so. Anyone, for instance, who has tried singlespeeding will acknowledge that riding one gear hones your skills. Likewise, it's hard to summon up a lot of hate for a day spent bombing descents aboard a long-travel bike that magically transforms "Oh, shit!" moments into "Hell, yeah!" moments. You might prefer one activity over the other, but both have their merits. Neither is inherently ridiculous.
In short, as a person who truly cares, you have a responsibility to mock responsibly. In fact, I went years thinking that there was no cycling offense truly worthy of mockery at all.
Recumbent riders? Sure, it looks ridiculous to me, but it's probably better than golf. Unicycles? I can't see the point of purposefully making cycling harder, unless doing so nets you a decent paycheck as a unicycling circus clown, but still, I have to respect their skill.
It wasn't until last year that I started to think, well, maybe some infractions in cycling truly merit mockery—for the good of the person being mocked. My brother had agreed to meet me at the Sea Otter Classic in Monterey, California. He showed up to our booth toting a Santa Cruz Nomad—a fine bike to be sure—but the handlebars had to be a solid 12 inches above the full extended saddle.
I realize how trivial that sounds (So what if the handlebars were a little high?) but the combination of ape hanger bars and high-rise stem extender had transformed a very cool bike into some kind of all-mountain/grocery-getter combo and the stink of it was unbearable. Sure, you see that kind of stem and bar combo on beach cruisers or the knackered Schwinn Varsity favored by guys who live under the bridge, but on a new Nomad? It somehow seemed…profane. Taking a performance machine and utterly neutering it…it was like making a dump truck out of a Ferrari.
Mind you, this wasn't my brother's bike at all. My brother would never do anything like that to a bike like this. He was, in fact, just shepherding his friend's bike around the pits, but the stink coming off the Nomad was emanating from the bike; people were stopping and staring. People were shaking their heads. And while I generally don't give a rat's ass about what other people think, part of me really wanted my brother to just part company with that damn bike as soon as possible. He needed a mocking and being the good brother that I am, I gave him one. That's what family is for.
But the whole incident got me thinking, maybe there are some things that simply shouldn't be done in the cycling world. Here's my shortlist.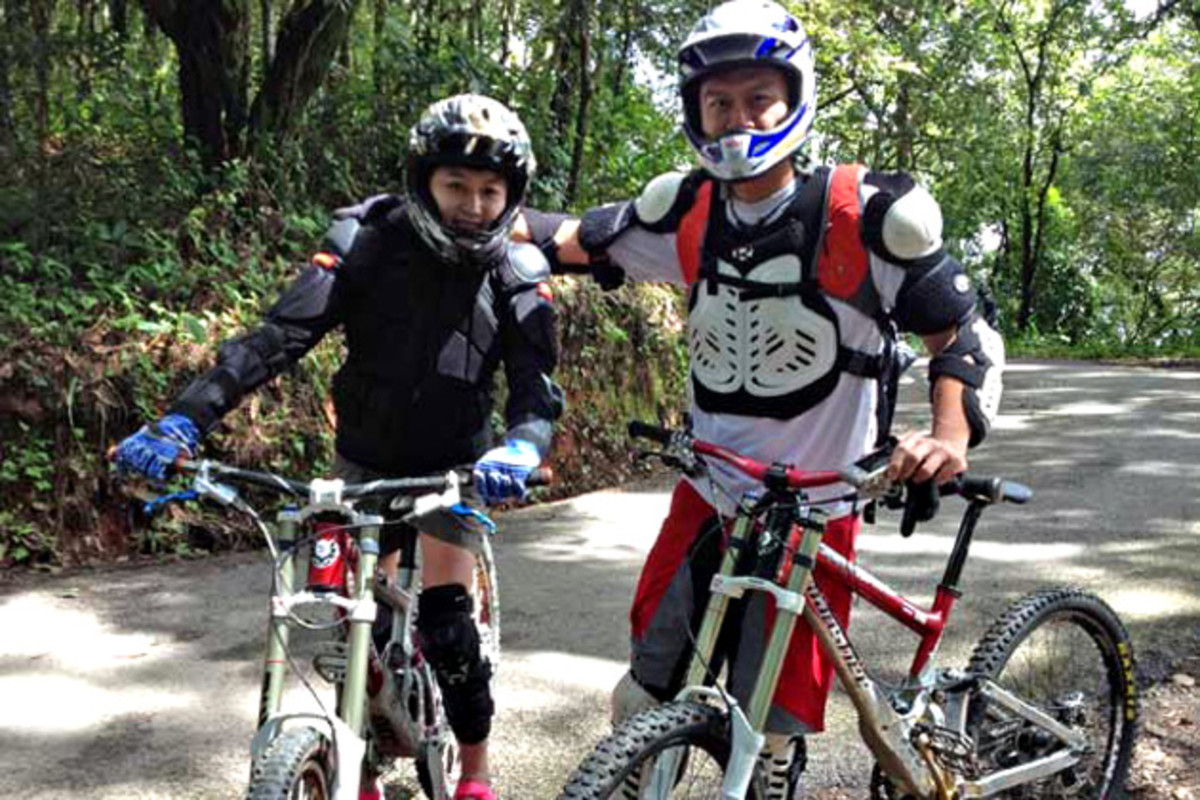 Body Armor Over Your Jersey
Nothing says "I'm new to this whole bi-cycling thing!" like wearing your Star Wars-style body armor on top of your jersey. Bonus points if you are combining Lycra garments with heavy-duty armor. Admittedly, this is a case of fashion rather than function. Going over the top with your armor certainly doesn't reduce it's effectiveness, it just looks…wrong. Like Brooke Shields sporting a Mormon patriarch beard. Yes, it can be done. No, it doesn't mean you should do it.
Bib Shorts over Your Jersey
This is a variation on the body armor faux pas—tucking your jersey beneath your bib shorts so that your straps are out there loud and proud. There's really no functional reason that this is wrong. In fact, it makes bathroom breaks a bit easier to manage. Again, it just makes you look like a space alien who decided to infiltrate humanity, but didn't do their homework before landing on earth. We already look lame with the little black socks, the Terminator glasses and the plastic yellow shoes—turning your Lycra shorts into skin-tight coveralls is, essentially, the straw that breaks the camel's back. Every time.
White Lycra Shorts
Lycra shorts are one of cycling's necessary evils. The skin-tight shorts clearly have their benefits—reduced chafing, built in padding, etc.—but they also tend to take the one body part that society is uncomfortable with and put it on a pedestal for the world to see. Now, as a cyclist, you get over this fact fairly quickly. You want to put in miles on your bike, you'll need to rock some sort of Spandex below your waist line. It's part of the Faustian bargain with the cycling gods and, if you're a mountain biker, you can always toss a pair of baggies over the whole mess and call it a day.
Roadies, however, don't have the baggie option at their disposal. Most of the time, this isn't a problem. That is, unless they happen to be wearing white Lycra shorts. I'm not sure why manufacturers continue to crank these things out because as anyone who has attended a wet T-shirt contest can tell you, once things get wet beneath a white garment, body parts become really visible. Uncomfortably (for the rest of us) so. Since no one probably called you up before your ride and asked you to wear something that highlighted your junk in excruciating detail, just play it safe and wear black Lycra. It's for the greater good.