With all the trails around Northwest Arkansas, there is no shortage of riding to fill your days. But should you want a break from the saddle, there is a surprising number off of-the-bike explorations to be had. Bentonville is brimming with culture, craft breweries, food trucks and top-notch restaurants, due to Walmart's efforts to make its hometown a more inviting place for corporate employees to live. And nearby Eureka Springs is an eclectic mix of artist hippies and right-wing conservatives all packed into a tiny Victorian mountain town.
Bentonville
Walmart's influence permeates the corporate giant's birthplace, from its street names and daily traffic patterns to its unusually high number of affluent residents–due to the number of global executives who relocate to live near their behemoth client–and town amenities. The last part is linked directly to the corporation's nonprofit Walton Family Foundation, which strives to improve the quality of life in the region by funding local schools, green spaces and cultural experiences.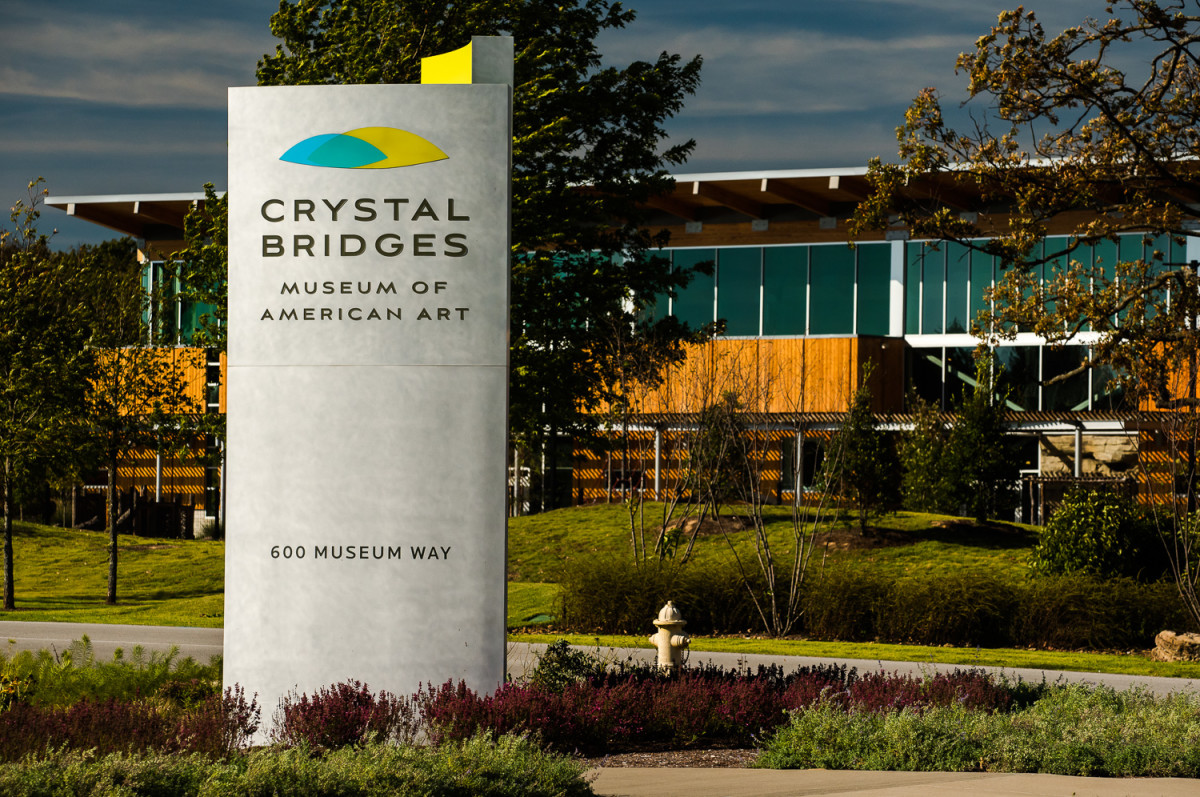 Enter Crystal Bridges Museum of American Art in Bentonville. The five-year-old museum houses several coveted, top-dollar paintings from U.S.-born artists that were purchased by Alice Walton, daughter of Walmart founder, Sam Walton. The glass-and-wood structure is set on beautiful forested grounds and surrounded by outdoor sculptures, ponds and nature trails. Inside, the permanent collection, valued at some $500 million, is split into four sections: Colonial to Early 19th century, Late 19th Century, Early 20th Century and 1940s to present. Highlights include Andy Warhol's "Coca-Cola," a painting of the iconic soda bottle from 1962, purchased for a whopping $57.3 million, Norman Rockwell's famous wartime depiction of female empowerment, "Rosie the Riveter," which graced the cover of the Saturday Evening Post in 1943, and a stoic portrait of George Washington, painted by Gilbert Stuart, that was later used on the American dollar bill.
While you're on the museum grounds, you can also walk through a fully restored Frank Lloyd Wright house, originally built in 1956. The museum acquired the house in 2013, and had the entire structure meticulously taken apart and moved from New Jersey to Bentonville, where it was reconstructed and opened to the public in 2015. There are 18 outdoor sculptures on the property, the most prominent being a massive bronze, stainless steel and marble spider that marks the museum's entrance, sculpted by artist Louise Bourgeois when she was 88 years old.
The best part about Crystal Bridges? It's free. No gimmicks, no hard sell. Simply check-in at the front desk, get a map and wander at your leisure.
Town Square
Crystal Bridges is a 20-minute walk from Bentonville's City Square, a quaint downtown populated by a mix of modern businesses (the trendy coffee shop Onyx serves up pour-overs and local craft brew) and historical artifacts (the statue of a confederate soldier at the square's center reminds you that this is the south; Walmart founder Sam Walton's original Walton's 5-10 store, which still sells candy, retro toys and souvenirs).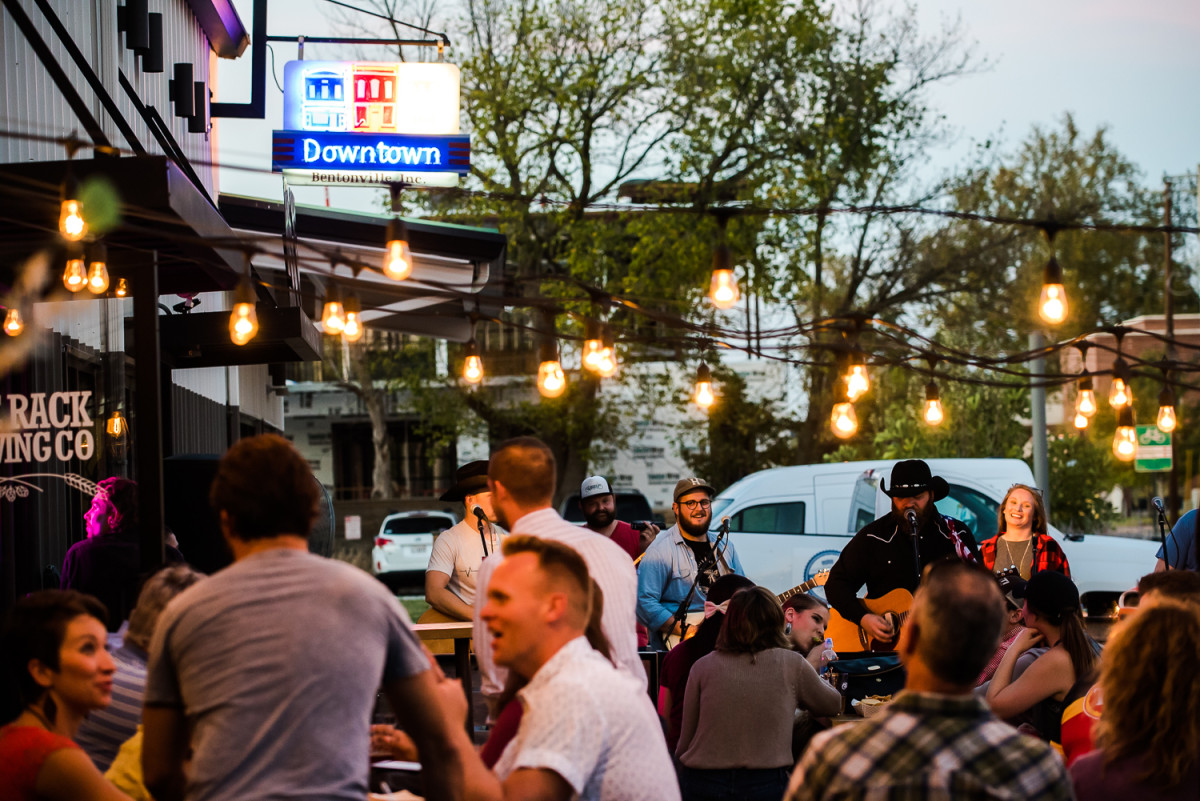 There is a lot to see, eat and do within just a few blocks, starting with 21c Hotel and Museum, a swanky boutique hotel that houses a contemporary art museum (again, free to the public) on its ground level, which rotates in new exhibits every six months. Grab a drink at the bar and peruse the funky art pieces–including the permanent exhibit of Green Penguin sculptures scattered throughout the hotel.
Another worthy stop is the Pedaler's Pub, a 2-year-old bike-themed wood-fired pizza pub, located next door to Bike Rack Brewing Co., which, at three years old, bills itself as "Bentonville's Oldest Brewery." On any given night, the brewery's taproom is humming with live music or trivia.
For some old-fashioned southern cooking, hit up Flying Fish, where you can order fried catfish, pickles and frog legs, gumbo, po'boys, hush puppies and slaw. The restaurant's walls are covered with photos of customers posing with their biggest catches, and one entire wall is devoted to the World's First Billy Bass Adoption Center–for customers who buy an animatronic singing largemouth bass and trade it in for a basket of fried goodness at Flying Fish.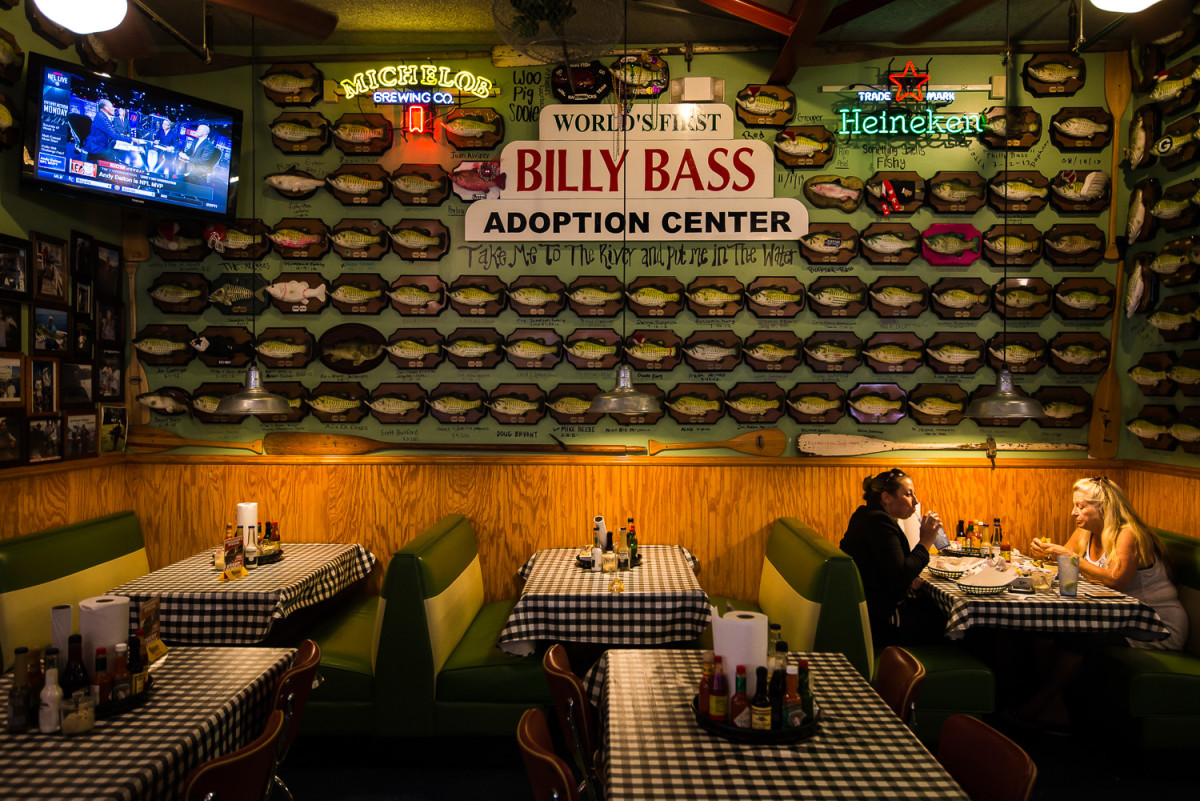 Walmart's presence is prominent in the city square with Walton's 5-10 retail store, which is connected to the Walmart museum, offering a free self-guided walk through the history of the world's largest company (by revenue).
Eureka Springs
If Bentonville seems liberal for the historically conservative south, then Eureka Springs is practically Haight-Ashbury (well, except for the giant Jesus statue towering over the city). The tiny town of 2,000 is in the Ozark Mountains, about an hour east of Bentonville, and is characterized by its narrow, steep, winding streets that are reminiscent of a European village.
It attracts tourists in droves, drawn to its stone Victorian buildings and the some 140 healing natural cold-water springs located in limestone caves around town. Eureka Springs was the first town in Arkansas to issue same-sex marriage licenses, and rainbow pride flags fly around town. On the other end of the spectrum, a huge white Jesus statue, called Christ of the Ozarks, looms over town atop Magnetic Mountain. The 67-foot statue, reminiscent of Rio de Janiero's Christ the Redeemer, was commissioned in 1966 by religious activist Gerald L.K. Smith, after he retired in Eureka Springs. The statue is accompanied by a 4,100-seat amphitheater, which is home to seasonal performances of "The Great Passion Play."
Eureka Springs is a dichotomous place, and if you're already visiting to ride the trails at Lake Leatherwood, plan a few extra hours to check it out. Be sure walk around the historic Crescent Hotel, a former college and conservatory for young women, which is said to be one of the most haunted buildings in the U.S.
Architecture
Architecture buffs will appreciate the proximity of two prominent E. Fay Jones structures to Northwest Arkansas. Jones, an Arkansas native, was an apprentice of Frank Lloyd Wright. His Thorncrown Chapel in Eureka Springs was constructed mostly of wood and other materials found in Northwest Arkansas. The chapel consists of a lattice-esque wood structure enclosed in glass and has won numerous architecture awards for its unique design. The Mildred B. Cooper Chapel in Bella Vista is another of Jones' masterpieces, and incorporates a similar wood-and-glass design.
More coverage from the 2017 Bible of Bike Tests:
Bike Shops of Northwest Arkansas
Bible Gallery: Testing at Kessler Mountain
Bible Gallery: Testing on Bella Vista's Back 40