Northwest Arkansas is building trails faster than you can ride them. We're here testing for the eighth-annual Bible of Bike Tests, and took a day to rest our legs and check out some of the local shops. Maybe you're in town and your bike needs servicing, or you need to pick up some gear, or maybe you're just looking to hang out and glean some local trail wisdom over a beer. This is the place to start.
Phat Tire Bike Shop

With the Slaughter Pen Trail just a few pedal strokes away, Phat Tire's Bentonville store is the perfect spot for a post-ride beverage, with local beer on tap, usually from Core Brewery. The shop is also located right on the Razorback Greenway, and boasts a full service center that can address any mechanical.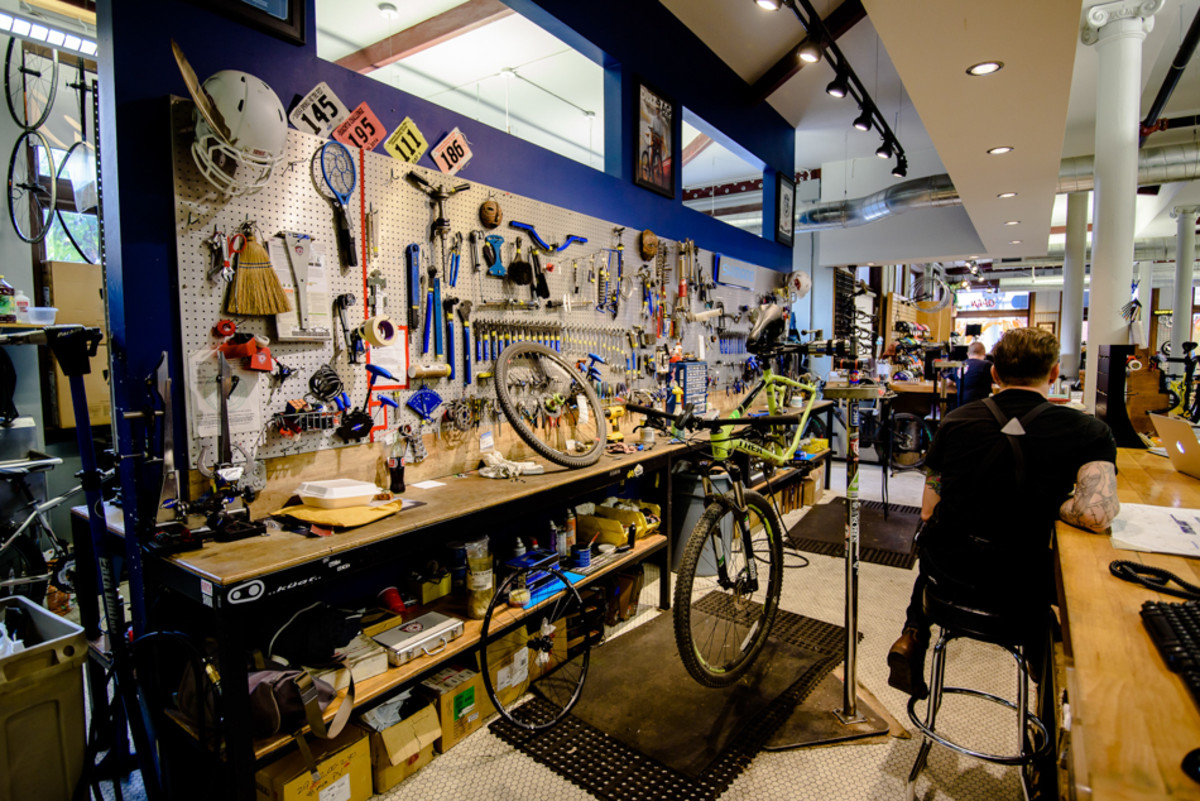 Major brands: Trek, Santa Cruz, Salsa
Rentals: The fleet changes frequently, but Phat Tire always has a full stock of trail-capable bikes. Right now the shop offers Trek Staches and Lushes, as well as Santa Cruz Tallboys and 5010s.
Beer: Local beer on tap
Coffee: No coffee in the shop, but there are plenty of cafes around
Group rides: Trail ride on the first Tuesday of each month
Locations: Bentonville, Springale, Fayetteville, Fort Smith
Open all week
phattirebikeshop.com
GPP Cycling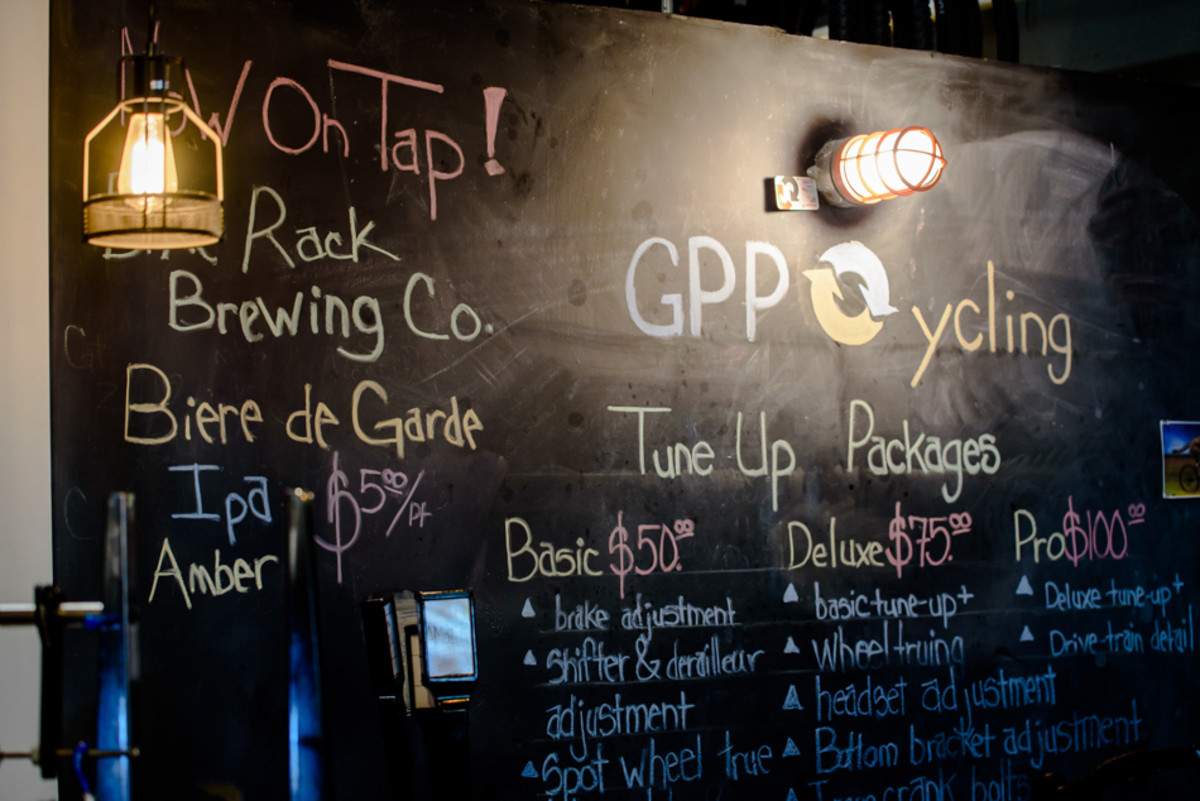 GPP Cycling started out as a gym in Rogers, and has since expanded into two bike shops in the past six months. It now also owns The Handlebar (more on that later). GPP doesn't cater to any specific kind of rider, and carries a good selection of parts and accessories. Its service centers can handle anything from a flat tire to a suspension overhaul.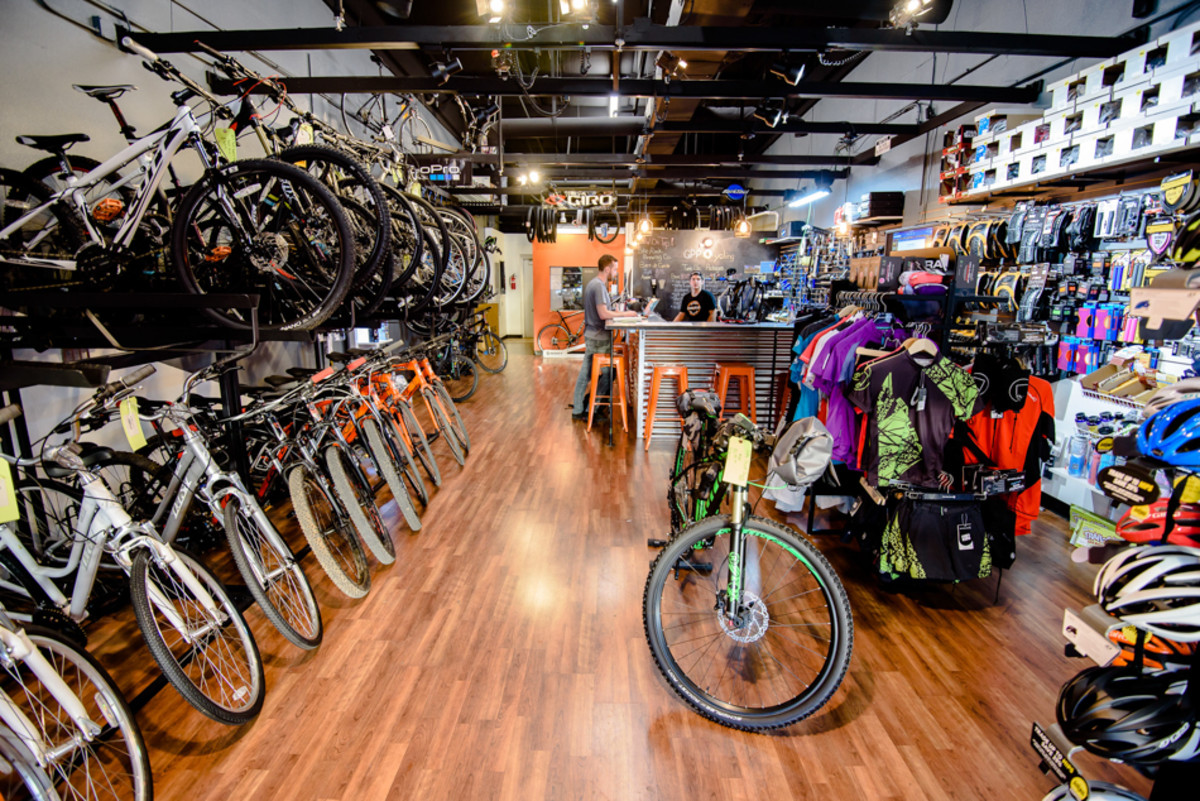 Major brands: Felt, Scott, Haro, BMC
Rentals: Basic hardtails and carbon full-suspension BMCs
Beer: Local beer on tap at the Bella Vista store and at The Handlebar
Coffee: Only at Handlebar
Locations: Bella Vista, Fayetteville (The Handlebar), Rogers
Open all week
gppcycling.com
Mojo Cycling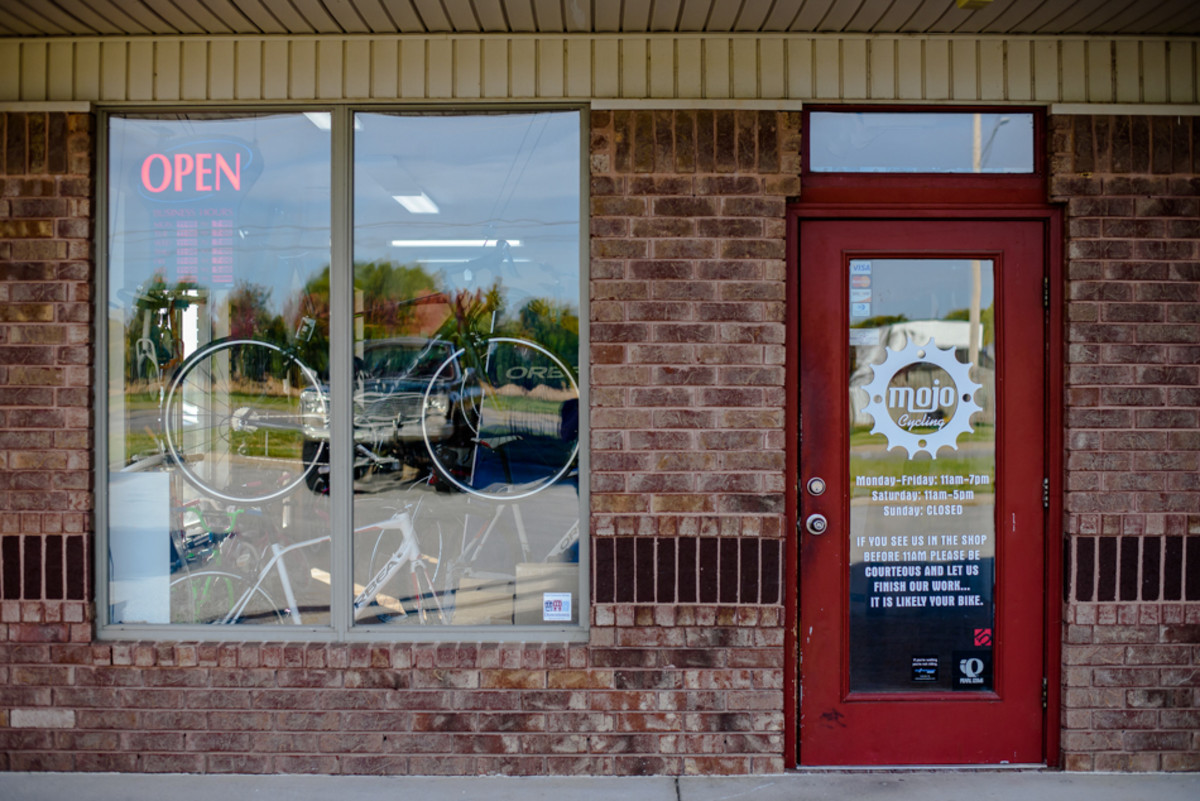 Mojo Cycling prides itself on supporting the all-mountain scene in the area, which it does with a full-service shop and a selection of components and apparel from brands like Deity and Five Ten.
Major brands: Orbea, Cannondale, Transition, GT, Canfield
Rentals: Maybe next season
Beer: No
Coffee: No
Group rides: Trail rides go out on Tuesdays, Thursdays and Saturdays. Call ahead.
2104 S. Walton Blvd, Bentonville, AR 72712
Open Monday – Saturday
mojocycling.com
(479) 271-7201
The Handlebar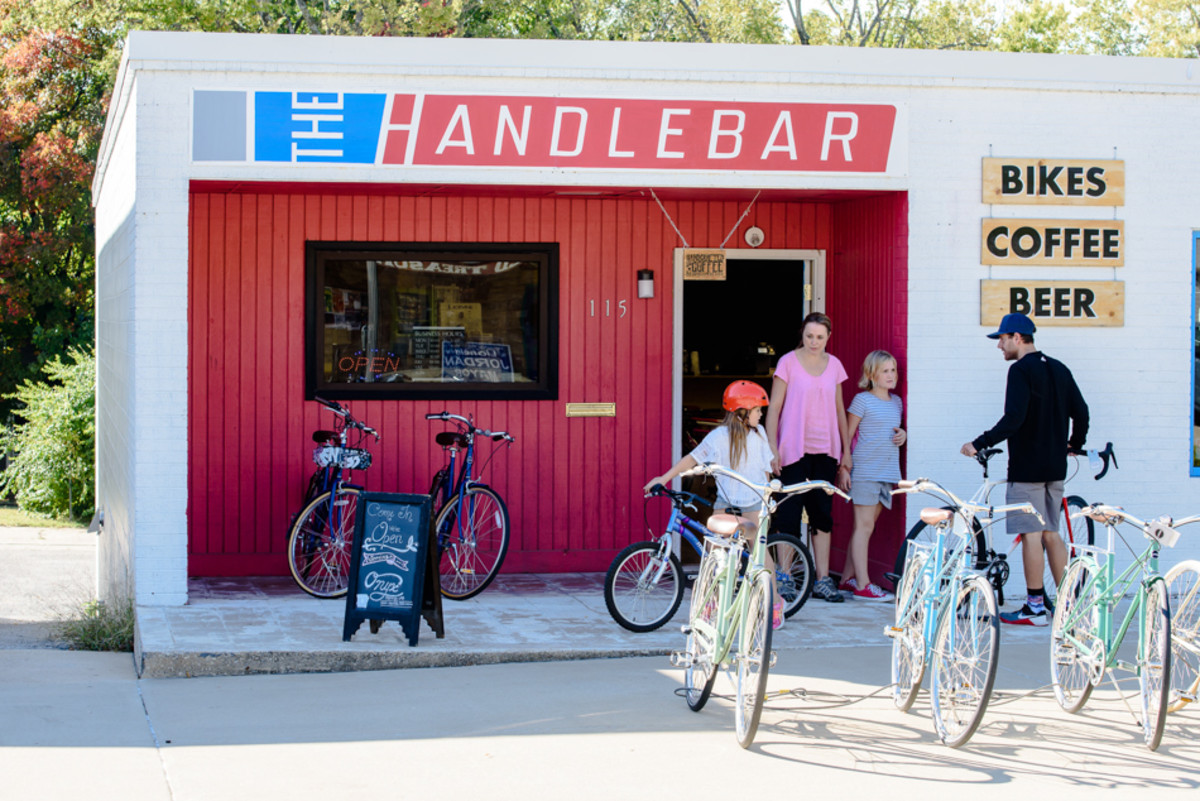 If you're looking to hang around a shop and talk bikes with a beer or a coffee in hand, The Handlebar is the place to go. Located in Fayetteville–home to the University of Arkansas and the ubiquitous Razorback mascot–it caters to its urban environment with a stock dominated by commuter bikes and gear, primarily in the steel and titanium variety. There isn't much in terms of dedicated mountain bike hardware, but the shop has a full service center, as well as four local brews on tap, hot and cold-brew coffee plus local Kombucha (if you're into that kind of thing).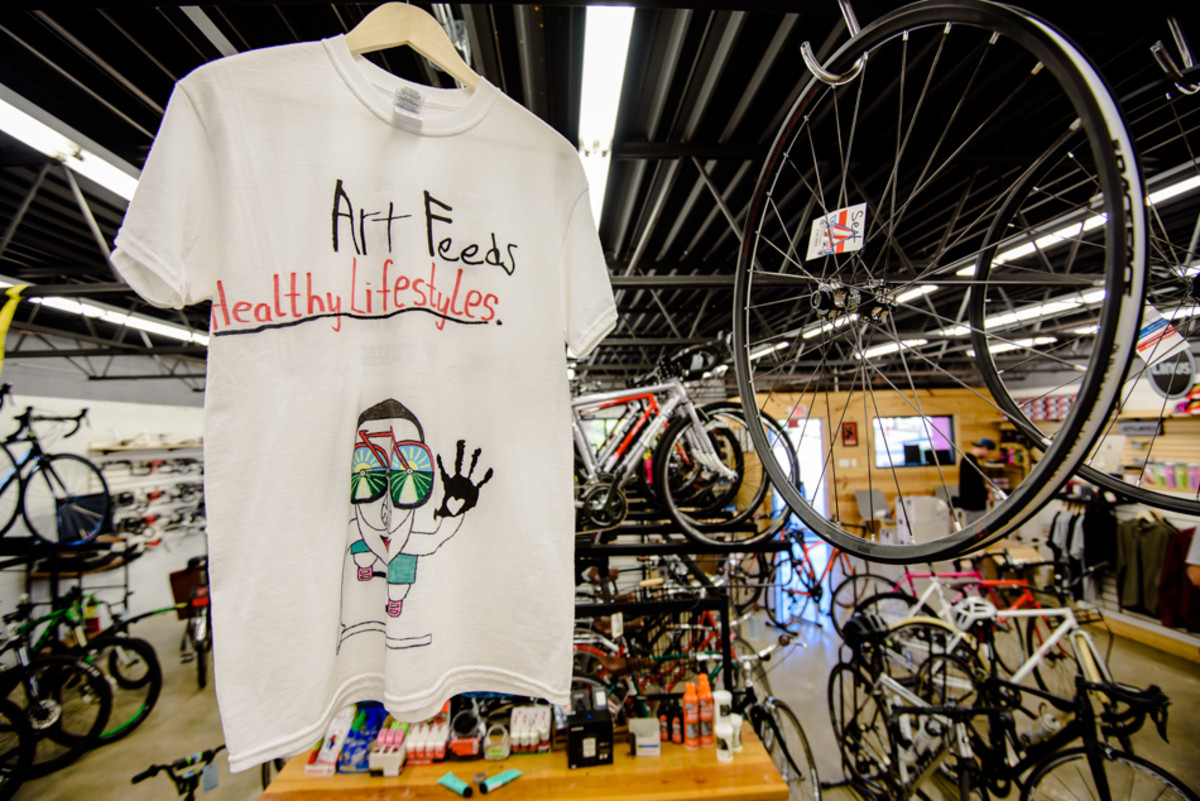 Founder and manager Byron Moudy (The Handlebar is now owned by local shop chain GPP) is a professionally trained fitter, and includes a fitting with every bike purchase. If you come to Arkansas and something isn't right with your bike's fit, The Handlebar can get you dialed in. It's also a good bet if you're looking to experience local bike culture, with occasional film screenings and indoor bike polo.
Major brands: Linus, All-City, Raleigh, Felt, Scott, Haro
Rentals: 7-speed Linus hybrids
Beer: Yes
Coffee: Yes
Group rides: Friday night rides leave the shop at 6 PM, and go through the city to Apple Blossom Brewery and back.
115 N Block Ave, Fayetteville, AR 72701
Open all week
facebook.com/The-Handlebar
(479) 316-8030
The Bike Route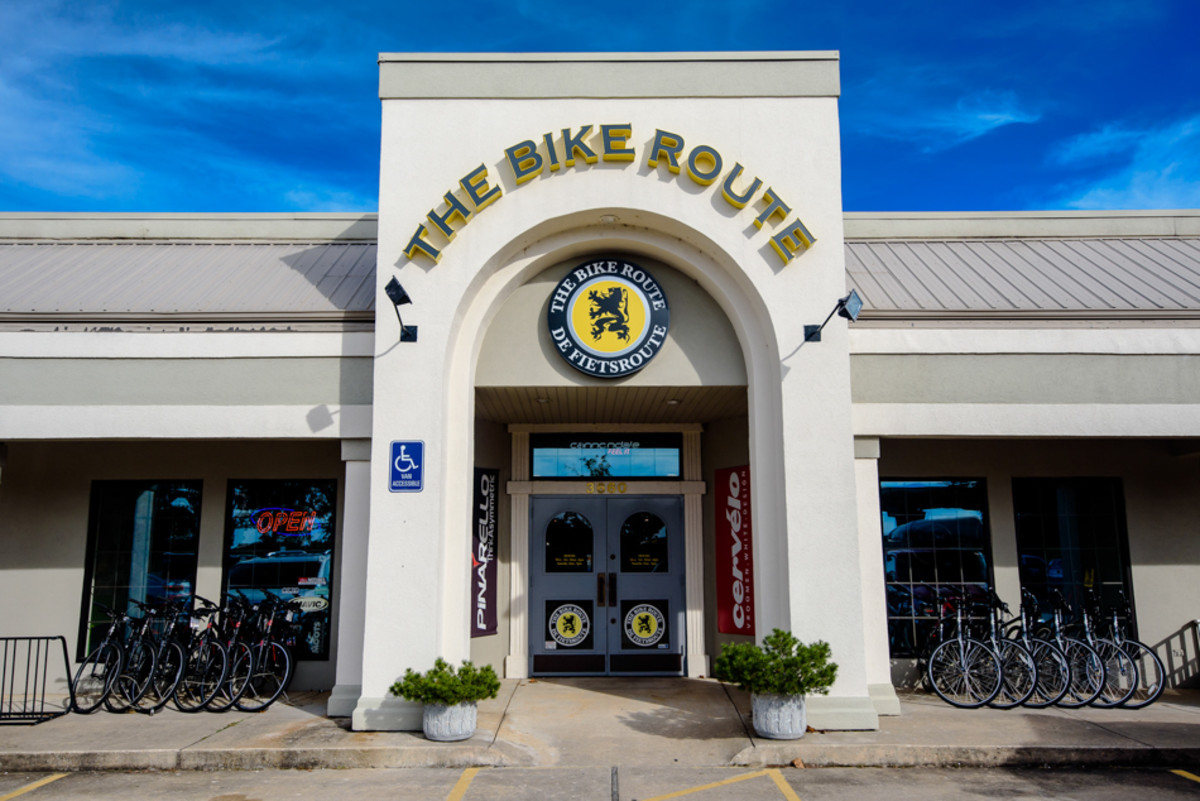 The Bike Route is primarily a road shop, but it's progressing into the mountain space with help from Cannondale, its primary brand. It has a good stock of replacement parts and a full service center. This shop has a clean, professional vibe, and the employees are welcoming.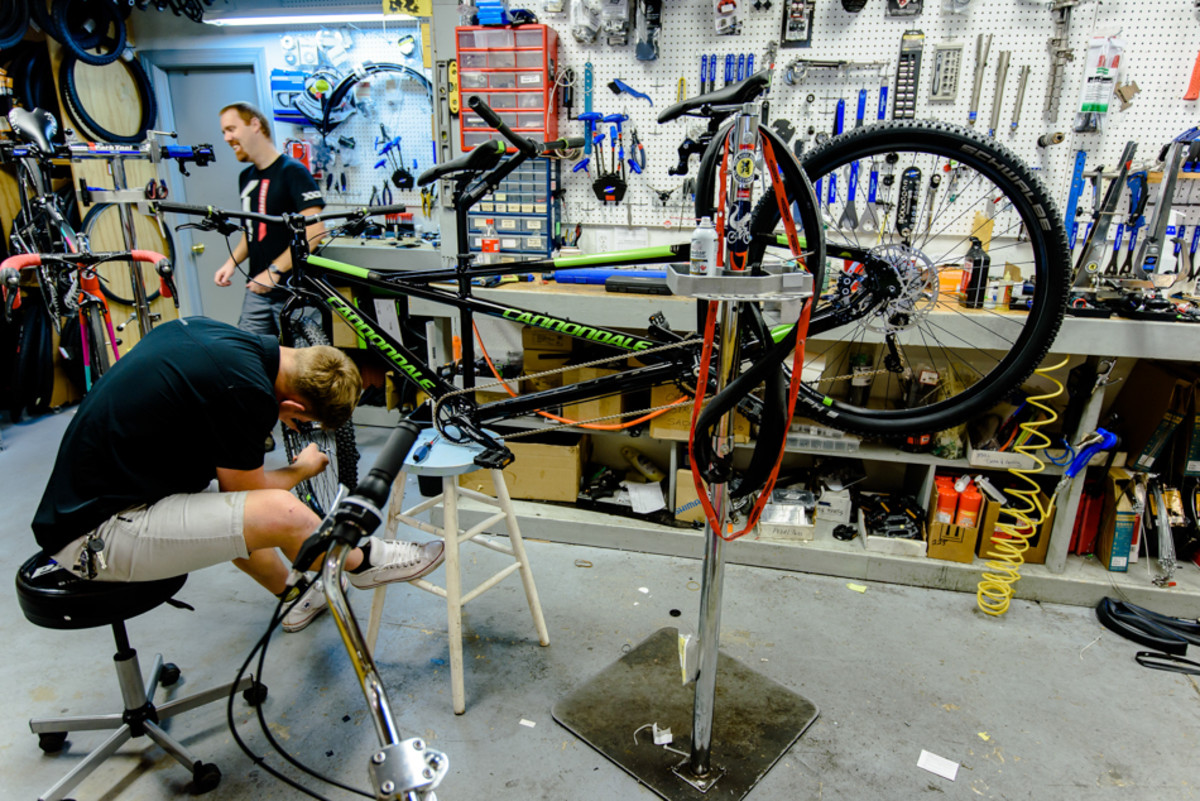 Major brands: Cannondale, Pinarello, Cervelo, Niner, Moots, Open
Rentals: Full-suspension offerings from Cannondale are available for trail use. Call ahead.
Beer: Maybe (wink wink)
Coffee: No
3660 N. Front St #3, Fayetteville, AR 72703
Open Monday – Saturday
facebook.com/thebikeroute
(479) 966-4050
Adventure Mountain Outfitters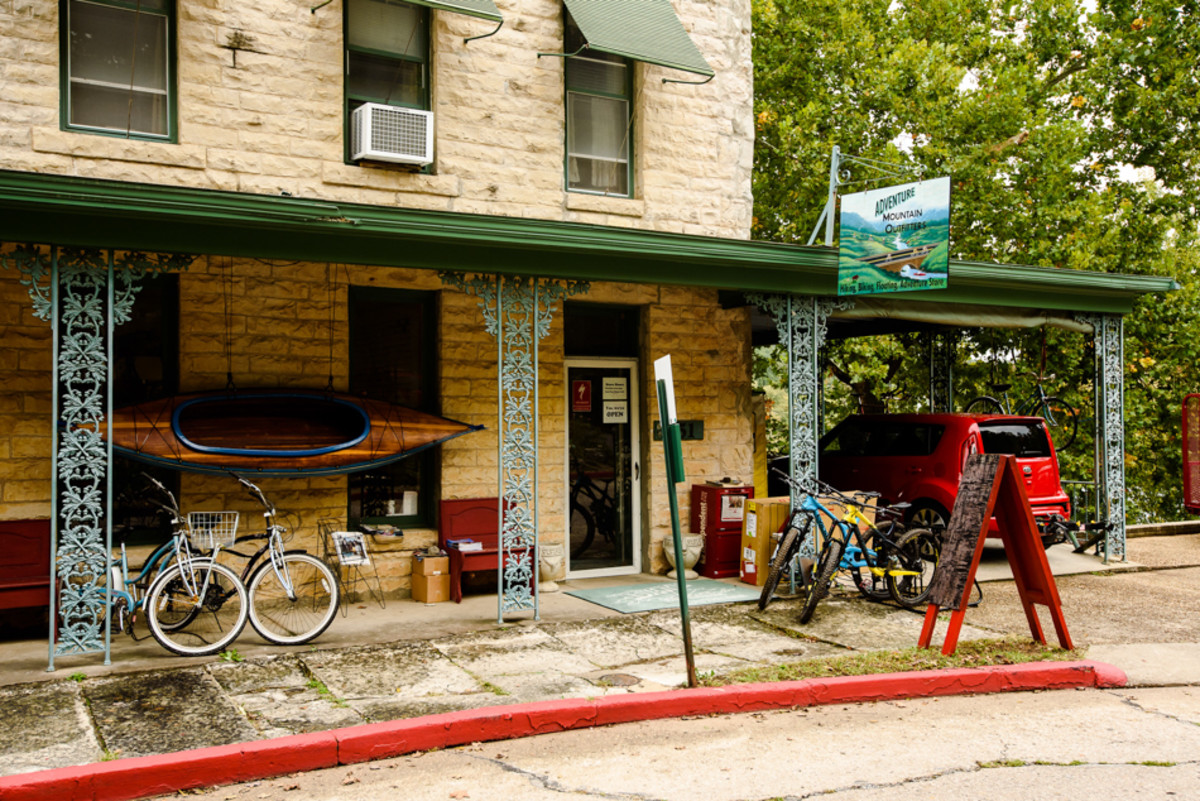 Eureka Springs may be out of the way from the Fayetteville/Bentonville/Bella Vista trifecta, but it's well worth the trip. There's a trail system at Lake Leatherwood with a fun, shuttle-able downhill run that has some of the more aggressive features in the area, but the real destination is the funky town of Eureka Springs. There are natural springs scattered throughout the town, as well as bathhouses, restaurants, trinket shops, tchotchke dealers, gizmo peddlers and purveyors of knickknacks. It's worth a stop, and Adventure Mountain Outfitters is a good place to start.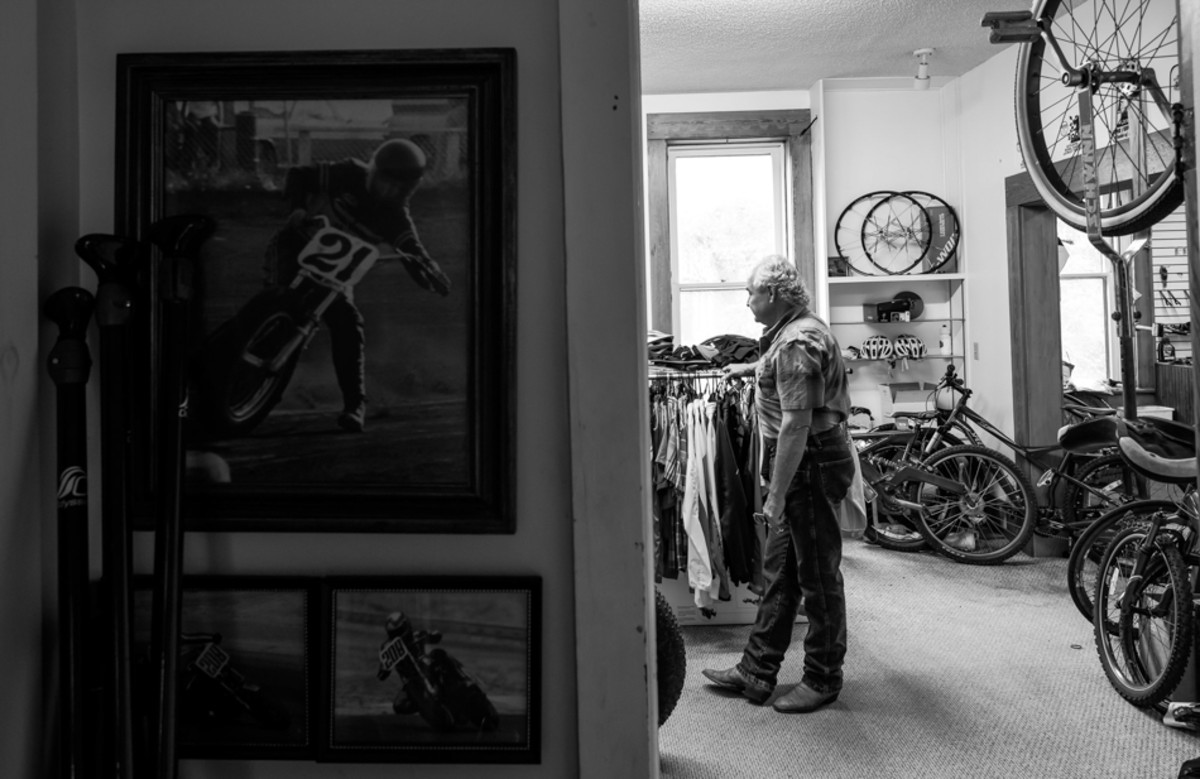 Owned by Denton West, the shop caters to all riders. There isn't a huge component selection, but Denton is a wealth of knowledge when it comes to local riding, and can also rent you a boat and guide for a river trip. Eureka hosts the annual Fat Tire Festival each July, which features races, rides and all the partying you'd expect out of a mountain bike fest.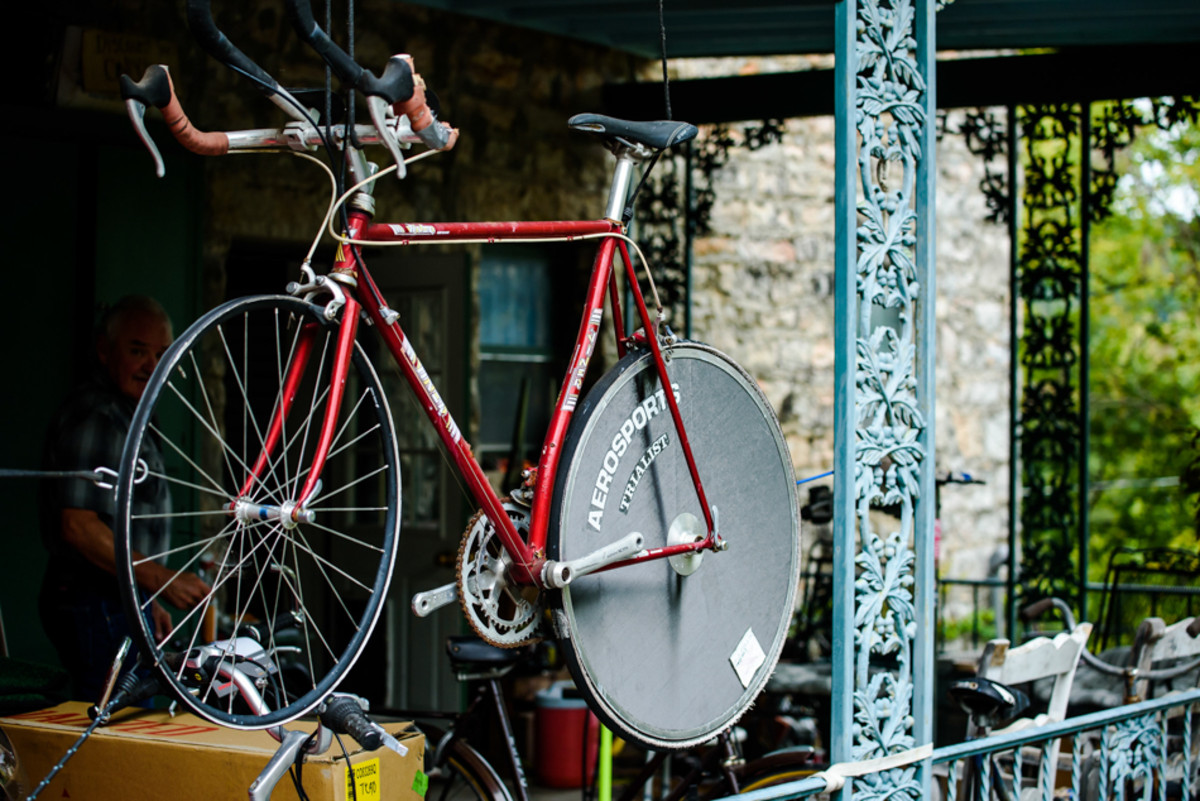 Major brands: Specialized
Rentals: Specialized full-suspension and fat bikes. DH bikes coming soon.
Beer: No
Coffee: Yes
Group rides: Thursday night mountain ride (call ahead), bar crawl on the last Tuesday of the month
151 Spring St, Eureka Springs, AR 72632
Open Wednesday – Saturday
adventuremountainoutfitters.com
(479) 253-0900
Highroller Cyclery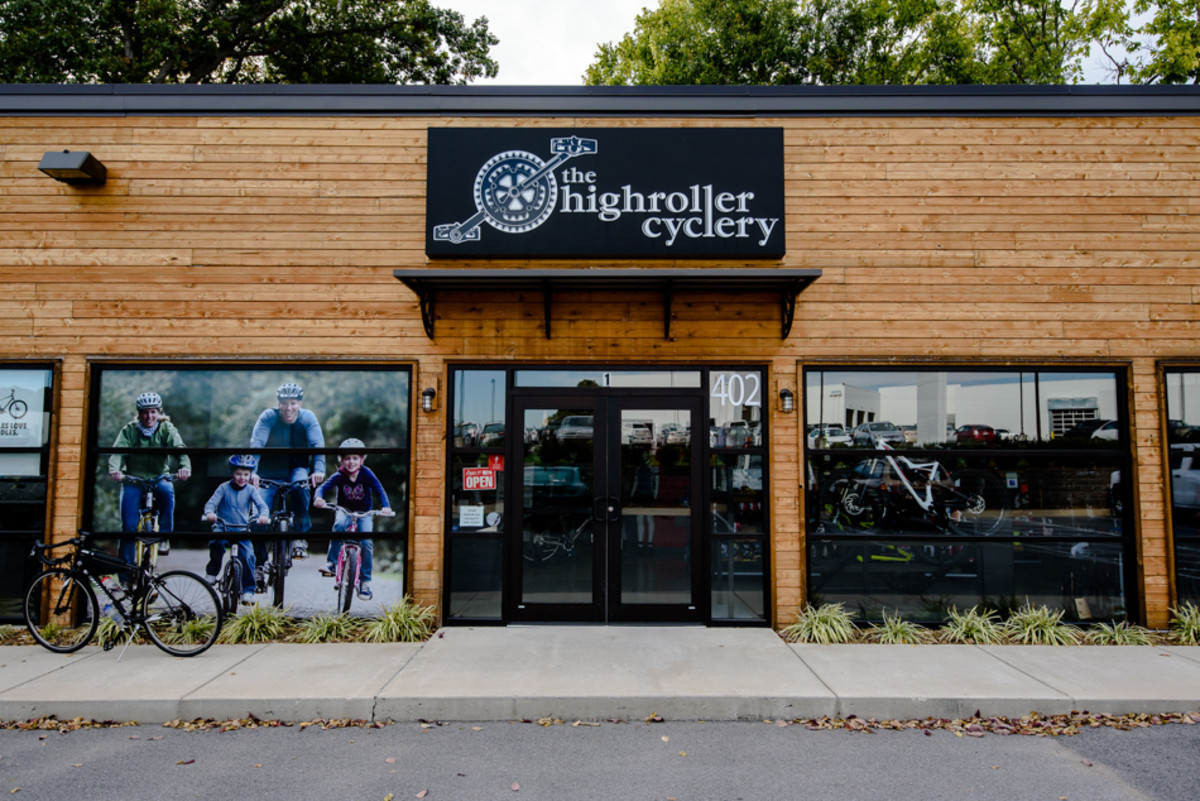 Founded in Fayetteville in 1972, Highroller is the oldest shop in Northwest Arkansas. The Bentonville location we visited is a polished, elite-level Specialized store in a new building. It boasts a full selection of mountain products, and serves all cyclists. It's located on the Razorback Greenway, a bike path that runs 36 miles from Bella Vista, through Bentonville to south Fayetteville. The shop is full service, and has a full selection of parts and accessories.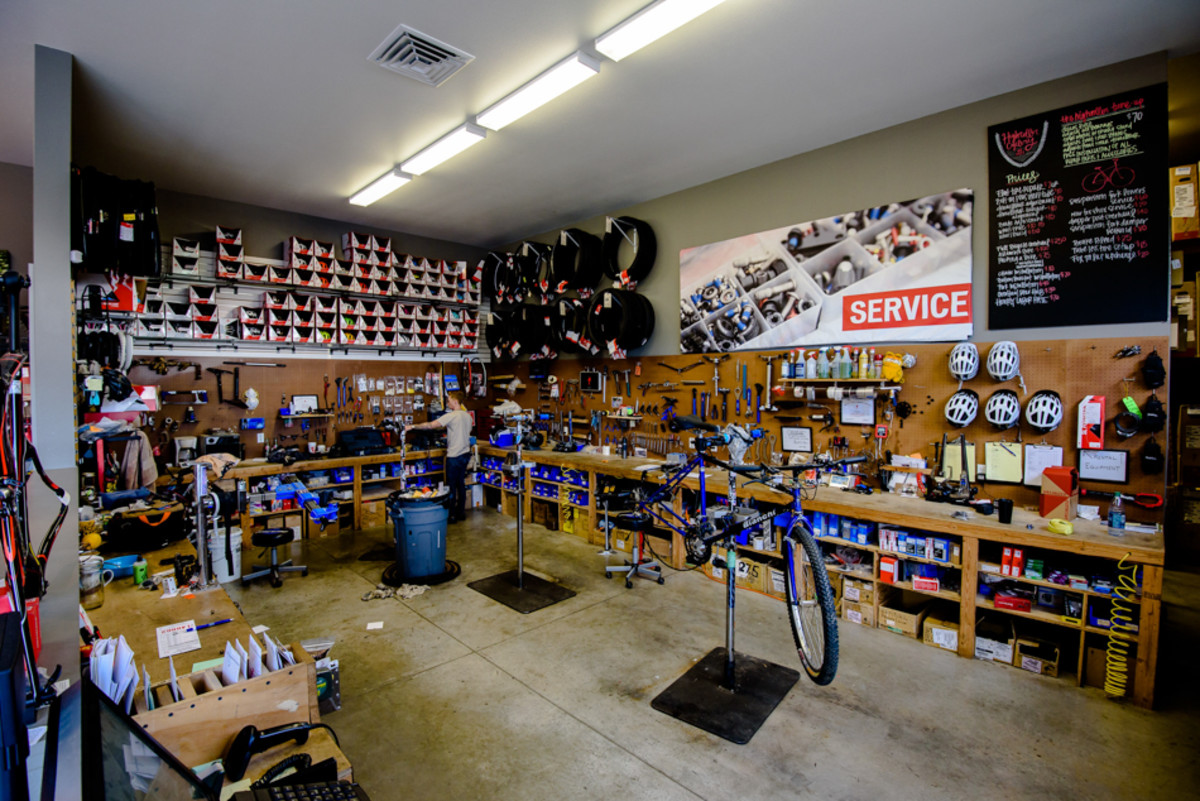 Major brands: Specialized, Yakima, Küat, Serfas, CamelBak
Rentals: No
Beer: No
Coffee: No
Group rides: Mountain bike rides from Fayetteville, possibly also from Bentonville on Wednesday nights. Call ahead or check Facebook.
Locations: Fayetteville, Rogers
Open Monday – Saturday
highrollercyclery.com
Related:
Bible Gallery: Testing on Bella Vista's Back 40