We've just finished up testing for the 2016 Bible of Bike Tests at the Kingdom Trails in East Burke, Vermont. Before leaving, we stopped by the local shops to find out what makes each unique. As might be expected, the owners of both shops are ingrained in the history of the trails.
The father of the owners of the Village Sport Shop cut the original nordic ski trails that laid the foundation for the network that would come to be known as the Kingdom Trails, and East Burke Sports co-owner John Worth pioneered the mountain-bike specific trails. In a community as small as this one, it would be senseless for the shops in town to behave as adversaries–both owners I talked to mentioned their close friendship with the other. "It's coopetition," said local Scott Bicycles rep Jay Riley of the relationship between the stores.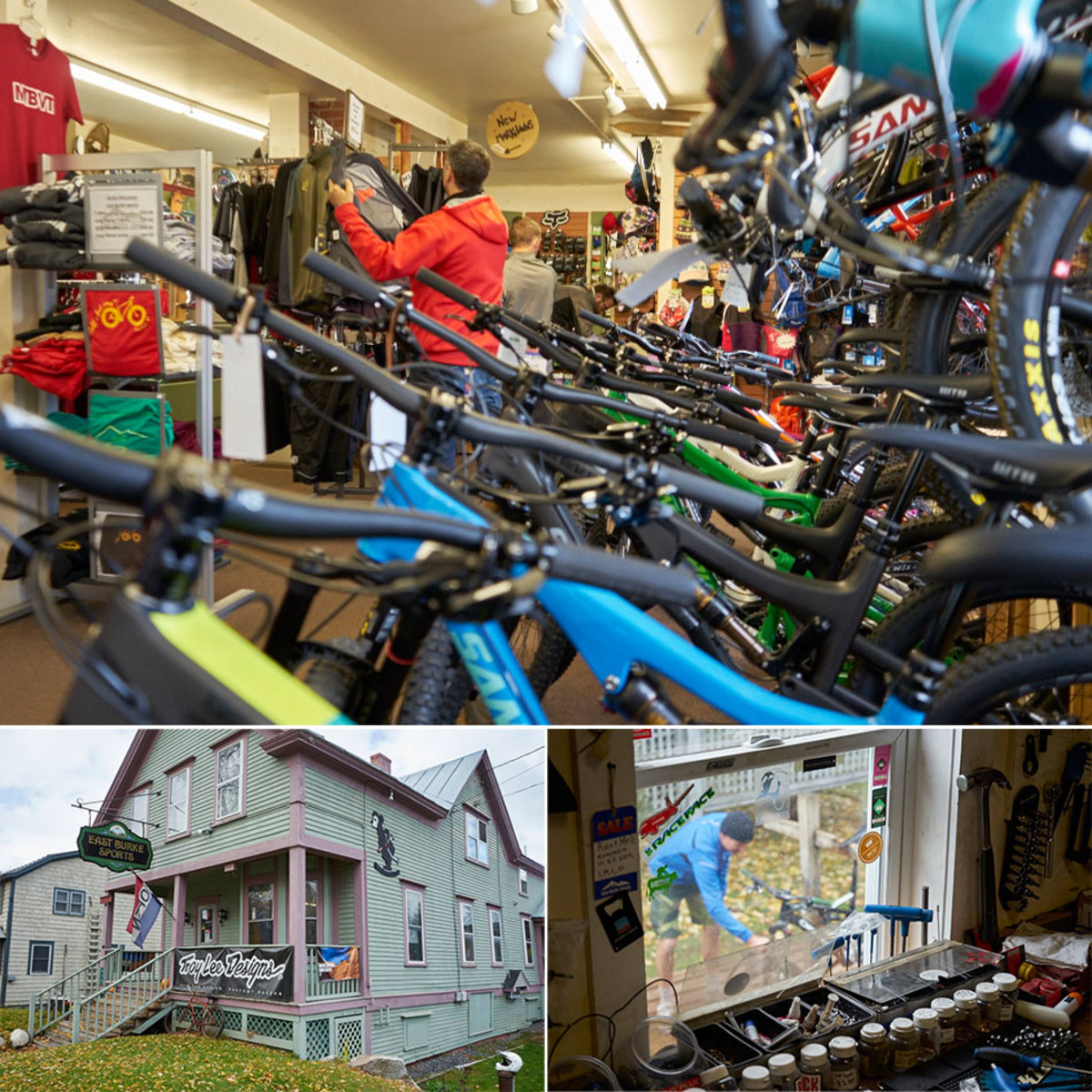 East Burke Sports
eastburkesports.com
439 VT-114, East Burke, VT 05832
802-626-3215
Hours: 9 am to 6 pm every day during bike season.
Known for: East Burke Sports is known as a core mountain-bike shop, carrying only mountain bikes and gear.
Major brands: Trek, Santa Cruz, Fox and Troy Lee.
Years in town: In this location for 27 years. The former location was across the street in the upper-level of the building that now houses the Kingdom Trails center.
Demos/Rentals: Rental fleet of 75 bikes includes entry-level hardtails, Santa Cruz Nomads and Trek Farley fatbikes. Shoes, helmets, body armor and pedals are also available.
Serves beer? No.
Coffee? No.
Shop rides/guide services: Refers customers to IdeRide Tours for guiding. A mellow ride leaves from the shop parking lot on Tuesday nights, and a longer, more aggressive one goes out on Thursdays. Both rides start between 5 and 6 pm during the summer.
Favorite Trails: Tap N' Die, Pines, Herbs and Ridge to Rim are favorites in the Darling Hill area. Moose Alley, Farmjunk, Skydive and the Q Burke Bike Park trails are also popular amongst employees.
Anything else?
East Burke Sports was the only mountain-bike store in town before the Kingdom Trails. "I started building the trails so that I could sell mountain bikes," said co-owner John Worth. Worth believes in running a committed mountain-bike shop. "We life and breathe mountain biking," he said. The store boasts a full service center that handles both walk-in and scheduled repairs.
Village Sport Shop Trailside
villagesportshop.com
2074 Darling Hill Rd, Lyndonville, VT 05851
802-626-8444
Hours: Monday through Thursday 9 to 5, Friday and Saturday 8:30 to 6 and Sunday 8:30 to 4.
Known for: Because of its proximity to the Darling Hill trails, the Trailside Shop is used to working with every level of rider, from true beginner to advanced riders. Good place to pickup trail passes.
Major brands: Scott, Giant, Pivot, Transition, Maloja, POC, Smith, Giro, GoPro, SRAM Demo center (first?)
Years in town: Second full year in satellite location
Demos/Rentals: The Trailside shop has a 55-bike rental fleet with bikes from Giant, Scott, Transition and Pivot. Pivot and Scott fatbikes are available as well.
Serves beer/coffee? They'll have both in 2016.
Shop rides/guide services: Employees are always happy to map out routes. Group rides usually run from June through September. There's a Tuesday shop ride and a advanced shop ride on Thursdays. Trailside hosts a popular women's ride, and it's not unheard of to have 40 women participating on a Tuesday. The women's rides split into several different levels, with the goal of the beginner group being to connect female riders and get them to a point at which they can ride independently. For tours and lessons, customers are referred to Kingdom Experiences, which is owned by the shop's lead mechanic.
Favorite Trails: The Trailside Shop is happy to send riders out on the demo loop straight out of the shop's parking lot, which includes Heaven's Bench, Ridge and Bill Magill. Other favorites include Tap N' Die and Toadie's Tour.
Anything else?
The Village Sport Shop was started in Lyondonville in 1978 by the father of owners Carrie Tomczyk and Chris Hibshman. Tomczyk and Hibshmans' grandfather came up from Philly and started the Mountain View Inn at Mountain View Farm, one of the prominent buildings on Darling Hill, where his son would cut some of the original nordic ski trails that later became the foundation for the Kingdom Trails. The satellite Trailside Shop opened two years ago.
Village Sport Shop
villagesportshop.com
511 Broad St, Lyndonville, VT 05851
802-626-8448
Hours: Open year round, 8:30 am to 6 pm Monday through Friday; Saturday 8 to 5 and Sunday 9:30 to 5
Known for: History and service. "It's awesome to see how much business we get from folks who visit from out of state who have passed 20 shops to get to us. That's a testament to the incredible staff that's here," said store manager Chris Christie.
Major brands: The town location has the same brands as the Trailside Shop, but most of the high-end bikes stay at Trailside so they can be demoed on-trail. The town location has a more diverse inventory, including more entry-level, hybrid, and road bikes in addition to general outdoor goods. It's a good bet if you need to find anything from a forgotten camping essential to an automatic rifle.
Years in town: 38
Demos/Rentals: All rentals and demos are handled at the trailside shop.
Serves beer? No
Coffee? No
Shop rides/guide services: Customers are referred to the Trailside Shop and Kingdom Experiences.
Anything else?
The town location doesn't perform suspension service–that's handled at the trailside location.
Related:
Gear Picks from the 2016 Bible of Bike Tests
The Process: 2016 Bible of Bike Tests